At the center of Bart's Books, you'll find the former one-bedroom cottage of Richard Bartinsdale, whose vast personal library formed the nucleus of this 56-year-old shop. Inside, cookbooks fill the onetime kitchen pantry, and dollar paperbacks share space with such treasures as an 1833 edition of Jane Austen's Northanger Abbey. Browse the bookcases lining the sidewalk anytime; after hours, slip payment into a coin box in the door.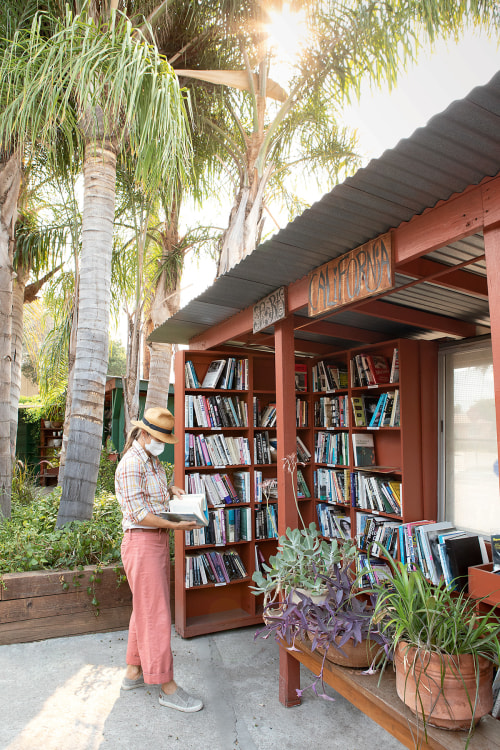 Plenty of trails switchback up Ojai's surrounding mountains, but the Ojai Valley Trail provides a scenic stroll without the strain. Following the railway route that once carried the valley's famous citrus to the rest of the world, this tree-shaded path ultimately connects the center of Ojai to the coastal city of Ventura.
To get to the Taft Gardens & Nature Preserve, you wind along a private road to a hidden Eden in the valley's foothills. The tranquil gardens are renowned for their rare and exotic plants, including the giant Aloe ferox that sprouts brilliant orange blooms in winter. Enjoy lunch under centuries-old oaks on the Lily Grove Lawn while marveling at brightly colored banksias and Queensland bottle trees in the Australian garden. Reservations required.
Steps from the town's historic mission-style shopping arcade lies valley native Kiona Wachter's restaurant, the Nest. Dig into longtime faves such as the fried chicken sandwich as well as newer dishes, including squid ink–tinted bao buns with crispy duck and pickled veggies. Dine in the courtyard at sunset and you might catch a glimpse of Ojai's celebrated pink moment, when alpenglow bathes the looming Topatopa Mountains in rosy hues.
Set on a quiet side street, Tipple & Ramble is an indoor-outdoor wine bar with the feel of a garden party. Under leafy king palms, guests nibble on flaky beef empanadas and seasonal toast. A 1958 trailer doubles as a tasting bar offering sips of Central Coast wines, while a mini boutique displays housewares.