A vacation with the newest member of your family can be a joyful experience and a source of many special memories. But it can also stress even the most intrepid traveler.  
Mia Salazar, owner of New York-based Avinx PR, considered herself an experienced solo traveler by the time it came to take her six-month-old to Croatia. "I never packed more than a carry on," she says. But when it came to her daughter, she wanted to have everything on hand she could possibly need. The result was a carry-on backpack with too many toys and outfits—and a lot of unnecessary strain. From checking a stroller at the gate to getting an aisle seat on the plane, "these are the sorts of things you never think about until you become a traveling parent," she says.
Before You Leave
1. Pick the right destination.
Choosing a baby-friendly destination means not only considering where you're visiting, but also the hotels, restaurants, and tourist spots you'll explore on the way. Traveling with a baby requires a slower pace: frequent stops for feeding and diaper changes, juggling car seats and baby gear, navigating a busy city with a baby strapped to you or tucked in a stroller. Set yourself up for success by planning a vacation in a city or country you're already familiar with. A destination that's close to home—or one where extended family and friends can help with the logistics of traveling with a new baby—may lack the excitement of exploring a new place, but it will make travel easier to manage and less tense.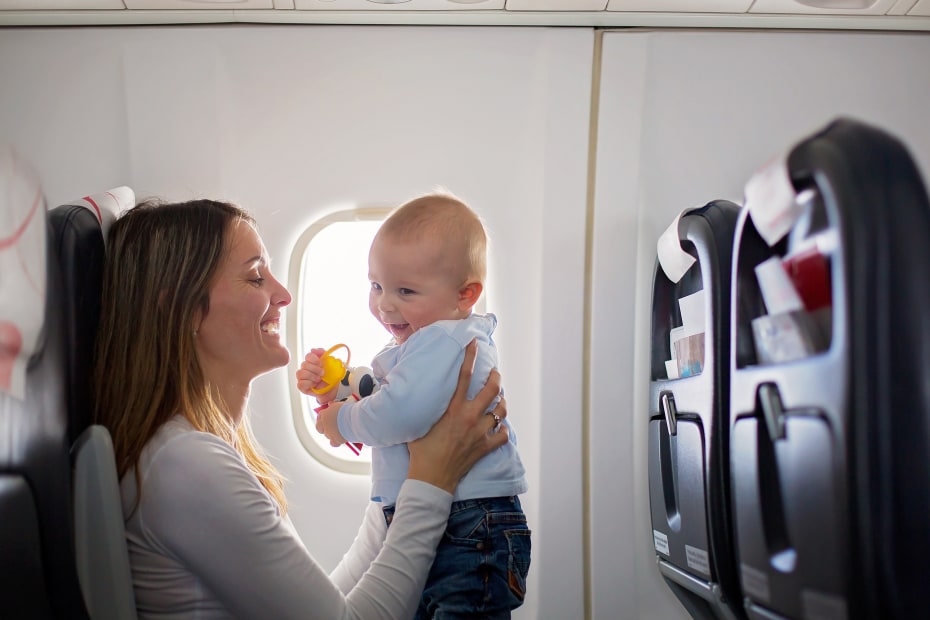 2. Decide if you should drive or fly.
Driving changes not only the pace of travel, but also how much parents can pack. Having your own (versus rented) stroller, crib, and other gear may be a priority for some families. Driving also gives parents the ability to stop and take breaks whenever the baby (or they) need. On the other hand, flying can take a fraction of the time. If your car trip includes an overnight at a hotel and multiple stops, flying may save money as well, especially since children under two fly for free or are eligible for inexpensive infant fares on many airlines.
3. Buy travel insurance.
Travel insurance can cover a wide range of contingencies and give you peace of mind. AAA Travel Agent Kathy Schebor says many policies cover trip cancellation, medical coverage, medical evacuation, travel delays, concierge service, and lost, stolen, delayed, or damaged luggage. Some major credit card providers have a travel insurance component as well. But according to Schebor, how much of the cost of a trip they will cover varies greatly, with some covering only up to $1,000 while others may go to $10,000. Medical coverages vary as well.
4. Get up to date and plan ahead.
Your baby should be up to date with their vaccinations—including the flu shot—at least four weeks before the trip according to the Centers for Disease Control and Prevention. This gives time for the vaccines to take effect and any side effects, such as redness or discomfort, to wear off. Make sure you know how to access pediatric medical care at your destination before you leave, and have your travel insurance information handy should you need it.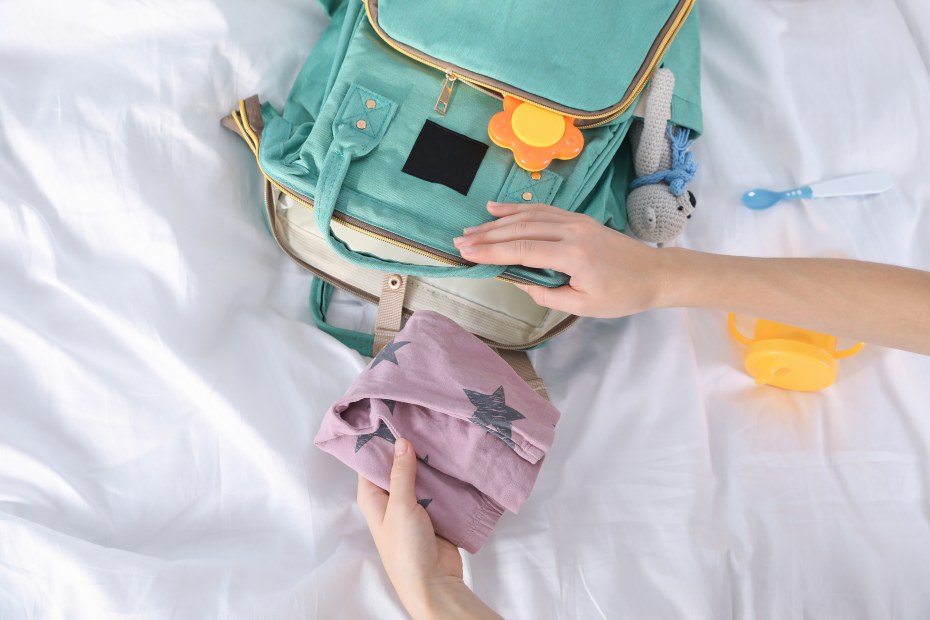 5. Pack smart.
Packing is one of the most overwhelming parts of traveling with a baby. To begin, think about your baby's daily routine from start to finish. What eating, changing, and sleeping items can you not live without? Packing lists like Have Baby Will Travel's or trip-specific lists like Cruising With the Family's are a good place to start your planning.
At the minimum, pack enough diapers, wipes, and milk or formula for at least one day (are you prepared to get stuck in an airport overnight?); the rest can be purchased at your destination. (You can bring breast milk and formula cooled with ice packs through security, as long as it's declared to TSA; check TSA.gov for more details.) Or better yet, order essential items in advance if your hotel doesn't have them on hand, and have them delivered before you arrive. (Check with your hotel to ensure they can accept the package on your behalf before ordering.) It's impossible to bring everything—especially big or bulky items. Companies like BabyQuip and goBaby rent and deliver baby gear—everything from cribs to strollers to car seats—to airports, hotels, and vacation rentals in the U.S.
Jeff Peo, co-founder of the sightseeing service Walkli, took his daughter to Europe twice before she was a year old. "Remember," he says, "there are babies almost everywhere on the planet, so even if you forget something it's likely you'll find it at your destination."
Pack an easy-to-access extra set of clothes for the baby and the grownups for emergency changes in the air or on the road. Adelaide Olguin, founder of the family language learning app TalkBox.Mom suggests pre-packing outfit changes into gallon-sized ziplock bags. When you need to change clothes in a rush, you can pull out the bag (and then drop the dirty outfit in it).
While it's tempting to rent a car seat with your car rental, Kristin Boekhoff, CEO at Unity Resorts and a mother of two, recommends taking your own if you have an infant. When traveling with her six-week-old, the seat she got from the rental company didn't come with infant inserts.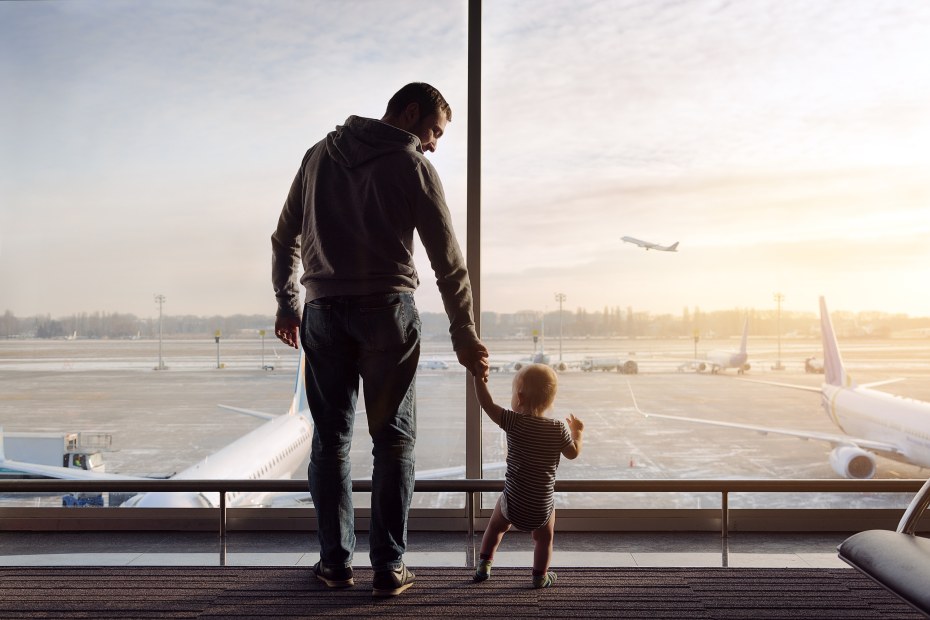 At the Airport
1. Strategize boarding.
Many domestic airlines allow families with small children to board early. Skipping those slow-moving boarding lines and getting settled in your seat might be the best bet for your kiddo. But also consider waiting until the last minute to board or sending an adult in your group ahead to stow luggage and get set up. It gives a restless infant more time to move around the airport, and that much less time cooped up on a parent's lap on the plane.
2. Gate check your stroller and car seat.
Unless you're wearing your baby in a wrap or carrier, keep the stroller with you and check it at the gate instead of checking it with your bags. A stroller can be a lifesaver for rocking a baby to sleep or quickly getting from one terminal to another on a short layover.
3. Find reprieve in a lounge.
If you don't have access to an airport club lounge via your credit card or airline points, Salazar recommends purchasing one-time access if you have a long layover. Many lounges have entertainment for kids, showers, comfortable seats, and drinks for the grownups. She used a kids TV room as a quiet nook for her daughter to sleep. "Overall the lounges are a bit quieter and don't have the hectic vibe of the airport," she says. "It will be a welcomed reprieve during your travels."
4. Keep everyone calm.
While your baby may sleep on the plane, remember that traveling can be very stimulating for little minds. If baby gets fussy, try tactile distractions such stuffed toys, dolls, or small cars to occupy them, at least for a little while. When in doubt, a snack can also help tame crying, reduce fussiness, and ease ear pressure.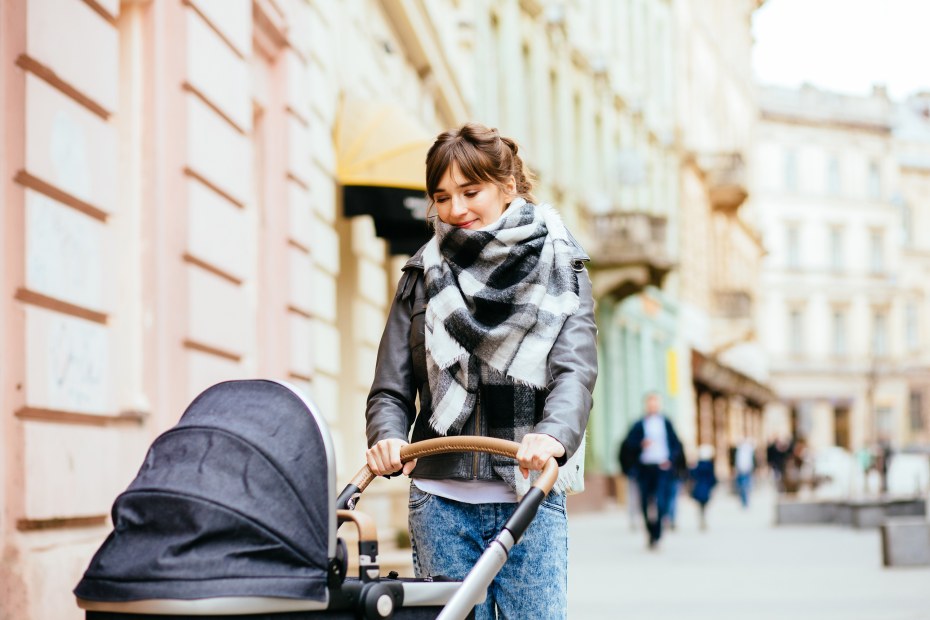 At Your Destination
1. Take jet lag in stride.
When it comes to jet lag, each family and each baby is different, says Marianne Perez de Fransius, co-founder of Bébé Voyage. To cope with it, she recommends a ratio of 80 percent routine to 20 percent flexibility. Babies find routines soothing. Book flights that coincide with their regular sleep times; when you arrive, change diapers, read stories, and take baths on schedule. But travel also requires adaptability. Schedule downtime to allow for additional naps, meals, or snack times. Slowly transition your sleep routine to local time over the course of two days. Get your baby outside exploring and playing during sunlight hours to help their circadian rhythm adjust to your destination.
2. Settle in.
It's not just luxury resorts that loan out baby items like strollers and high chairs. Marianne Moisant, general manager of Homewood Suites by Hilton in Oregon suggests always calling ahead to request and reserve gear. At the minimum your baby will need a bassinet or crib. 
If your baby is crawling, baby-proofing your room is another concern. Moisant says that some hotels provide door handle covers, plug covers, toilet latches, and bed rails. "There's so much you can have access to just by making a quick call to your hotel," she says.
Families that are bottle feeding will need a kitchenette to sterilize and warm bottles. Blackout curtains are a sleep must-have for many. And consider bringing a white noise machine or smartphone app to help block out unfamiliar sounds inside and outside your room.
3. Relax and enjoy your trip.
Traveling with a baby is a challenging, but ultimately rewarding. Everything might not always go smoothly or exactly as planned. When things get chaotic, breathe and remember that the moment will pass.