Yes, camping does indeed require stuff, but it's easier than it may seem to gather what you'll need for a memorable outdoor vacation. Camping gear doesn't need to be expensive, clutter your home, or travel in a car with you. Many essentials are easy to rent or borrow, whether you pick them up or get them delivered to your destination. 
Camping Gear You Should Borrow
Got friends or family members with good equipment? Avoid spending a lot by asking them to loan you pricier items such as tents, cookware, and sleeping pads or air mattresses.
Insider Tip: If you borrow a tent you've never used before, "set it up at home first when you don't have any stress," advises Mero Geesey, owner of adventure travel company Carpe Mundo. "This will make the process a lot easier when you're actually camping with it."
Snap pictures of all the items on loan, in case you need to replace anything. To make sure that you get the privilege of borrowing again, thoroughly clean off dirt, food, and other debris, and let tents and sleeping bags air dry at home for at least 24 hours before packing them up to return.
Some privately owned campgrounds will lend out supplies without additional cost. "If someone is a first-time camper," says Ryan Miller, who cofounded Autocamp, a collection of glamping-style Airstream parks in California, "properties that allow you to show up without the hassle of equipment purchases make for a great first step in testing the camping waters." Autocamp lets guests borrow cookware, towels, bicycles, yoga mats, and games.
Camping Gear You Should Rent
If you can't borrow—and don't want to buy—camping gear, consider renting tents, stoves, and more. "Local shops have great rental programs for foundational pieces of gear," says Tim Beck, a member of the California Explorer Search and Rescue team who develops outdoor gear for the North Face. "Borrow and rent as much as you can for your first couple of experiences sleeping under the stars. This will help you understand what you like and don't like about certain pieces of gear." It will also help you figure out what you really need and will use.
Outdoor sports retailers such as REI and San Francisco Bay Area-based Sports Basement rent a variety of items, depending on location. College students and alumni often can take advantage of on-campus gear stashes and rent from student recreation clubs. Some university programs also rent to the general public.
Smart Tip: Want to rent an RV? AAA Members get 10 percent off RV and camper van rentals through Outdoorsy.
Online gear rentals can help outfit you too. Stores such as Mountain Side Gear and Rentals in Golden, Colorado, and San Francisco's Last Minute Gear will ship equipment anywhere in the U.S.—including your hotel, a friend's house, or a campground, so long as the location accepts deliveries (it's best to check before sending). You can also find fully assembled camping kits to match your adventure from companies such as Arrive and Outdoors Geek, so you can cover your bases without tracking down every item individually.
A word of caution for renters: If you damage an item, you'll likely have to pay its full retail price or repair cost. To sidestep unpleasant surprises, read your rental contract in full and ask any questions you have about how the item works before you take possession of the gear.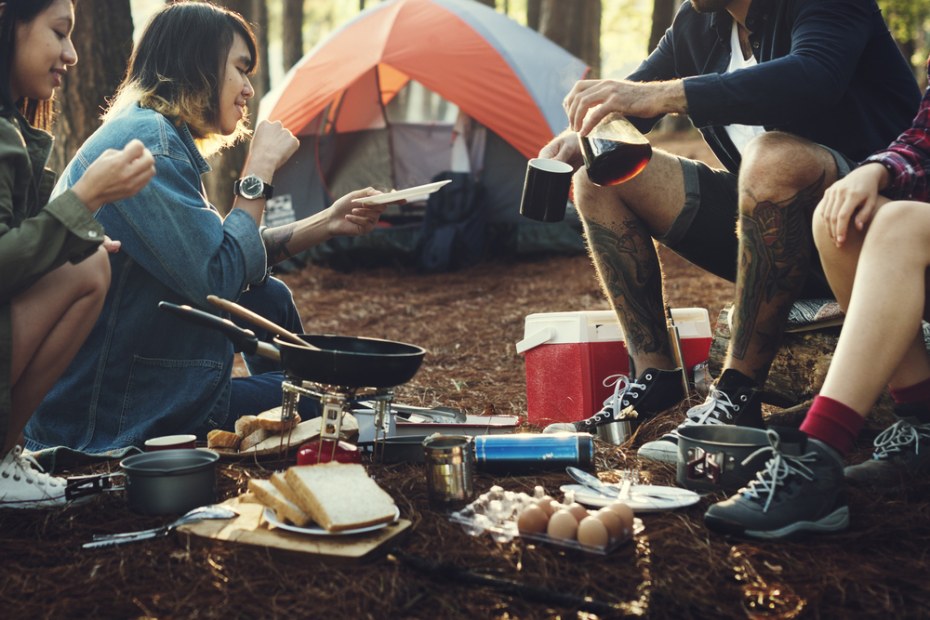 Camping Gear You Should Buy
Although borrowing and renting are excellent options for most items, some pieces are nice to own. Multipurpose clothing such as thermal tights and tops, socks, and wicking underwear are size-specific and vary widely depending on your personal preferences and taste. A sleeping bag may also be worth the investment if you plan to camp again, or if it would give you peace of mind in your home-emergency kit.
"Rental or borrowed sleeping bags can make people feel a little awkward," points out Geesey, who suggests buying a sleeping bag liner if you borrow a bag. (You can still use the liner should you buy a bag later to extend the life of the bag and make it easier to keep clean.)
"Scouring used stores, garage sales, and sites such as Craigslist can be a lower-cost way to purchase camping gear," says Marco Johnson, a National Outdoor Leadership School senior instructor. Geesey adds: "You can score great deals online from sites like GearTrade and Steep and Cheap. If you live near an REI, keep an eye out for their 'garage sales,' during which they sell returned items at a significant discount" to REI members only. REI and the North Face also sell used gear and clothing online.
Another important purchase is a AAA Membership (or renewal). If you camp often, consider upgrading to Plus or Premier Membership, which gets you expanded Emergency Road Service, including longer tows and RV assistance.