Consumers who need to get an important document notarized have a growing number of options, thanks in part to the internet and the pandemic. But making the right choice can be confusing, especially when you're feeling stressed about why you need a notary in the first place.
What is a notary?
A notary public, or notary for short, performs various services, but the most common one is verifying the identity of a person signing a document. This is called an acknowledgment and is often needed on documents such as real estate closing papers, powers of attorney, trusts, and consent forms for children traveling abroad without both parents. 
For acknowledgments, the notary meets the client face-to-face, checks identification, and scans the document to make sure it's complete and verify that it was signed willingly. After that, the notary signs the document, affixes a seal, and records the act, which gives it weight in a court of law. The notary does not verify the document for truth or accuracy and cannot give legal advice, but note that in some countries, such as Mexico notary publics are lawyers.
Notaries are licensed or commissioned by their respective states.
Where to Find a Notary
For real estate and estate-planning documents, your title company or law firm may have a notary on staff or refer you to one. If you need to find one on your own, here are your options.
Go in person to a notary. 
You can find a notary in a variety of places, including select AAA branches, shipping centers such as the UPS Store, and some banks, but they might require you to be a customer. At AAA branches, notary services are available for AAA Members and non-members alike, and Members enjoy a discount. You can also ask friends and coworkers for recommendations.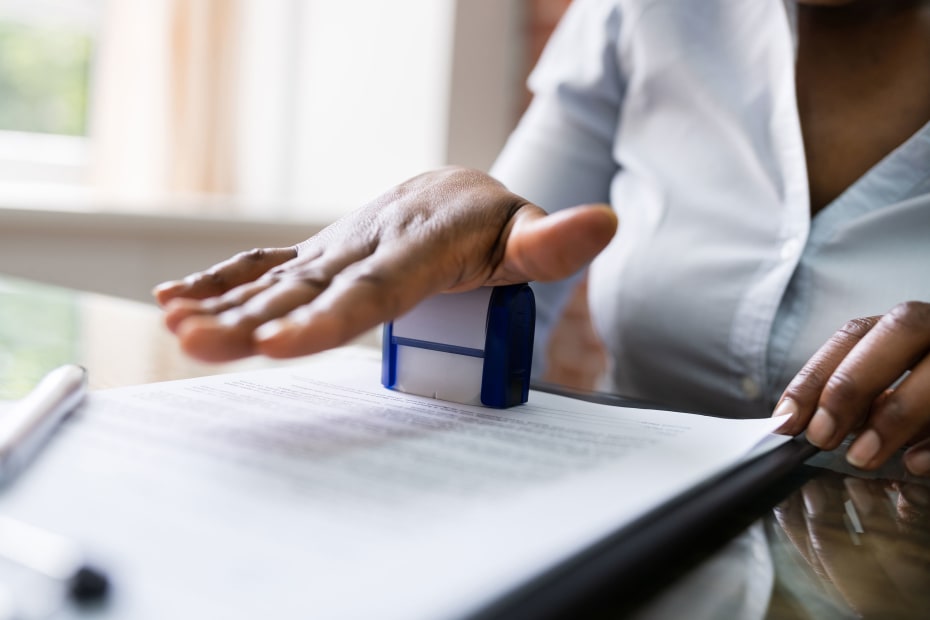 Have a mobile notary come to you. 
"I was very mobile before Covid and became more so after, as people were more cautious about leaving their homes," says Laura Biewer, a notary in Modesto, California. During the pandemic, papers were notarized on porches, sidewalks, and car hoods. "People are now more willing to leave their homes, but they still enjoy being in their own environment and doing it when it's convenient for them. And they don't want to spend their own gas," Biewer adds.
Whether you go to them or they come to you, a notary you meet in person can notarize paper documents or electronic ones. The latter option is called In-Person Electronic Notarization or IPEN. You and the notary provide digital signatures.
Use remote online notarization. 
Instead of meeting in person, remote notaries meet with clients online via a live video conference and sign electronic documents digitally. Before the pandemic, only 22 states had enacted permanent laws allowing remote online notarization. By October 2022, 44 states had done so, says Kat Garcia, a spokesperson for the National Notary Association.
California is the only Western state that has not. However, people living in California or any state that hasn't allowed it can hire a remote notary who is licensed by and present in a state that has. 
Be aware that the receiver of the document must accept remote notarizations; not all will do so, even in states that allow the practice. 
Also know that in most states, wills and trusts must be written on paper and signed in ink. If the signer wants or needs to have it notarized, it cannot be done remotely. Ten states—including Arizona, Nevada, and Utah—have laws allowing wills to be created, signed, and notarized remotely, according to Trust & Will, a digital estate-planning website.
How Remote Online Notaries Work
Most remote online notaries connect with clients over a third-party platform that provides video-conferencing and other services. They're like Uber for notaries. 
A popular one is Notarize.com and it works like this:
First, you upload a PDF of your document from a computer, or snap a photo of it with a phone or tablet if using the mobile app. Next, you provide your name, date of birth, recent address, and last four digits of your Social Security number. Then you quickly answer questions about yourself based on public records information and facts only you would know. Then you provide an image of the front and back of a government-issued photo ID using a webcam or mobile-device camera. 
Once the image has been authenticated, you'll be connected with a licensed notary on a secure video call. "You will see the notary, see yourself, and interact with the document at the same time," says Notarize.com spokesperson Andrew MacDougall. The document will be signed and stamped digitally and immediately available as a digital original. "All documents are encrypted and tamper evident, and we record the event," he says.
How to Prepare to Meet with a Notary
Before meeting with a notary:
See if the notary is licensed. If his or her state does not have a searchable online database, "take other steps to make sure they are legit," says National Notary Association spokesperson Garcia.
Find out what identification you will need. Make sure your document can be notarized and—if using a remote notary—that the receiving party can accept it.
Find out the total cost. Most states set maximum fees that notaries can charge. For acknowledgments, it's usually $5 to $15 per notarized signature. Some notaries charge a flat fee for a package of real estate or estate-planning documents that need many signatures. Notaries can charge extra for travel and services such as night, weekend, and rush jobs, Garcia says. Some states limit travel fees, but most don't.
With remote notaries, you'll typically pay a fee to the platform. About half of the states limit what they can charge; it's usually $25. Part of that fee goes to the notary, but the notary can't be paid more than what his or her state (not the customer's state) allows. Notarize.com charges $25 for the first notarized signature and $10 for each additional one in a given transaction.
Finally, remember to bring your completed document, ID, and all signers to the appointment.