Go Paperless and Enroll in eBilling
Enroll in Automatic Renewal to go paperless.
Go paperless today! When you enroll in eBilling, your annual Membership renewal statement is emailed to you, providing a convenient, time-saving way to keep your AAA benefits rolling—plus it's better for the environment.
Opting-in is easy: Head to your online account and sign in. You should see an image of your Membership card and additional account details. Under Account Actions, click Paperless Settings, which takes you to your Preference Settings where you can opt-in to eBilling and set up Automatic Renewal if you haven't already (required for eBilling). Or you can call or visit a branch for assistance.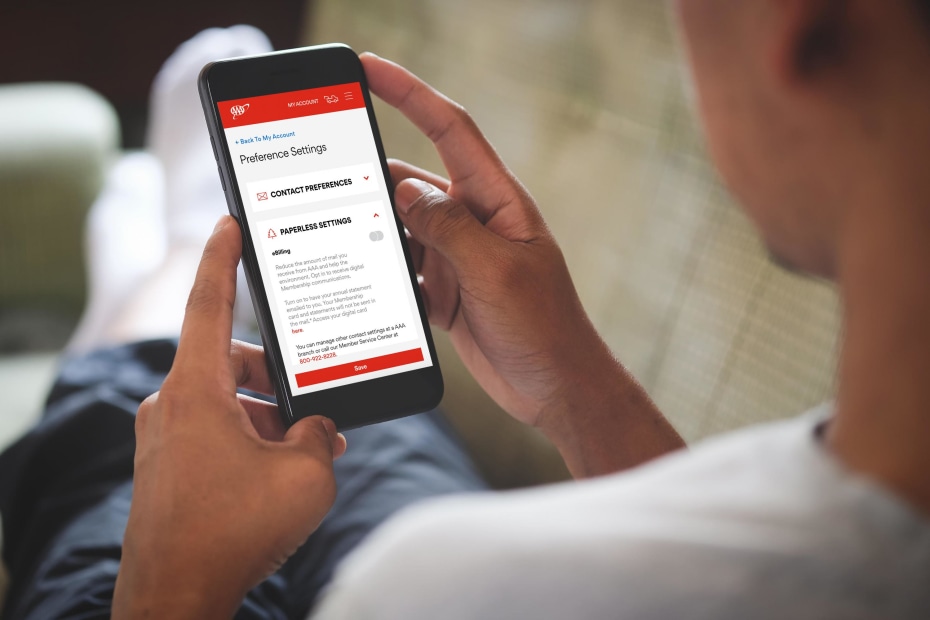 By enrolling in Automatic Renewal, you authorize us to charge your credit card or debit your bank account automatically each year for your Membership dues on your Membership anniversary. You can cancel the recurring payment at any time. After signing up, you'll receive a one-time $10 discount on dues when your Membership renews.
You'll get a few more advantages with Automatic Renewal, in addition to never missing a payment or having a lapse in your Membership. Your Membership card will be valid for 5 years (Membership dues collected annually) and you can add additional Members to your account for 50% off. They receive full Membership benefits and you have peace of mind.