When kids are too big for a car seat—but still too small for a seat belt to offer adequate protection—a booster seat is essential for the child's safety.
With a booster seat, your child gets enough height for the shoulder and lap belts to sit in the proper place, and avoids them laying across the belly or neck, which can be damaging in a crash, says Joanna Vang, a certified child passenger safety technician and Membership experience associate at AAA Mountain West Group.
But just like figuring out car seats, knowing how to navigate the world of booster seats can be overwhelming. Here's what you need to know.
When is it time to switch to a booster seat?
More than 25 percent of children are moved from forward-facing car seats to booster seats before they've reached the appropriate height and weight, according to data collected by AAA and the National Safety Council. Height and weight determine the transition from a forward-facing harness into a booster seat, Vang says. Typically, a a forward facing car seat with a 5-point harness is suitable for kids up to 40 to 65 pounds. Check your car seat's manual to know its weight and height limits before moving your child to a booster seat.
Don't rush the transition from car seat to booster, per the American Academy of Pediatrics (AAP)—keep kids in the forward-facing harness as long as you can, which means until they reach the upper weight or height limit on the seat.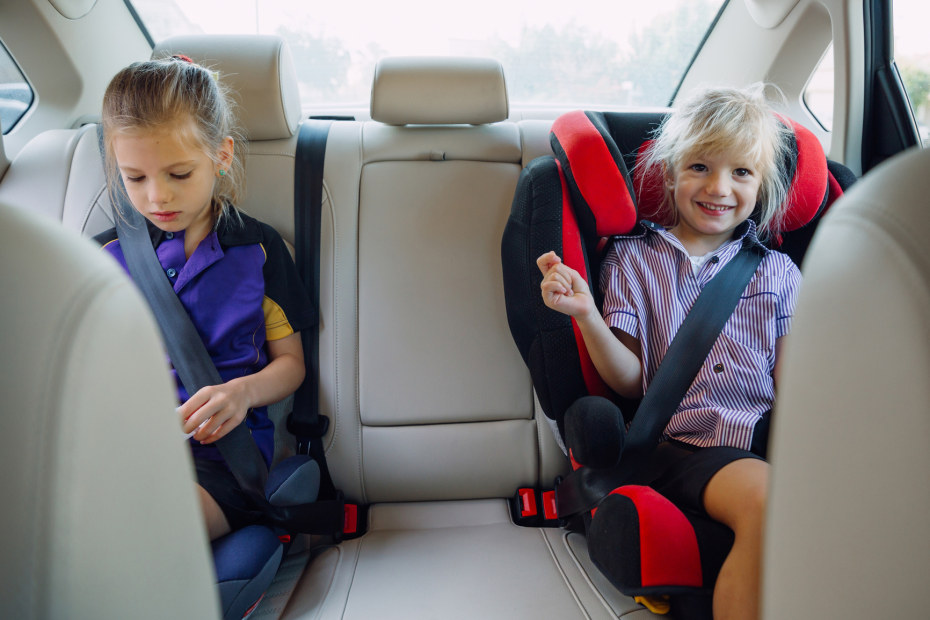 What should you keep in mind when choosing a booster seat?
As with car seats, you've got options. "Choose a booster seat that would best fit the child's needs," Vang recommends. And consider your own needs: Opt for a booster seat that's easy for you to carry and handle, so you can easily move it between vehicles. Keep your vehicle in mind, too—some booster seats work best in cars with headrests, for instance.
Booster seats with high backs make it possible for the seat belt to hit in the right spot. Since it has a high back, this is a good option if there aren't headrests or high seat backs in the car, according to the National Highway Traffic Safety Administration. "[A] booster with a high back gives the child height and neck and head support," Vang says.
Backless booster seats also lift up your child so they're the right height for the seat belt to fit. This option is only appropriate if your car has headrests.
Combination seats transition from a forward-facing seat into a booster. Think of it as one less piece of equipment to purchase.
All-in-one seats are similar to a combination seat, reducing the amount of equipment you'll need to purchase since it transitions from a rear- to forward-facing seat, and then ultimately into a booster seat.
Always opt for a newer booster seat, Vang says. Typically, they'll need to be replaced after six to 10 years from when they were manufactured or if they were involved in a vehicle collision, she says. Some signs that you should avoid a booster seat include missing parts or labels, fraying, and fabric that doesn't match the rest of the seat, Vang says.
Once you've purchased a seat, make sure to register it with the manufacturer, Vang says. That way, you'll know if there are any recalls. You can also register the booster seat with the NHTSA to receive recall and safety notices.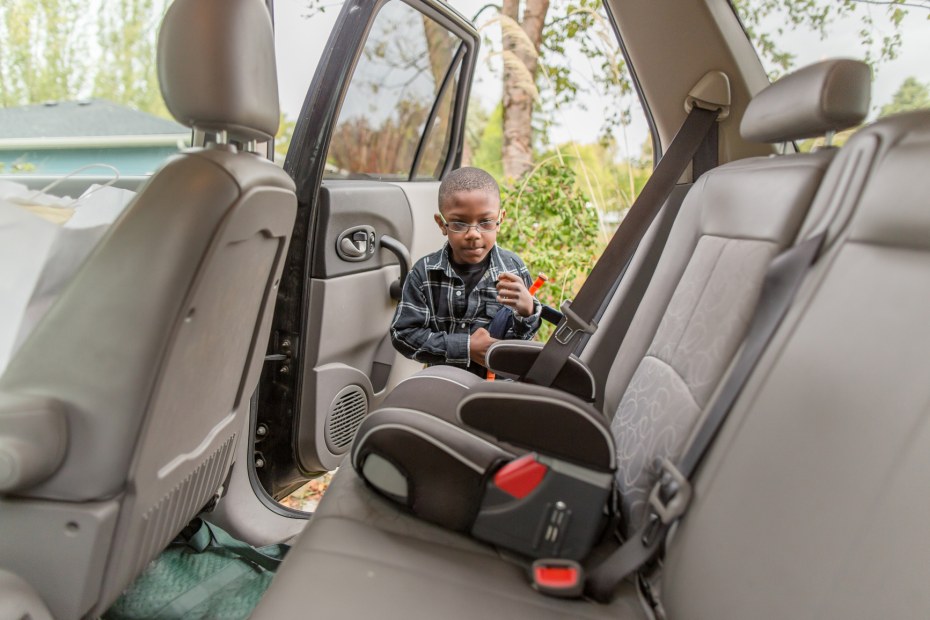 How do you install a booster seat?
Compared to a car seat, booster seats tend to have fewer components and adjustments to make, simplifying their installation. However, studies have found that caregivers make more mistakes when installing booster seats, so make sure to follow the instruction manual closely.
Typically, a booster seat simply rests on the vehicle's seat. "In today's market, most boosters do not come equipped with the LATCH, and some come with just the Lower Anchors (LAs)," Vang says.
There are some booster seats that are secured with lower anchors and some high back booster seats will also use tethers. But no matter how it's installed, once your child is sitting on the booster seat, you'll fasten the seat belt around them, which keeps the seat (and your child) in place, according to the AAP.
"Always refer to child safety seat instructions and vehicle manufacturer instructions," Vang says. And don't make modifications to the seat either, Vang says. "However the manufacturer booster seat came, leave it as it is," she says—after all, the seat's design is the result of ample crash tests to ensure its safety. That means, for instance, that there's no benefit to attaching additional bungee cords to keep it secure, she says.
Smart Tip: Need some help with the process? "Look up your local AAA for the nearest certified child safety passenger technician," Vang recommends.
How do you know if your child's in the booster seat properly?
If a booster seat is "not secured properly [it] can cause serious damage in a crash," Vang says. The key is to make sure that the seat belt is hitting the right spots on your child's body.
The lap belt should be "snug at the pelvis over the upper thighs," Vang says. Make sure it's not around your child's belly or neck. The shoulder seat belt should be snug, and lie across the chest—between your child's neck and shoulders, she says.
What should you do when you travel?
If your child uses a booster seat in your car at home, it's also important to use one while your family is traveling. If you're flying, check with the airline to see if you can carry it on.
You may be able to get a booster seat with your rental car.
Smart Tip: AAA members can get free use of a car seat or booster with Hertz, Vang says.
What does your state require?
Child passenger laws vary from state to state, so the age, height, or weight requirements for when children are required to be in a booster seat are different depending on your location.
In California, for instance, children under the age of 8 must be secured in a child passenger restraint system—a car seat or booster—in the back seat.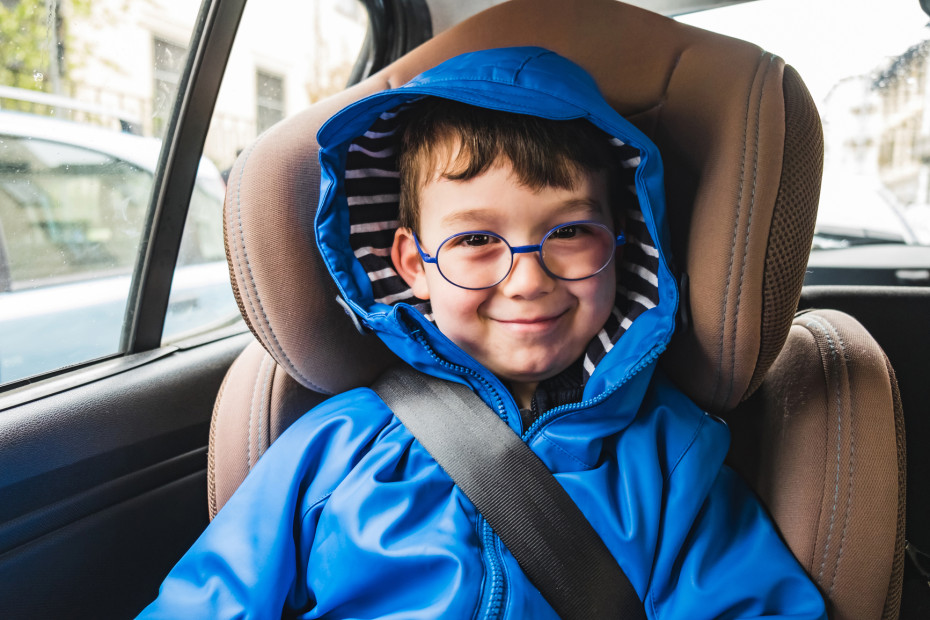 When can your child use a seat belt without a booster seat?
Legal guidelines aside, kids should use booster seats until seat belts fit them properly without the booster or they've outgrown the booster seat, according to NHTSA. Typically, that happens sometime between ages 8 and 12, or when kids reach a height of 4 feet, 9 inches. More than 90 percent of children who are using lap-and-shoulder seat belts under the age of 10 should still be in a car seat or booster seat, according to data collected by AAA and the National Safety Council.
A seat belt is appropriate if your child's back is straight against the back of the vehicle seat, with knees bent at the seat's edge, the shoulder belt snug across the chest, and the lap belt snug at the pelvis, Vang says.
But again, don't rush it. Try having your child sit in the backseat of the car, using a seatbelt but no booster seat, then ask the following questions, Vang suggests:
Is your child sitting all the way back against the seat?
Do your child's knees bend comfortably at the edge of the seat?
Does the belt cross the shoulder between the neck and arm?
Does the lap belt fit snugly across the hips and upper thighs?
Can your child stay seated like this for the whole trip?
"If you answered 'no' to any of these questions, your child is not ready for a seat belt, and must remain in a booster seat," Vang says.
What else do you need to know?
Here are a few additional tips to keep in mind:
Hold onto the booster seat manual: "Store the booster seat manual where it can be easily accessible," Vang says—that way, you'll be able to easily get information as needed. You can typically find the manual online if yours is MIA.
Don't leave booster seats unsecured: During an accident, a loose booster seat transforms into a projectile, Vang points out. If you're driving without a child in the booster seat, secure it with seat belts, place it in the trunk, or remove it from the vehicle.
Do a check every time your child is in the booster seat: Make sure the vehicle seat belt is neither twisted nor frayed, Vang says. And don't allow children to play with the seat belt—it can cause injury if it's under a child's arm or behind their back.
Don't go by price: A higher price doesn't mean a safer booster seat, the AAP points out. Opt for a booster seat that's within your budget, Vang says. "All car seat manufacturers have the same goal—child safety," she says.
Always use it: Even if you're traveling or car pooling, use the booster seat, without exceptions. After all, you still buckle up even when you're on vacation.
Choose the right seat for your vehicle: If your car doesn't have a headrest, use a high back booster seat to protect your child's head and neck.