P-22 was a living legend. The seemingly invincible mountain lion earned his fame in part for being an expert car dodger—the first known mountain lion to survive crossing the 405 and 101 freeways. He spent most of his 12 years in Los Angeles's Griffith Park, often prowling under the Hollywood sign. 
In December, though, a driver plowed into P-22 on Los Feliz Boulevard, and he had to be euthanized. P-22's death made the news nationwide. He had a massive funeral at L.A.'s Greek Theatre, and there is now a permanent exhibit in his honor in the city's National History Museum. 
Less regarded, however, are the 1 to 2 million other animals mowed down by drivers in the U.S. every year. Wild animal-related accidents on our roads comprise almost 5 percent of vehicular collisions, kill 200 people, and injure more than 30,000 people yearly. If you've ever seen a windshield shattered by a deer's impact, you know the damage that hitting an animal can inflict.
Car-animal crashes also decimate delicate wildlife systems. Plus, the problem is expensive: Over five years, collisions between wild animals and vehicles cost a total of $8 billion. In California, Interstate 280 is the state's deadliest highway for animals, costing around $178,439 per mile annually in emergency response, insurance costs, vehicle damage, and more for wildlife-vehicle collisions. In the state's Santa Clara County, drivers kill up to 5,000 newts each winter and spring.
One powerful solution? Wildlife crossings. Wildlife crossings are structures—think a bridge, tunnel, overpass, underpass, or culvert—built to facilitate wildlife movement across man-made barriers, including roads and railways.
How do wildlife crossings work?
Although the vast majority of wildlife don't migrate, they do need to move around their habitat to meet various biological requirements. They don't know how to avoid cars, trucks, and trains on their own, but the combination of wildlife crossings with barrier fencing that inhibits animals from stepping onto roads is 83% effective at preventing collisions, according to Fraser Shilling, director of the UC Davis Road Ecology Center.
"The number one thing we can do for driver and animal safety in wildlife habitat areas," Shilling says, "is to put up barrier fencing to prevent wildlife access to the road surface. This is especially true in our valuable national parks, which were created to protect wildlife, but visitors regularly collide with the wildlife." 
Connecting wild animals' habitat helps save mountain lions, yes, but also elk, bighorn sheep, squirrels, birds, lizards, coyotes, porcupines, skunks, and many other species, some of which are endangered, across the Western United States. Black bears and Pacific newts are also vulnerable because they frequently attempt to cross highways amid shrinking habitat.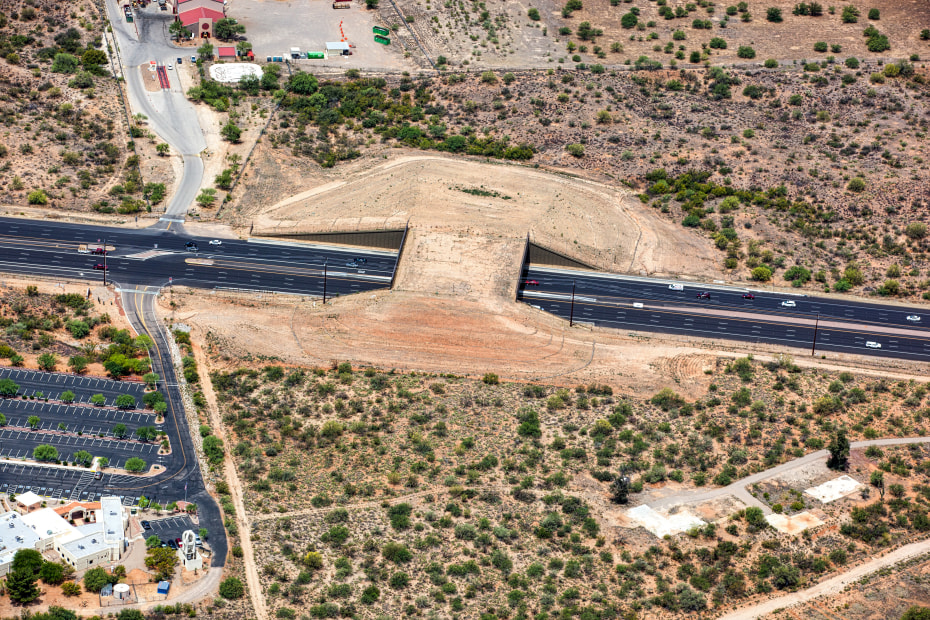 Where are wildlife crossings in use or in progress?
Interstate 90 in Washington boasts impressive wildlife crossings, with over- and under-crossings providing safe passage for wildlife of all sizes, from moose to salamanders. 
Arizona is home to the nation's first "wildlife crosswalk," a high-tech system on State Route 260 that recognizes animals approaching a stretch of road, then informs drivers so they can slow down. It's been 97% effective in reducing collisions with elk and deer on that stretch of road. 
In Utah, more than 700 animals per year use the wildlife bridge at Parleys Summit along Interstate 80. And Wyoming's Kemmerer Highway 189 Wildlife Crossing is underway to protect mule deer herds and other animals. 
Last year, Los Angeles broke ground on the Wallis Annenberg Wildlife Overcrossing, which will span 10 lanes of Highway 101 to create a safety corridor between the Santa Monica Mountains and areas to the north. It will be the world's largest wildlife overpass, and P-22's story helped raise the money to construct it. 
Last September, California's governor, Gavin Newsom, signed the Safe Roads and Wildlife Protection Act (A.B. 2344), into law, paving the way for more wildlife crossings. The new law has bipartisan support and requires agencies to identify barriers to wildlife movement and prioritize crossing structures when building or improving roads. After its passing, the legislature approved nearly 1 billion dollars in new funding to pay for these crossing structures.
It also directs state agencies to develop a project list for areas where wildlife crossings could reduce wildlife-vehicle collisions and enhance connectivity. Citizen science can help too; the California Roadkill Observation System, for example, lets anyone collect and report roadkill data, which informs these types of lifesaving projects. 
"These tragedies are preventable if California invests in more wildlife crossings, which protect both wildlife and people from dangerous collisions," says J.P. Rose, an attorney and policy director for the Center for Biological Diversity, in a press release from the center. "For decades we've been building roads that slice through habitat and block animals' movement. Now we know better, and we're finally taking the necessary steps to improve connectivity and make roads safer for people and wildlife."