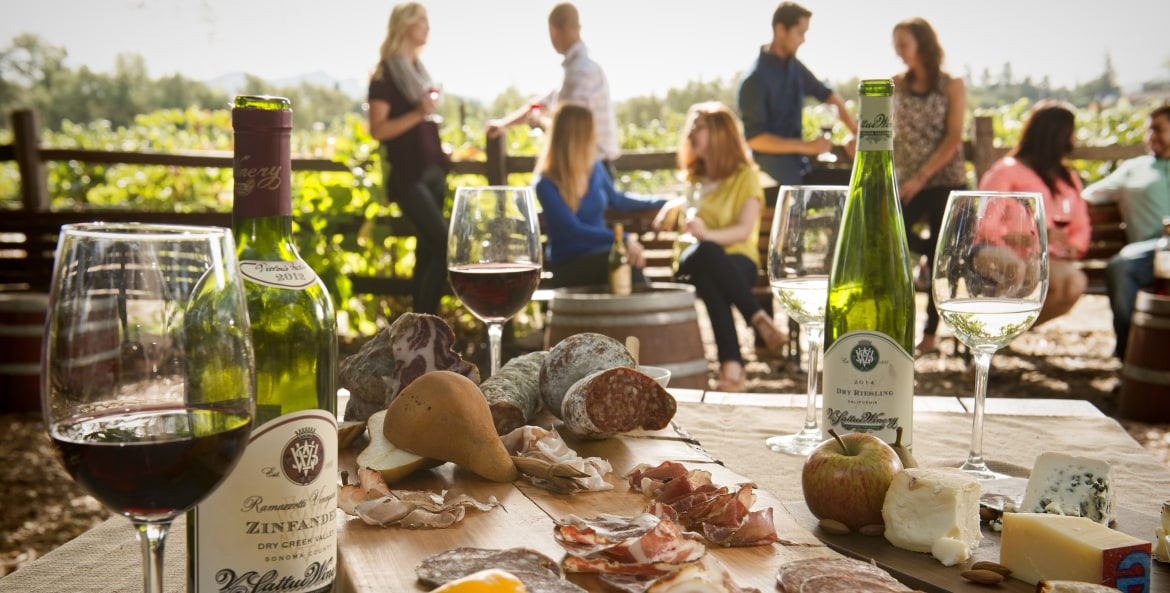 While autumn usually means plenty of sunny days in San Francisco (think outdoor festivals and barbecues in Golden Gate Park), it's also an incredible time of year to visit Northern California's Wine Country.
Just an hour north of the city, the North Coast American Viticultural Area—which includes both Napa and Sonoma counties—is bursting with celebrations honoring its annual grape harvesting season. But you don't have to participate in popular harvest events to enjoy the season's beauty. A picnic lets you enjoy fall's changing leaves and Northern California's pleasant weather—because who says you can't have your wine and drink it, too?
Visit the wineries listed below, where drink and food (or at least picnicking facilities) go hand-in-hand, and toast to a harvest celebration all your own.
V. Sattui Winery
This little slice of northern Italy in St. Helena is also the only winery in the Napa Valley to have a full artisan deli—a provision that was grandfathered in with the changing of local laws. Pick up a baguette, a stick of salami, and choose from every kind of cheese imaginable (they stock more than 200!). Pair it all with a bottle or two of V. Sattui's crisp sauvignon blanc or pinot noir and head outdoors. The winery is home to more than two shady acres perfect for picnicking, with tables and plenty of grass to lay your blanket. Spend some time indulging, then drift off for an afternoon nap beneath one of V. Sattui's giant oak trees. Reservations are not necessary but note that the winery prohibits outside food or drink.
Roche Winery Tasting Room
Located just a few doors up from downtown Sonoma's main square, Roche's tasting room offers a more urban setting for your harvest season adventure. Sample nearly a dozen wine varietals as well as Roche's own estate olive oil—a light extra virgin olive oil with a spicy finish—and order from a specialty snack plate menu with bites ranging from goat cheese-filled peppers to stuffed beef tenderloin. One of the wonderful things about Roche is an outdoor area where you can also enjoy your own pre-packed picnics. If you're driving in through San Francisco, Kearney Street in the Financial District is sandwich central during weekdays with places like Boxed Foods Company and Urban Picnic. Just over the Golden Gate, the Mill Valley Market has one of the best delis around.
Landmark Vineyards
For just $40 ($32 for club members), visitors to Landmark Vineyard's Sonoma Valley winery and tasting room get a leisurely courtyard picnic, complete with a build-your-own picnic basket of gourmet meats, cheese, spreads, crackers, and provided wine glasses (reservations required). You're also welcome to bring in your own picnic lunch and take advantage of the vineyard's stunning setting, with views of the lush Mayacamas Mountains and a glass of Landmark pinot noir in hand.
Sebastiani Vineyards and Winery
Sonoma County's Sebastiani Winery has welcomed visitors for more than a century—even making "medicinal" wines during Prohibition. These days it's known for its food and wine pairings, which include vino paired with everything from artisanal chocolates to cheeses. Sebastiani also offers a tour and tasting combo that culminates with a picnic lunch (picture small bites of roasted turkey and cranberry cream; and brie cheese accompanied by pear and onion marmalade). For both tours and food pairings, be sure to call ahead for a reservation.