The air is crisper, the sky is darker, and the year that seemed as if it would never end is finally coming to a close. Few things sound more consoling than a warm beverage. So why not pull on your slippers, grab your favorite mug, and whip up one of these simple, cozy winter drinks? From the new hotness to an old favorite, these sips—and tips for making them at home—come recommended by baristas, bartenders, and bloggers across the West.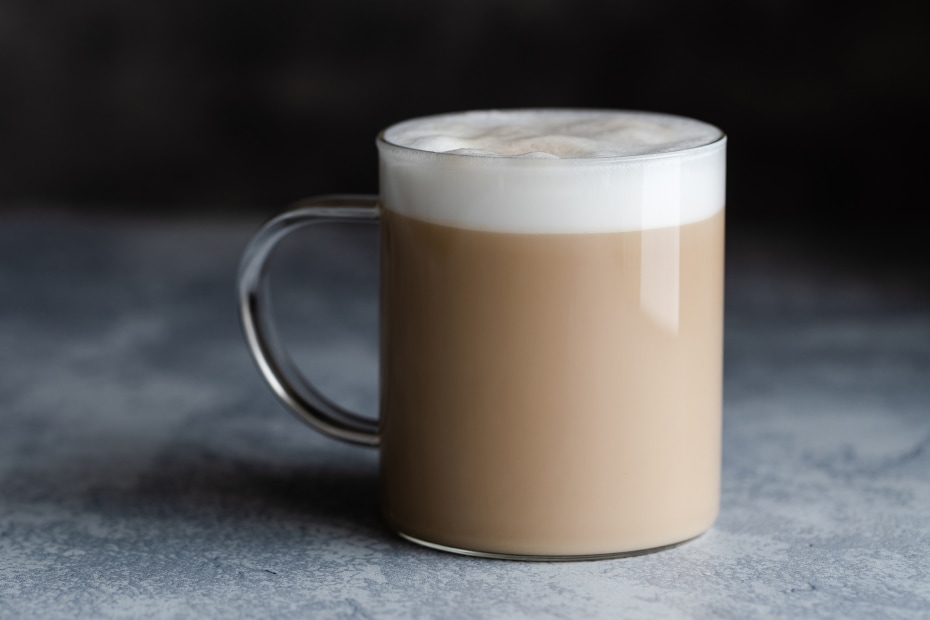 1. Green tea latte.
Soothing drinks—really, anything that can be served in latte form—have been consistently popular this year at Tea Zaanti Café in Salt Lake City. "People are willing to try something new to mix up their routine, but there seems to be something enticing about [hot] milk and a little bit of sweetener," says owner Scott Lyttle. His go-to is the Houjicha green tea latte. "The leaves are roasted over an open flame, turning them brown and resulting in a tea that has some lovely caramel undertones," he says. "Once you brew it up and add steamed milk and honey, it's a comforting treat in a cup."
Toasted tea latte recipe
Makes 12 ounces
Ingredients
1 tablespoon Houjicha tea leaves
6 ounces water
6 ounces milk (or dairy alternative)
1 tablespoon honey
Directions
Steep tea leaves in 175-degree Fahrenheit water for 2 minutes and 30 seconds, using an infuser basket, teapot, or compostable filter. Steam milk and honey together. (Tip: If you don't have a frother, whisk in a small saucepan over medium heat until frothy.) Remove leaves from water, top with steamed milk and honey, and enjoy.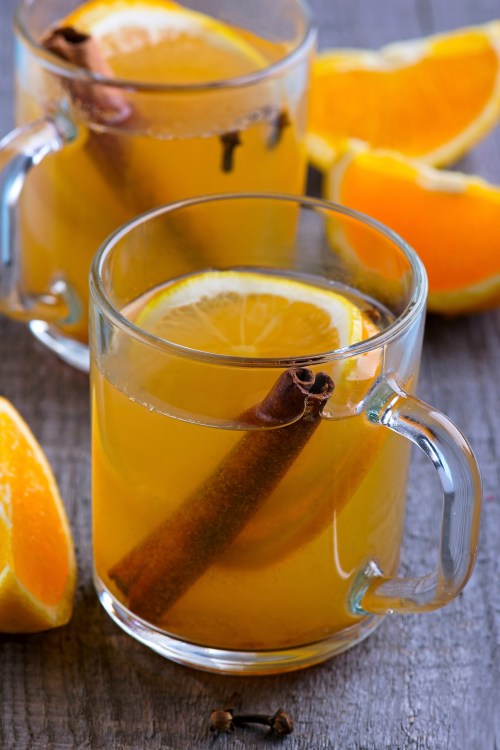 2. Hot toddy.
The surge of new no-proof spirits on the market this year makes this tasty 19th-century cold remedy more accessible than ever. "People still want to enjoy cocktail culture but without the booze, and it's getting easier and easier," says Jordan Hughes, a Portland-based writer and photographer known as the High-Proof Preacher. To make his hot toddy recipe without alcohol, Hughes suggests replacing the allspice dram and spirit with 2 ounces of whiskey alternative. No-proof spirits typically don't have the same heat or warming factor to them as their alcohol-based counterparts, he notes, but Ritual Zero Proof Whiskey Alternative comes close to mimicking the sensation.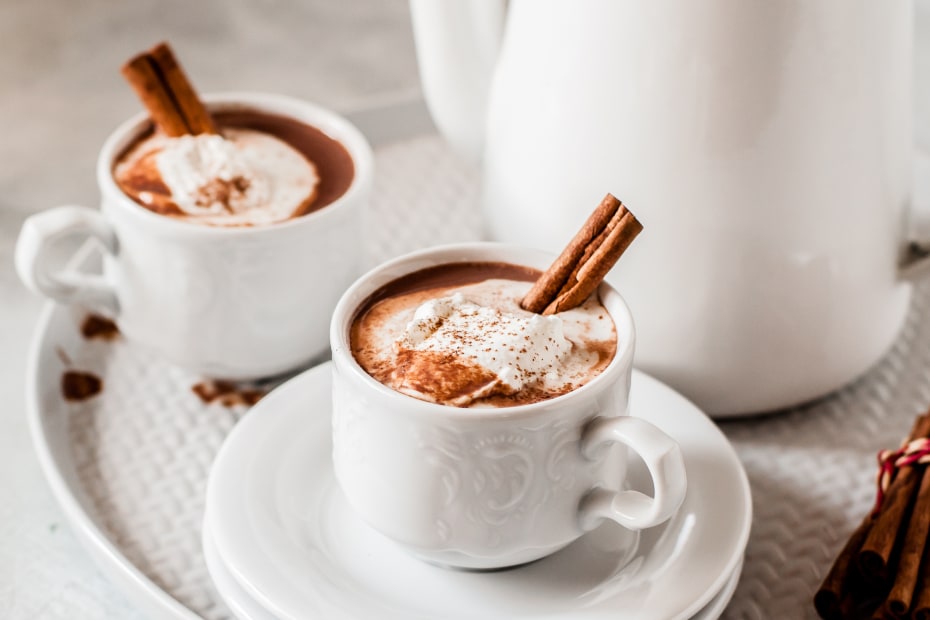 3. Spicy hot cocoa.
You can intensify the heat of hot chocolate by adding warming spices. It's a simple tactic that Portland-based Moonstruck Chocolate Co. suggests using to pump up any cocoa, including its dark chocolate cocoa mix. Make a mugful with your milk of choice (half and half, whole milk, almond milk, oat milk, or cashew cream get more luxurious results than lower-fat options or water), then add a few sprinkles of cinnamon and chile powder. "It's hot cocoa with a kick," says Miranda Girardi, Moonstruck's retail operations general manager.
For a traditional Mexican hot chocolate, start with a bar of chocolate de mesa ("table chocolate"), which typically packs ground cacao nibs, sugar, almonds, cinnamon, nutmeg, and vanilla. Break off a chunk and simmer with milk, per the instructions on the package. Texas-based blogger Mely Martinez offers some tips on making a good cup, as well as a recipe for DIY Mexican hot chocolate mix—in case you can't find chocolate de mesa or want to have a stash of dry mix ready in your pantry.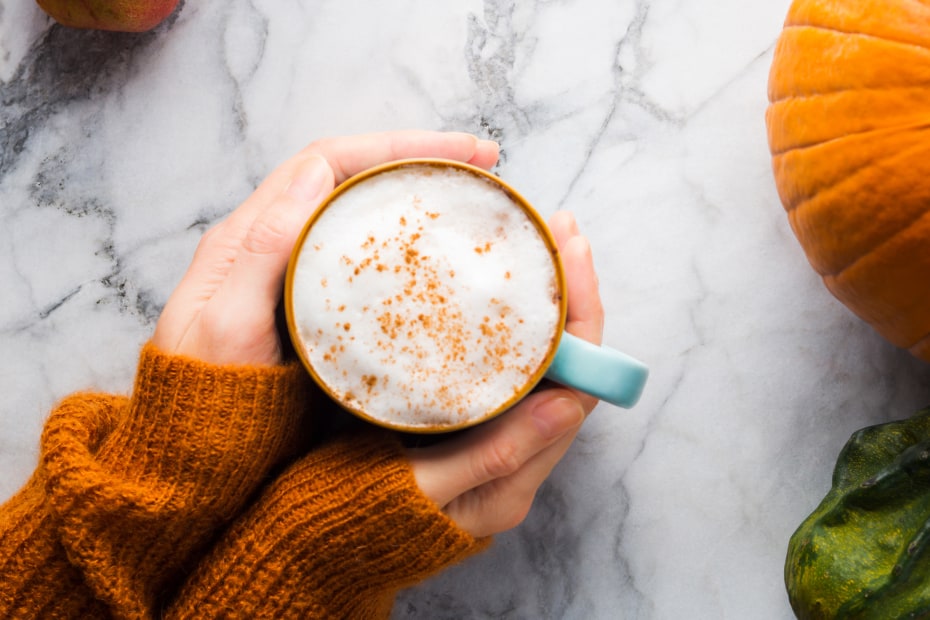 4. Pumpkin spice latte.
Starbucks offers its now-iconic PSL every fall—and keeps serving it while supplies last, often well into December. Silicon Valley–based cookbook author Carolyn Jung developed an easy recipe for home cooks that includes actual pumpkin and more spices than the usual cinnamon, ginger, nutmeg, allspice, and clove. Plus, she offers six preparation variations, from vegan to kid-friendly. (Don't like pumpkin spice or just want to mix things up? Try an eggnog latte. This easy recipe from the Kitchn comes together without an espresso machine.)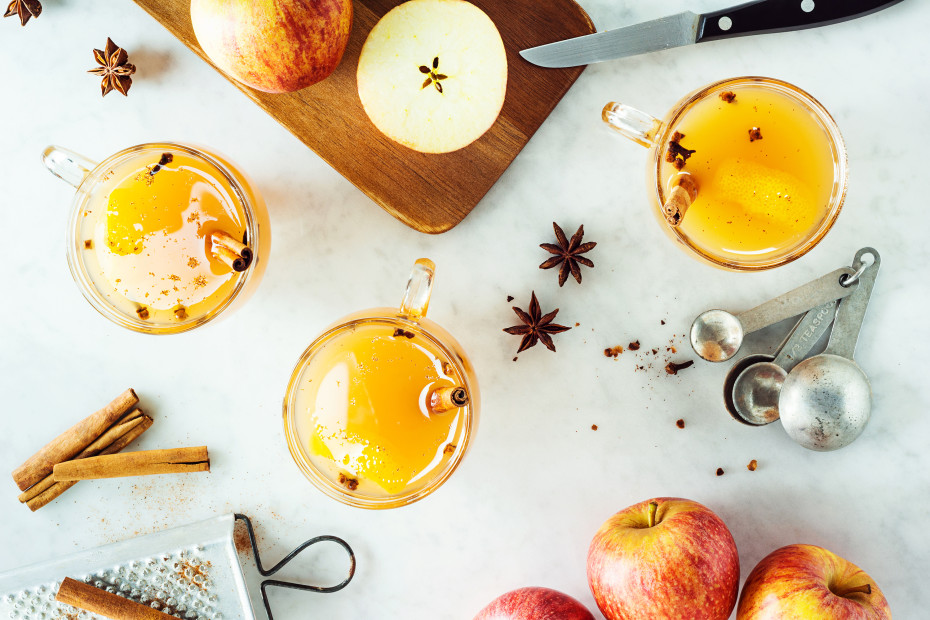 5. Apple cider.
Hot apple cider not only warms your belly, but also fills your home with the cozy aromas of cinnamon and clove. Sure, you can heat up store-bought juice (make sure it's raw and unfiltered), but it's almost as easy to turn late-harvest fruit into your own homemade cider. The blog Gimme Some Oven offers a recipe with instructions for Crock-Pot, Instant Pot, or stovetop preparation.