Hail the mocktail. Clever mixologists have recently been upping their game when it comes to alcohol-free drinks; in just the past two years, the number of options at bars, restaurants, and even distilleries has exploded. Now, those who avoid booze can choose from a bevy of beverages based on zero-proof spirits, house-made sodas, and shrubs (drinking vinegars).
Patrons hit Arcana in Boulder, Colorado, for chef Kyle Mendenhall's nouveau Colorado cuisine highlighting wild game, foraged berries, and house-made everything. The nonalcoholic Arcana Lemonade fits right in, drawing its perfect pucker from scratch-made lemon shrub (lemon juice, champagne vinegar, and sugar). "The lemonade has always been popular," says bartender Patrick Noel. "People who don't drink still want an interesting drink when they go out."
An increasing number of breweries, wineries, and distilleries are offering visitors alcohol-free options. Take You & Yours Distilling Co. in San Diego. The urban gin and vodka distillery offers virgin versions of some house drinks in addition to its full cocktail menu. One, called "Is Ken the Father?" combines rhubarb and raspberry shrubs, lemon, and Topo Chico for a tart, refreshing spin on the "Rhubarbie's Dream House" cocktail.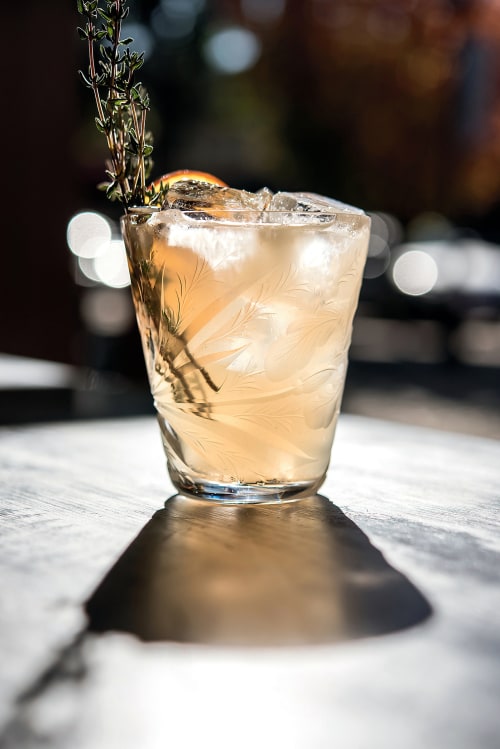 Bar manager Camille Cavan develops cocktails to accompany the ever-changing menu at Quaintrelle in Portland, and she never skimps on booze-free choices. For winter, Cavan created one that combines apple and pink peppercorn syrup, lemon and lime juices, soda water, and ginger ale, garnished with an apple peel, a cherry, and mint leaves. It's served in an etched highball glass, making a striking match to the eatery's modern Pacific Northwest fare.
Topgolf—a chain of venues where players drive golf balls down lanes, bowling style—has joined the mocktail party. At its rooftop Las Vegas location, look for the Apple & Pear, a drink that includes caramelly Apple-Pear Barmalade, ginger beer, and fresh lemon and apple juices, topped with a cinnamon-and-nutmeg–dusted chip. The bright palate cleanser pairs well with Topgolf's upscale pub grub. End your feast with "injectable" doughnut holes, which you can fill with Bavarian cream or chocolate.
Near Northern California's Mendocino coast, Navarro Vineyards & Winery has been serving fresh juices squeezed from its prized fruit for 30 years. Visitors to the tasting room can order all three varieties to create their own nonalcoholic tasting flight. Notes of tropical fruit highlight the gewürztraminer grape juice, which can be frozen to make gewürz-icles for kids. The pinot noir grape carries cranberry and rhubarb flavors, while the Verjus—made from fruit picked early in the harvest—has hints of crab apple. Each juice is cold-pressed immediately after harvest, to preserve the unique flavor of each grape.
In keeping with the New Age spirit of the city, New Mexico's Santa Fe Oxygen and Healing Bar draws wellness seekers with crystal-infused aromatherapy, tarot card readings, and a restaurant that leans gluten free and vegan. The bright-hued O2 Mojito Boost combines mint, lime, and pineapple with a shot of green nettles, known for their anti-inflammatory properties. The spa's booze-free Bloody, the Mushroom Madre Mary, is spiked with a brain-function–enhancing shot of mushrooms.
Cassia sommelier Marisa Brown has become a fan of Seedlip, a line of nonalcoholic spirits made with herbs and other botanicals. At the chic eatery in Santa Monica, California, Brown substitutes Seedlip Garden 108—distilled from hay, peas, spearmint, rosemary, and thyme—for gin in cocktails. The Garden Gimlet is a combination of that plus lime juice and mint, which pairs well with the restaurant's pan-Asian dishes. Prefer whiskeys? Seedlip Spice, with its flavor profile of allspice, cardamom, oak, lemon, grapefruit, and cascarilla, steps in for the darker spirit.
The Lakehouse restaurant, in Bellevue, Washington, is devoted to all things fresh, handmade, and regionally raised. The staff pays the same attention to the mocktails, starting with the scratch-made sodas, such as cherry-pomegranate and mint–Bosc pear, which hold a hint of sweetness that's never cloying. Try one on its own or blended with other fresh ingredients.