Having a fireplace can be a mixed blessing, especially now that fires are such a concern in the West. But with this advice from fire and home safety experts, you'll be able to enjoy your fireplace in the safest way possible.
Be mindful of indoor air quality.
The first thing that fireplace owners should know about kindling their flames is that, depending on what type of setup you have, fireplaces release an array of dangerous chemicals and toxic by-products. According to the Environmental Protection Agency, burning wood releases particulate matter, benzene, formaldehyde, acrolein, and polycyclic aromatic hydrocarbons (PAHs)—all of which can go straight from your lit fireplace into your family's lungs. Natural gas lets off carbon monoxide, carbon dioxide, sulfur dioxide, and nitrogen oxides when it burns.
When inhaled, these chemicals can cause bronchitis, heart attacks, strokes, asthma attacks, irregular heartbeats, and even heart failure, especially in those who are at risk for these health hazards, such as children and older adults. The American Academy of Pediatrics recommends keeping a window cracked when a fire is going to help clear the air.
Limit outdoor air pollution.
Smoke from your fireplace can also impact the air quality in your neighborhood. In Oregon alone, woodstoves and chimneys release 12.8 million pounds of particulate pollution matter each year—amounts similar to a wildfire. Smoke from fireplaces and woodstoves is the main source of hazardous fine particulate matter in the winter in the San Francisco Bay Area, according to the Bay Area Air Quality Management District.
Because wood burning can cause or exacerbate unhealthy air quality, many cities and counties across the West have days during which it is illegal to burn, including the San Francisco Bay Area and Utah. Always check for any local restrictions before you light a fire.
Use cleaner fuel or heat sources.
If you're using your fireplace mainly to keep your home warm, consider using a cleaner heat source, such as an electric heat pump or furnace. If you must have fire in the fireplace, burn only dry, split, properly seasoned wood—never burn trash or pressure-treated wood, which release noxious fumes—and keep your fire small.
To prevent your wood-burning fireplace from tripling the amount of harmful indoor pollutants in your home, replace firewood with wood pellets made from sawdust, recommends Andre Kazimierski, the founder of Improovy, a home improvement service in Phoenix. "These tiny logs burn efficiently and completely, so fewer pollutants escape into the air." You can also use manufactured logs and products such as Duraflame, which release less pollution than average wood.
Kazimierski also recommends switching to a gas insert if your fireplace burns liquid propane, since inserts draw air in to oxygenate the fire and channel smoke outdoors.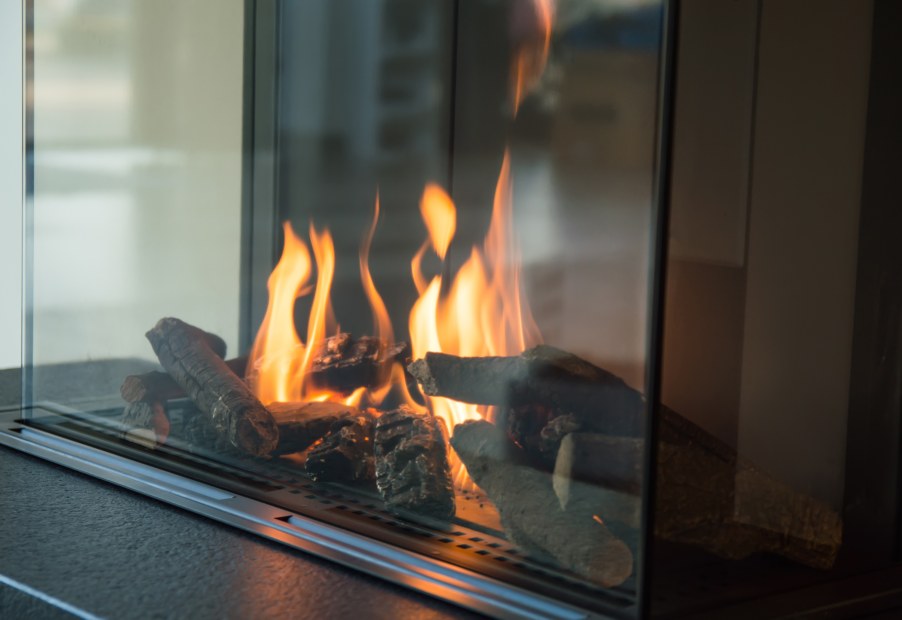 Opt for a safer insert or stove.
Electric inserts are the safest fireplace option for preventing fire spread, burns, and air pollution, especially if little ones are around. "To date, electric fireplaces are the safest option for families with children or pets," says Jen Stark, who runs the home improvement blog Happy DIY Home. Electric fireplaces don't create real flames. Instead, they light up to give the impression of fire while putting out heat. Because they don't release pollutants, they don't require a chimney, which means they can be installed in more places. The glass front also typically doesn't get hot to the touch so you don't have to worry about burns.
Natural gas fireplaces can be safer too: "Natural gas burns significantly more clean than any kind of wood product, requires less cleaning and maintenance, and in most cases, is a closed system that makes it difficult for people to touch the flame itself," says Leonard Ang, the CEO of iPropertyManagement, an online guide for property owners. Gas fireplaces also have an oxygen-depletion sensor to detect unsafe levels of carbon monoxide. According to Stark, gel and ethanol fireplaces are also safer alternatives than a traditional wood-burning set-up. 
Smart Tip: In some places, it's no longer legal to install new wood-burning fireplaces or stove inserts. Check your local rules and building requirements before installing a new fireplace or wood stove.
Burn better.
If you have a wood-burning fireplace that you can't replace and that is necessary to heat your home, there are things you can do to make it safer. Inspect it often to make sure that the protective linings and smoke ducts are clean and in good condition, and that the chimney is clear. Choose firewood that's been dry for at least six months, and place the wood toward the back of the fireplace on a sturdy iron grate. To ignite your fire, use only a fire lighter, never a gasoline or charcoal lighter or other fuel.
Prevent embers from igniting furnishings or flooring with a fireplace screen that fully covers the opening. Remove anything even remotely flammable—such as pillows, books or magazines, and rugs—from the hearth and the area surrounding the fireplace (at least three feet is a good rule of thumb).
Test your carbon monoxide detector and smoke alarms monthly to ensure they're working properly, keep a fire extinguisher nearby, and always put the fire out completely before you leave the house or fall asleep.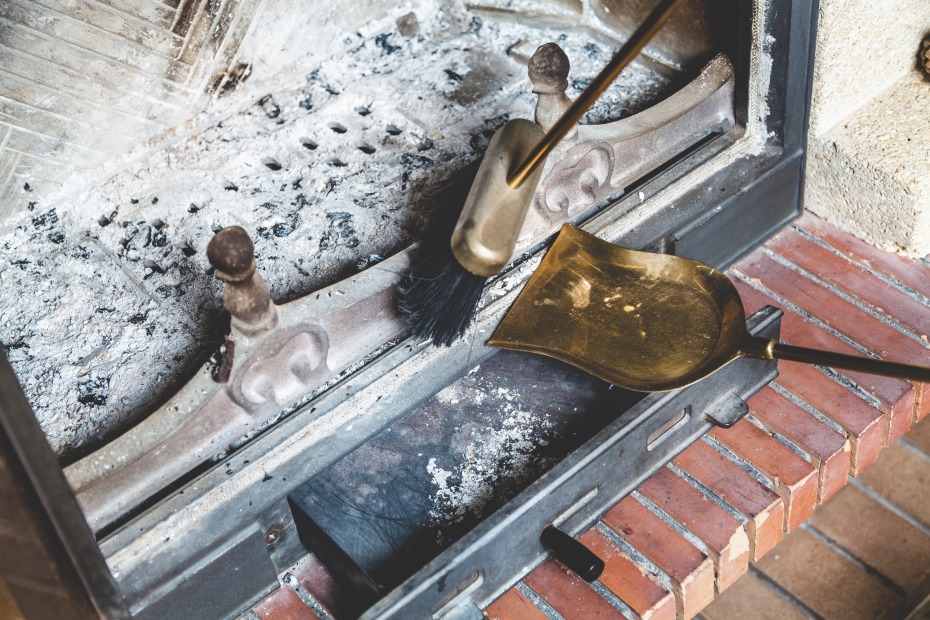 Remove soot and ash.
The leading cause of fires from home heating is a dirty chimney. At least once a year, have your chimney and fireplace inspected, serviced, and cleared by a professional, no matter what type of fireplace you have. Clean off ash, soot, and other debris after every use—sweeping and vacuuming with an ash vacuum both work—so that you don't end up with a pile of flammable materials in your home.
Keep kids and pets safe.
Warn children about the dangers of fire, and always supervise kids and pets when the fire is going. If you need to leave the room, take children and pets with you rather than leaving them unattended.
"Keep a three-foot safe zone round the fireplace," says Sharon Cooksey, a fire safety educator for Kidde, a major manufacturer of fire and carbon monoxide safety products. Baby gates and fences can help you section off the area for additional protection and peace of mind.