Aging in place is more than a trendy term for senior adults who plan to remain in their homes, rather than move to a nursing home or assisted living facility, as they get older. It's a significant and increasingly popular lifestyle choice that encourages elder well-being. 
"There are so many benefits to staying at home as you age," says Scott Kaiser, MD, geriatrician at Providence Saint John's Health Center in Santa Monica, California—it's familiar, encourages independence, and can be significantly cheaper. (The average cost in the U.S. of a semi-private room in a nursing home is more than $7,500 a month, per Genworth Financial.) 
But setting elderly individuals up to thrive at home may require adjustments. We spoke to experts to find out how to assess and update a home so it can accommodate aging in place for you or your relative.
Assessing Your Home for Aging in Place
The experts agree: Safety is the first priority for seniors who desire to live at home. 
Many home updates for people aging in place are geared toward reducing the risk of falls, which are devastating but also quite common. In fact, one out of every four adults over age 65 falls each year, per the Centers for Disease Control and Prevention (CDC). "You want to avoid falls at all costs," Dr. Kaiser says. Falling can lead to hip fractures and head injuries, both of which can worsen a person's health and quality of life, or even be fatal, he says.  
Other home updates may depend on an individual's particular situation—someone with a wheelchair or walker, for instance, may require ramps in place of steps.  
Here's the good news: Safety updates don't have to be unsightly or institutional in feel. Many tweaks are small and unobtrusive (think adding a nightlight in the hallway). Some adjustments may actually serve as overdue home improvements, such as fixing cracked concrete on the front steps.
"Each room has its potential pitfalls," Dr. Kaiser says, but experts tend to identify the kitchen and bathroom, along with entryways, as locations with the highest risk. 
It's also a good idea to update the most frequently used (and enjoyed) areas of the home, whether it's the garden or a reading nook in the living room, recommends Peter Kent, AAA Home Service Specialist.
If you're unsure where to start, try examining the living space and exterior with fresh eyes—a walkthrough with another family member can be helpful, Kent says. Note any obvious safety concerns that jump out at you; then consider these expert tips for areas that need particular attention.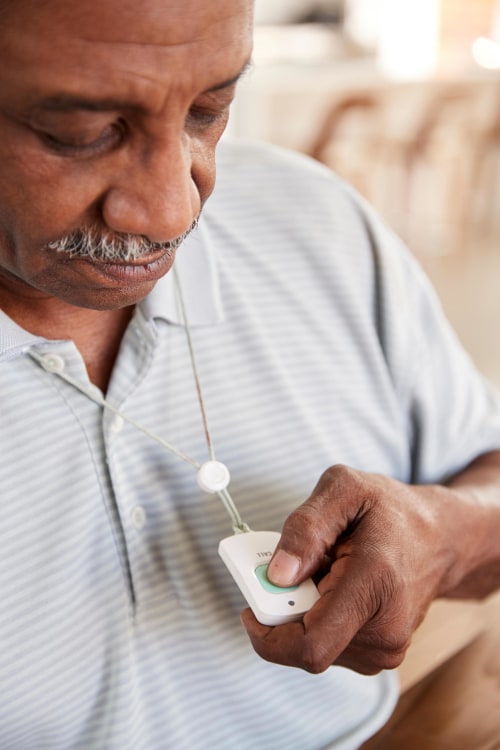 General Aging-in-Place Home Updates
Address these concerns throughout the property.
Brighten up lighting. 
Bathroom trips in the middle of the night can be disorienting, and dim lighting doesn't help. Add motion-detecting nightlights to illuminate all areas even in the dark and install working light switches at the top and bottom of every staircase, if you don't have them already. 
Use brighter light bulbs throughout the home, recommends the CDC. You can also add smart lamp plugs, programming them to turn on at dusk and by voice request. 
And don't forget about the yard and driveway. "Assess outside pathways that may need extra lighting to be able to see well at night," Kent says. 
Eradicate clutter.
Look for piles of magazines or books on the floor, stray charging cables, power cords, and so on. All these items pose potential tripping hazards. In general, you want to create clear walkways, so you may have to ditch some small, lesser-used furniture.
Ensure easy entry into the home and rooms.
Examine the stairs and pavement around the property, looking for cracks and other tripping hazards. For better visibility, use vivid paint on the top edge of all stairs, per the CDC. To reduce the likelihood of falls, you can also add non-stick tread. Make sure to have railings in place by any staircase or set of steps, and ensure that railings are well-secured. 
Replace door knobs with levers, suggests Dak Kopek, PhD, an architectural psychologist and associate professor at the University of Nevada, Las Vegas. Levers are easy for anyone to open, even if stiff joints make grab-and-twist motions challenging. (You can also swap cabinet knobs in the kitchen and bathroom for easier-to-grip options.)
People who use walkers or wheelchairs might benefit from wider door frames as well as ramps in place of steps.
Make sure floors are smooth.
As we get older, we lift our feet less high as we step, Kopek says, which can make tripping more common. Cut the likelihood of a fall by removing area rugs. Carpets should also be secured, not peeling up at the edges. 
Some homes may have raised humps at thresholds or where one room transitions into another. They may look small, but Kopek warns, those bumps can be a horrible tripping hazard. A contractor can help with necessary adjustments to ensure a smooth surface.
Think technology.
Every home should have a working smoke detector and carbon monoxide monitor, but other technology, including smart home devices, can support successful aging in place. "An easy-to-use security system is beneficial so that seniors will have peace of mind without needing a degree from MIT to use it," says Peter Ross, CEO of Senior Helpers. 
A medical panic button—worn as a necklace or clipped on a belt—connects to a monitoring center whose reps will contact first responders on your behalf, says Christina Robinson, content marketer at AAA Smart Home Security. "It's a good option in case you can't reach a phone," she says. 
A smart thermostat—which adjusts the temperature automatically, reducing the need for early morning and late night walks to the thermostat—is a particularly useful device for seniors. (Similarly, AAA Smart Home Security's temperature sensor sends a notification when temperatures reach over 100 degrees or drop under 40 degrees.)
Robinson also recommends the 180° Wellness Camera. Along with having an activity monitor which can alert others to unusual activity or lack thereof, it includes a button for easy contact with caregivers or loved ones.
For seniors with mobile phones, save important contacts and emergency numbers as favorite contacts for quick dialing. Otherwise, place a printed list of important numbers (doctors, police station, etc.) in a central location, such as the fridge door.
Opt for chairs and couches with arms. 
Furniture with sturdy arms makes it easier for people to get up. "The person can hold onto the arms in a near-standing position," Kopek says. Avoid delicate chairs that might topple with weight, he adds.  
Aging in Place Updates for the Bathroom
The bathroom is one of the more risky areas in the home: Moisture leads to slippery surfaces, and getting in and out of the tub, and on and off the toilet, can increase the risk of falls, warns Kent.
Clear the way.
When people use the facilities at night, they might be a bit groggy, Dr. Kaiser points out. Make sure there's a clear pathway to the bathroom (well lit by nightlights and without  tripping hazards, such as area rugs).
Swap out your bath mat for a non-slip version, and get in the habit of hanging up the mat in the evenings, so it doesn't pose a tripping hazard in the dark.
Update the shower or tub. 
Non-slip stickers adhered to the bottom of the shower stall or tub is one of the cheapest and easiest updates you can make. Another low-tech (and cheap) safety add-on is a shower chair. 
Adding grab bars will make it easier to get in the shower—vertical ones have a less institutional look, Kopek notes.  
The shower and tub can also be tricky because you need to raise your leg to enter and exit, which can lead to dizziness and vertigo, according to Kopek. If you can accommodate a more significant update, install a curbless shower.
Consider a bidet.
Along with having to sit and stand in quick succession, sitting on the toilet means you may need to twist your body to reach and use toilet paper, points out Kopek. Grab bars on either side of the commode can help with any slight disorientation that results. 
Kopek also suggests getting a portable bidet—it'll make clean-up easier and also elevates the toilet seat for people with limited mobility or poor balance, who may need extra support when getting up or sitting down.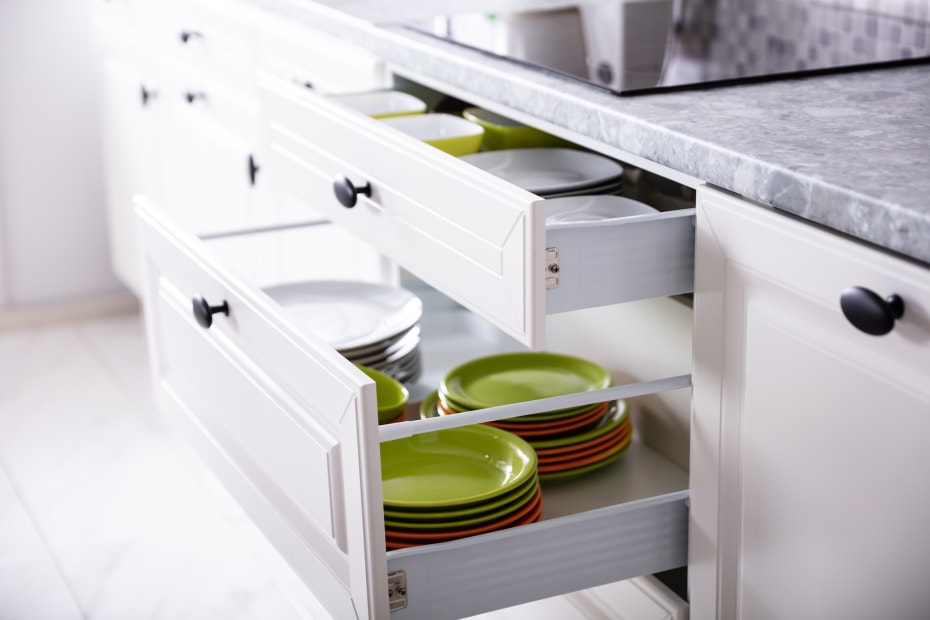 Aging in Place Updates for the Kitchen
Prioritize adjustments to this active and essential living space. "If people have a difficult time using cooking supplies or accessing food, it can become a deterrent to making meals, putting their nutrition and health at risk," Kent says. 
Reassess storage. 
Frequently used items—everyday dishes, food, and so on—should be within arm's reach. Convert lower cabinets to drawers for easier access, and look for opportunities to revamp cooking habits and kitchenware. Trade in heavy cast-iron pans for lightweight skillets. Or add a toaster oven on the countertop to reduce the need to bend over while using the oven. 
Install a mirror.  
Consider adding a mirror behind the stove, suggests Kopek. It'll fog up as water boils and also reflect flames, providing a handy reminder when the range is on. (All kitchens should be equipped with an accessible fire extinguisher.)
Get help.
Aging in place doesn't have to be a totally solo situation: Friends, neighbors, and family members can help to reach items stored up high. Devices can help, too, such as grab bars in the kitchen or a reacher tool to snag light top-shelf items or those that have fallen to the floor. Do get rid of any step stools that aren't sturdy and secure.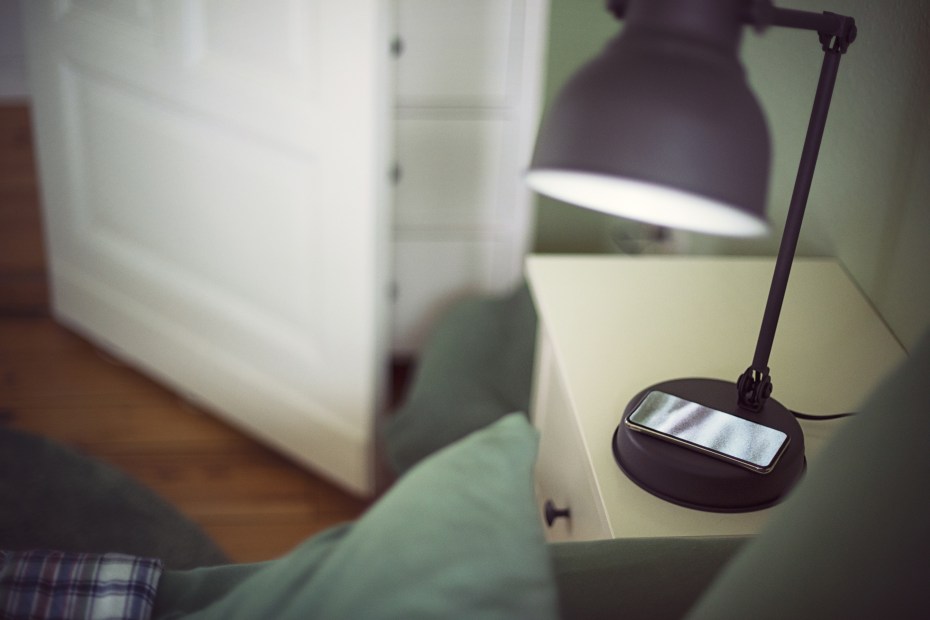 Aging in Place Updates for the Bedroom
An upstairs bedroom is best relocated to the ground level, but if that's not possible, consider installing a stairlift. 
Check the bed height.
Adjust your bed's height so it's easier to get in and out. Aim to have your bed 20 to 23 inches from the floor to the top of the mattress, per the ADA National Network. Adding grab bars can also help.
Use a bedside light and phone charger.
Rely on a bedside lamp to turn on the light in the dark (and switch it off before bed), per the CDC. Switches or touch lights are easier than knobs you have to twist. Keep a phone charger anchored to the bedside table as a reminder to plug in mobile phones each night (and ensure they're available in case of a middle-of-the-night emergency).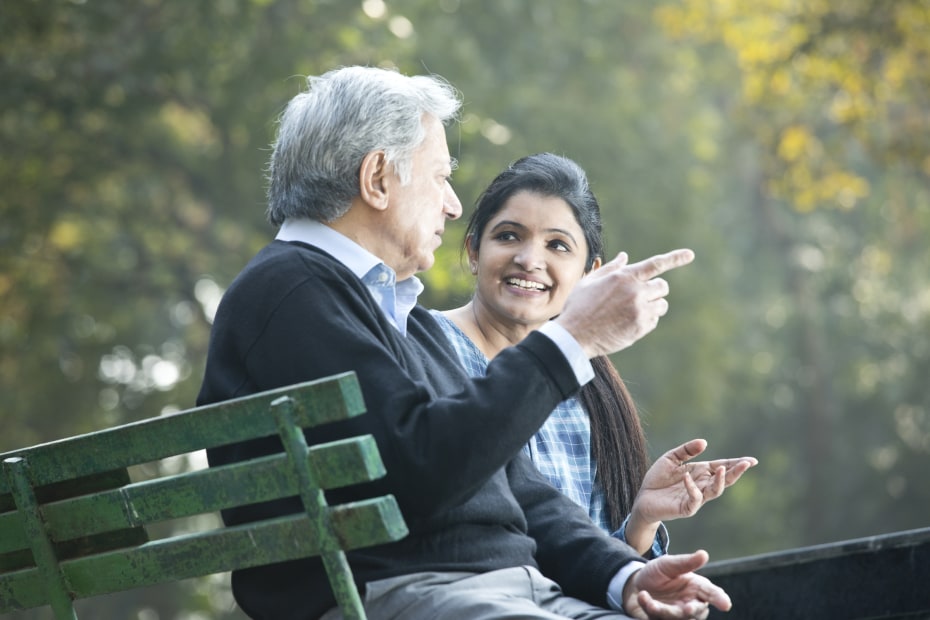 Talking to Your Parents About How to Age in Place
It's not always easy to talk about the need for aging-in-place home updates with your parents. As Dr. Kaiser points out, the reversal in roles and responsibilities can feel uncomfortable, especially for highly independent people. 
Here are tips to navigate the conversation: 
Be proactive. Don't save this talk for after a fall or accident. It's best to discuss the importance of updates early on. 
Let your parents steer the conversation. Try asking open-ended questions: What are your goals? What do you imagine for yourself? Are there any areas of the house that you find frightening or overwhelming? You don't have to ask why they find that spot scary, Kopek says. By having them point it out, you can know where to focus your attention. Kopek also suggests opening the conversation by saying, "We'd like to make some minor renovations with your permission."
Show respect. Your loved ones may be getting older, but they're still adults and should be regarded as such, Dr. Kaiser says. 
Focus on strengths. Highlight the positives, Dr. Kaiser suggests—for instance, you might say, "It's so great that you can still walk, and only need assistance from a cane occasionally." A goal-oriented conversation (How can we update the home so you can still enjoy gardening?) may also be most productive.