If you're stuck inside this spring, and feeling a bit fixated on germs, turn that energy toward a deep clean. In the process, you'll wash, dust, and scour often-neglected areas (such as baseboards, grimy handles and knobs, and the hidden spaces underneath large furniture). The result? A germ-free home that sparkles and a fresh outlook. "Even tiny cleaning victories can boost your mood and give you a sense of accomplishment," says Jennie Varney, brand manager for Molly Maid, a Neighborly Company. 
Not sure where to get started? We spoke to experts for advice, including must-have supplies and a room-by-room guide on what to clean—and how.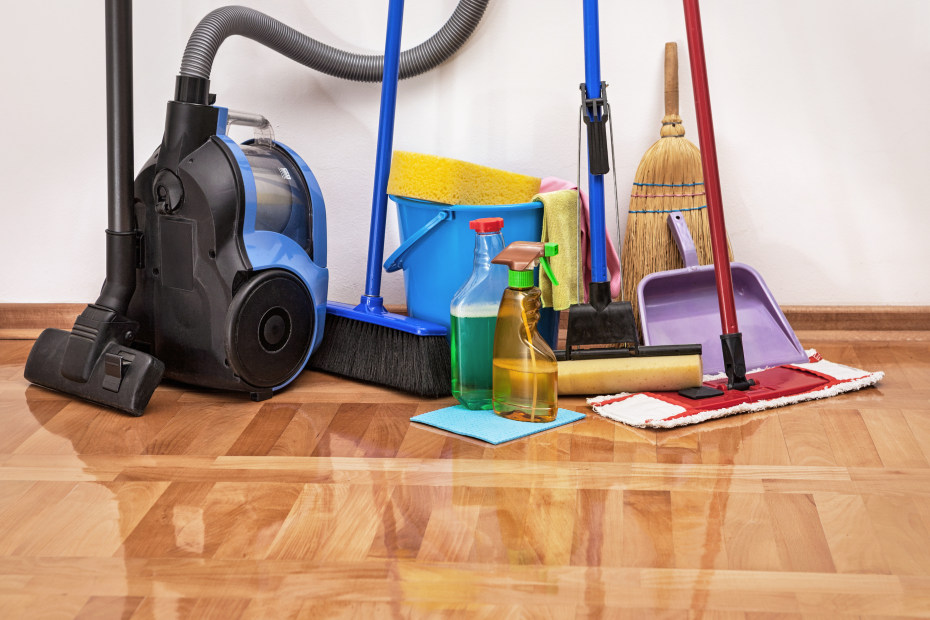 What Supplies You Need
Before you dive in, you'll want to have a plan. That means knowing the best way to clean what, along with the most effective products to use.
Here's what experts recommend you have on hand:
A vacuum: Get one with a HEPA filter, recommends Brian Murphy, owner of You've Got Maids. "That's best for pulling toxins out of the air," he says.
Rags: You can opt for old t-shirts or towels on their last legs. Another option is microfiber cloths, which are great for dust, stains, and dirt. "They are super cheap, reusable, and durable," says Abe Navas, general manager of Emily's Maids in Dallas, Texas. 
A mop and bucket: It can be good to have two buckets, according to Varney. "[Use] one for the dirty/greasy water and another for fresh clean water," she says.
Sponges, scrub brushes, and old toothbrushes: These workhorses are essential to getting things clean. "If you can think of a thing to clean in your home, then you can probably wipe it down with a sponge," says Navas. Scrub brushes and toothbrushes work well for grout or anything with caked-on grime.
Gloves: You'll welcome this added layer when you're getting down and dirty during your deep clean (think: the area behind the toilet). "If you have bleach or another harsh chemical, then you should definitely use gloves to protect your hands," says Navas.
Cleaners: A spray bottle with 1:1 vinegar and water can clean most surfaces, notes Varney. Other essentials to keep on hand are bleach, glass/window cleaner, soap, degreaser, and a product to polish wood, says Navas. If you're avoiding harsh cleaners (such as Lysol and Clorox), you do have options. For instance, hydrogen peroxide, available in any drugstore, is effective with a wide range of microorganisms, including bacteria, yeasts, fungi, viruses, and spores, according to the Centers for Disease Control and Prevention. Alcohol-based wipes and sprays (with at least 70% alcohol) are also effective disinfectants.
Be thoughtful putting these supplies to work: Mixing products—like bleach and ammonia—can lead to toxic fumes. And even if the results aren't toxic to your health, mixing products could get in the way of the deep clean you want, points out Murphy. For instance, using a basic floor cleaner throughout the home can lead to a fog-like effect on wooden floors.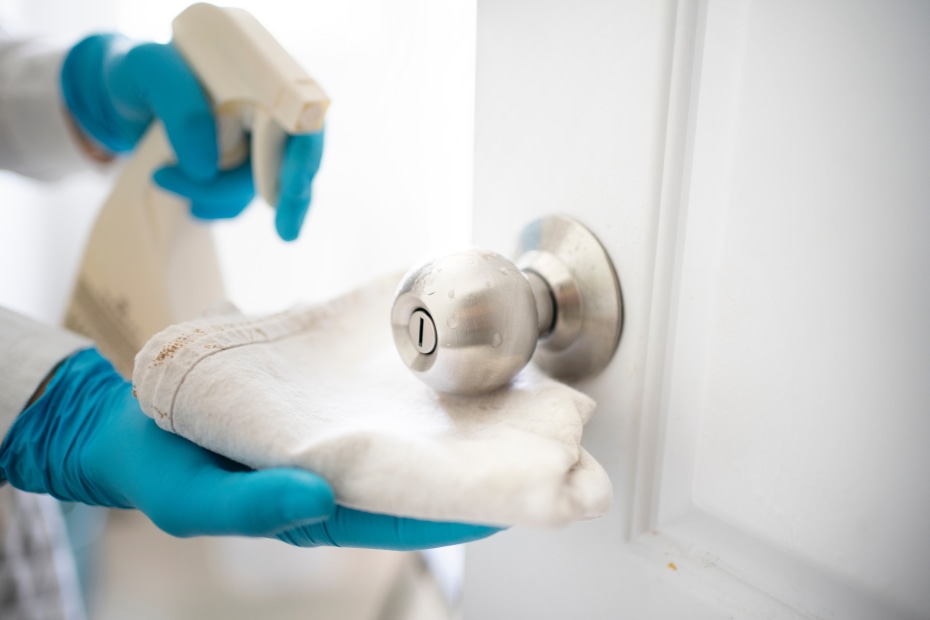 The Big Picture
The pros recommend cleaning one room at a time—that way, you avoid dust flying from one space to another, says Navas. But there are some things you'll want to make sure to clean in every single room as you go.
Basic Approach
Declutter: You won't be able to clean and dust if every surface is covered in old mail and other bric-a-brac. Before beginning a deep clean, clear off all surfaces, tidying and putting away anything that's not in its home.
Clean baseboards and ceiling fans: Do this by hand, recommends Murphy, and not with the vacuum. A microfiber cloth or wet, soapy rag will do the trick. Get the top of the ceiling fan, as well as the bottom.
Disinfect items that are often touched: This includes light switches, doorknobs, cabinet handles, and so on.
Clean the windows: Use a window cleaner or make your own. (Varney recommends mixing ½ cup of vinegar, ½ cup of rubbing alcohol, about two squirts of Dawn dish detergent, and one gallon of water.)
Advanced Additions
Clean out the closets: Make sure clothes are folded properly or hung. You can also sort through your wardrobe, donating items that no longer fit or never worn.
Clean window treatments: Throw curtains in the wash, and use a microfiber cloth to remove any dust from blinds. Don't forget to get rid of the collected dust and grime on windowsills too.
Clean out the washing machine and dryer: Do this by hand with a rag and water, says Navas. You should clean your lint screen after every use, but to go the extra mile, clean the dryer vent, where stray lint accumulates over time. Pull the dryer away from the wall, disconnect the power (don't forget this step!), and detach the vent from the dryer. Use your vacuum's crevice attachment to remove any lint build-up. If you can't access the backside of your dryer safely, you may need an expert's help for this task.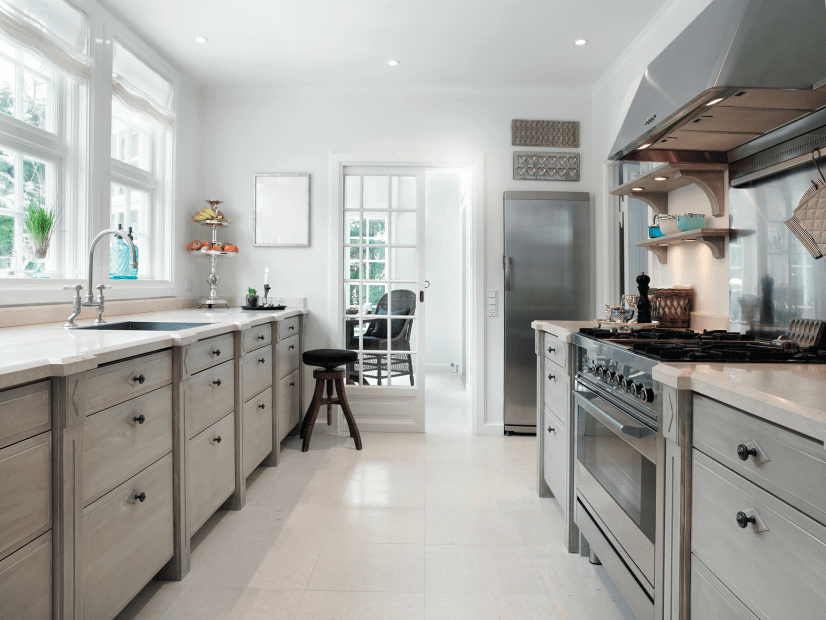 Kitchen
It's time to go beyond wiping down countertops and cleaning the stovetop. Here's what to attack during your deep clean.
Basic Approach
Clean out the fridge: Start by removing old food, says Varney. Check expiration dates and discard items as needed. Defrost your freezer. "Use a sponge and a baking soda solution to wipe out the inside of both your freezer and refrigerator," says Varney. Don't forget to clean the handles and outside of the door too.
Wipe down cabinets: Spray and clean cabinet doors, says Murphy. Use the disinfectant of your choice to clean handles and knobs.
Clean the stove and oven: Clean the surface of the stovetop as well as knobs—you can use a spray or hot soapy water for this task. "Remove the pot grates from the stovetop and soak in hot soapy water," recommends Varney. Run the oven's self-cleaning function if available.
Clean the microwave: Put a half-cup each of water and white vinegar in a quart-sized microwave-safe bowl, says Varney. Then, microwave on high until the liquid hits a rolling boil. Once it cools—this is key; you don't want to burn yourself—wipe away grime with a sponge. Don't forget to clean the exterior of the microwave as well as the inside of the door, says Murphy.
Clean the dishwasher: Over time, soap residue can build up in your dishwasher, says Varney. To remove it, run your dishwasher on empty with a cup of vinegar and half-cup of baking soda, she says.
Advanced Additions
Deep clean the refrigerator: Unplug your fridge, pull it away from the wall, and marvel at the crumbs and dust that have accumulated. Vacuum the floor and any dust in the fridge coils. Also, take a look at the rubber seal on the refrigerator and freezer doors, recommends Murphy. Use a wet rag to wipe it down and remove crud from between its folds. And don't forget the top of the fridge. "Grease and dust form a disgusting layer that most people don't know about," says Navas.
Wash trash cans: To clean trash cans in the kitchen (as well as recycling bins and the bathroom bin), take them outside. "Squirt dishwashing detergent inside the can and let the power of your hose provide the elbow grease," says Varney. No outdoor space? Use a disinfecting wipe or spray and rag to wipe them down, says Murphy.
Go through cabinets and drawers: Empty them out one at a time, and use your vacuum and a rag to get rid of dust and crumbs, says Varney. Discard any expired pantry items you come across.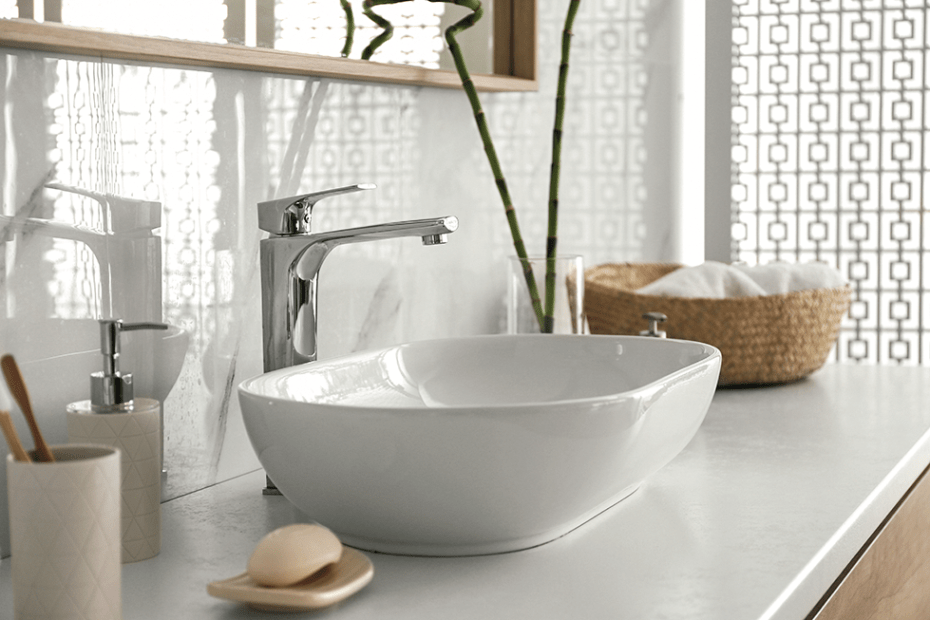 Bathroom
The bathroom gets a lot of use and can quickly get messy. Do more than the typical spray-and-wipe routine when you deep clean.
Basic Approach
Scour the sink, toilet, and tub: Use a 1:1 mix of vinegar and water or your favorite bathroom product to clean these areas. Spray a bleach solution (one part bleach to ten parts water) on any area with mold, says Varney. "Let it sit for at least five minutes and then scrub it with a soft bristle tool, like a toothbrush. Once it's been broken up, rinse the area and wipe it clean."
Wipe down surfaces: As in the kitchen, you'll want to clean the outsides of cabinets and frequently touched knobs and handles. To clean mirrors (and windows), use Varney's recommended mix: "Add ½ cup of vinegar, ½ cup of rubbing alcohol, and about two squirts of Dawn dish detergent to one gallon of water."
Wash bath mats and shower curtains: If there is mold build-up on the shower curtain, try soaking it in warm water with a little bleach.
Clean the floor: "I highly recommend hand washing the floors in the bathroom," says Murphy. Show particular care in the nooks and crannies around the toilet.
Advanced Approach
Descale the showerhead: If the showerhead or faucets have build-up, unscrew them and clean with a brush, recommends Navas. "To make the process a little bit easier, you can leave it soaking for a while in a bucket and then clean it with a brush and soap," he says.
Scrub the grout: Has the grout between tiles gone dingy? Use a scrubbing brush (or toothbrush) along with a mix of baking soda and water to make the grout sparkle. "Baking soda makes cleaning a breeze," says Navas, since "it acts like a paste that helps to remove the gunk and dirt away."
Declutter and clean the inside of cabinets: Remove everything from each cabinet and drawer, and toss any old or abandoned toiletries. Check the expiration dates on medication and bring any past their due date to a drug take-back site, advises the FDA. Once cabinets are empty, wipe them down with a wet, soapy rag or clean with an all-purpose spray before putting items away.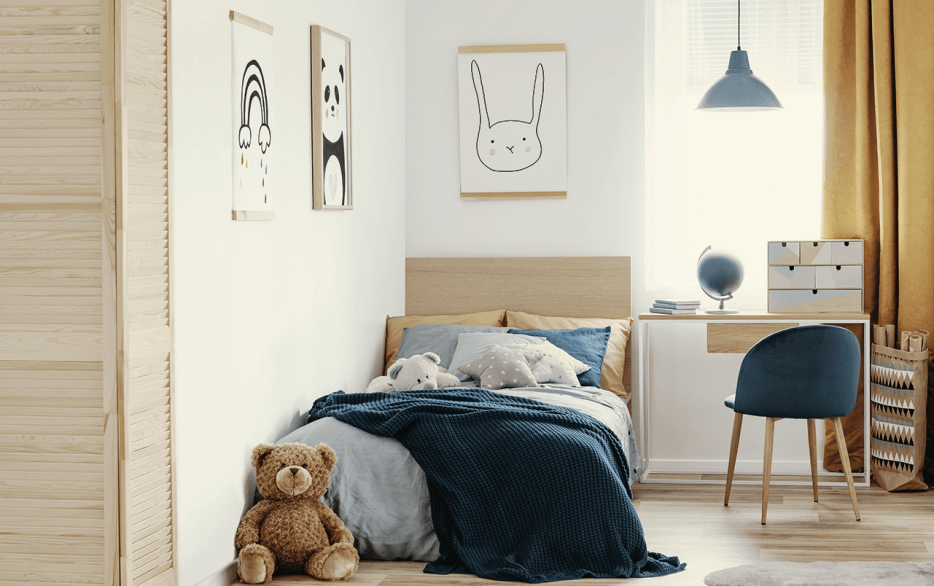 Bedrooms
Restore bedrooms to a sanctuary-like status by ridding them of clutter, dust, and dirt.
Basic Approach
Wash bedding: Throw your sheets, along with your mattress pad, duvet, and duvet cover, in the washing machine. Many pillows can also be washed—check your tags. Use warm water for down and polyester pillows and dry them on no-heat (or in the sun).
Flip the mattress: If you have a mattress that can be flipped, do so. Otherwise, rotate it.
Dust and vacuum: Experts recommend a microfiber cloth for dusting. "This will trap dust, rather than just push it around. Always work from top to bottom," says Varney. Get the dust from the headboard, bed frame, bureau top, and any other bedroom furniture. When you're done dusting, vacuum, and don't neglect underneath the bed or other large furniture.
Advanced Additions
Clean the mattress: If you can, take it outside and air it out in the sunshine, says Navas. Otherwise, vacuum it to get rid of dust, hair, and other detritus.
Sterilize toys: In kids' bedrooms, follow all these same steps and also sterilize toys. To do so, use a disinfecting wipe or soak toys in a solution of bleach and warm water. Some plastic toys may be able to survive a trip through the dishwasher, and stuffies and other soft items may be suitable for the washing machine—check the labels for more info.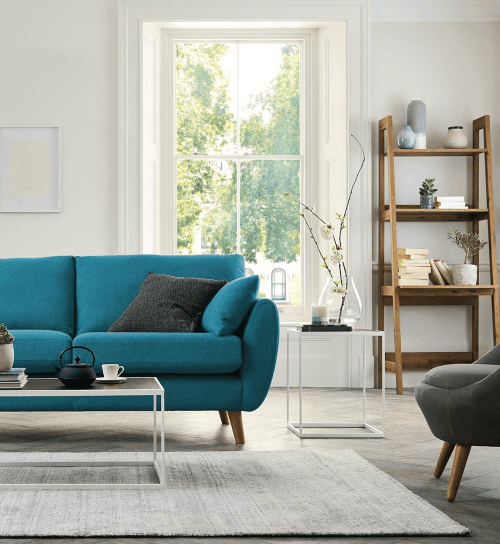 Living Room
You'll relax better in this room once the dust has been banished.
Basic Approach
Vacuum and mop: Use the vacuum everywhere. "People never clean the dust behind the furniture," notes Navas. Your best bet is to move furniture so you can clean underneath. Shake area rugs outside. Mop wooden floors using a cleaning solution geared toward wood, such as Bona.
Dust and polish: Use your microfiber rag to dust all surfaces (don't neglect any tchotchkes). Dust around picture frames and other surfaces. For wooden furniture, use a wood-friendly product to make the wood shine. Don't forget about your electronics, either. "Use a microfiber cloth with plain water or a small amount of cleaning solution and wipe the television, phone, tablets, and remote controls," says Varney. If you don't know whether a cleaning product is safe to use on your electronics, check the bottle for guidance.
Flip couch cushions: If you can, flip around the couch cushions. Either way, lift them up and vacuum underneath as well as on the cushions themselves. "Put the tip of the vacuum arm directly on the fabric and suck the filth away," says Navas.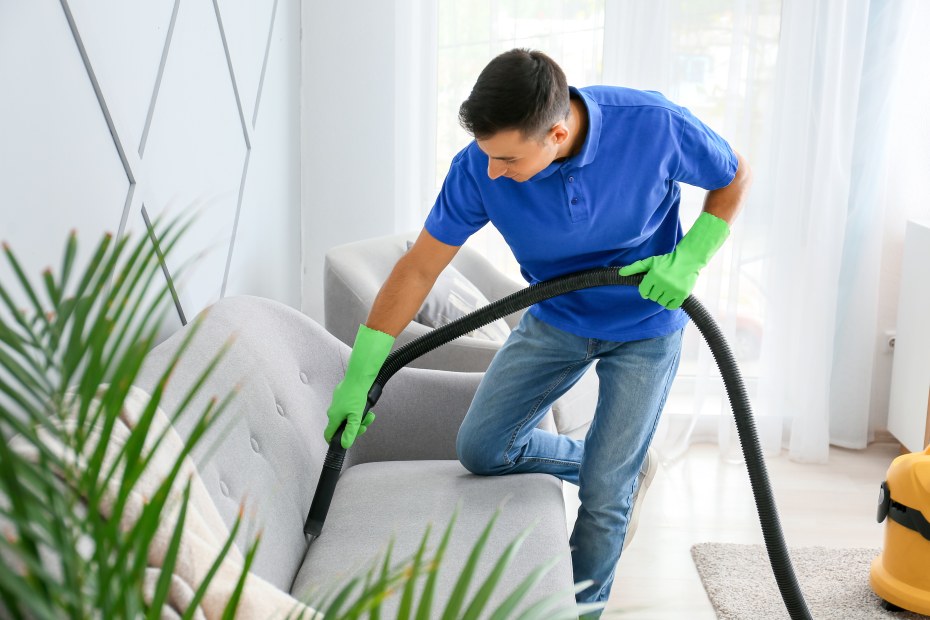 Advanced Additions
Clean furniture: Not sure how to clean your couch, cushioned chair, or other furniture? "Always begin by reading the label," says Varney. This will reveal if you can use water, a mild detergent, or should only use water-free options. To freshen up furniture, "sprinkle the couch with baking soda and let it sit for 20 to 30 minutes," says Varney. Then, use the vacuum to remove the baking soda.
Steam carpets or rugs: For bonus points, use a steam cleaner on carpets and rugs in the living room and elsewhere in the house. (Steam cleaners are often available for rent at hardware stores like the Home Depot but call ahead to ensure availability before you venture out.)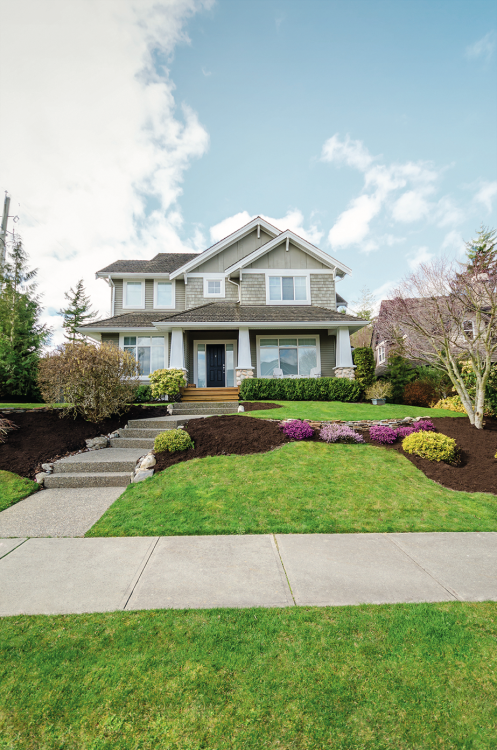 Outside
The outside of your home—from gutters to the lawn—may also need a deep clean. "The exterior of the home is oftentimes forgotten about," notes Varney. That may be because many tasks beyond mowing or shoveling require expert help.