When spring flowers start to pop and you begin to dream of alfresco meals prepared on the grill, it's time to give your home and landscaping a once-over to ensure there isn't any unseen winter damage, and to make small improvements. Tackle these exterior maintenance tasks to get your home and outdoor space ready for the warmer months ahead.
Take a close look at the foundation, siding, windows, and doors.
Since the exterior of your home is exposed to extreme elements, it's important to inspect it at least once a year, says certified professional inspector Pete Bagwell, regional manager of home inspections at Inspection Kings in Utah. "Deterioration can happen a whole lot faster than we expect," says Bagwell. 
A close examination of your property can help you catch issues early and prevent bigger problems in the future.
Flag cracks and holes. Look for cracks, gaps, or other openings in the siding and around windows, doors, and pipes. With the siding, your repair strategy may shift based on the material. Use caulk followed by a coat of paint on wood siding and trim. There are several options for stucco repair (including caulk formulated to match stucco). And grout is helpful for brick siding, according to Bagwell. Repairing cracks and covering openings—such as roof and dryer vents—will also help keep pests out, says Kevin Busch, VP of operations at Mr. Handyman.
Check the paint. Chipped and peeling paint is not only unsightly; it could indicate a potential access point for water. Be particularly mindful of the door trim, notes Bagwell. "Scrape, patch, caulk, prime, and paint any deterioration in wood or hardboard," he says. Your home will likely need to be fully repainted every 15 years or so, depending on the quality of the paint, weather, and other conditions.
Ensure gutters are clear. "Make sure your gutters are clean, and your downspouts are directing water away from your home," says Nick Gromicko, founder of International Association of Certified Home Inspectors. You can get up on a ladder with a leaf blower and walk along the roof, or put an attachment on your hose and work from ground level to clean them out, notes Bagwell.
Look for signs of insects. Mud shelter tubes by the foundation or wings and fecal pellets on window sills are a tipoff that you may have termites.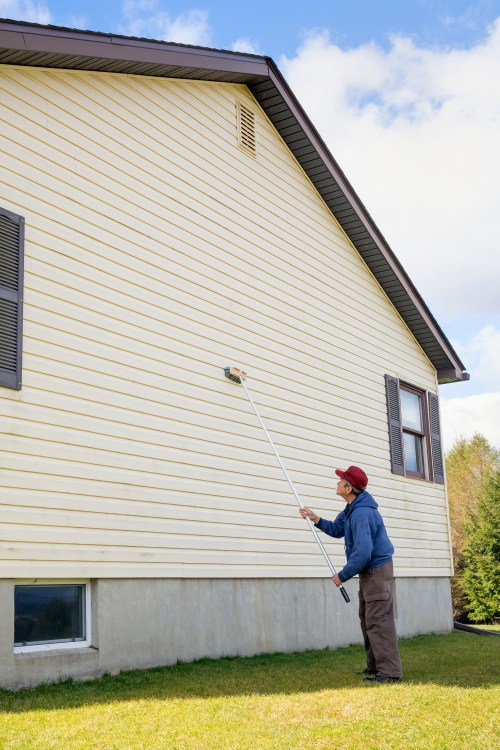 Clean the siding.
You may be tempted to use a pressure washer, but research the equipment and the appropriate technique for your siding first. You don't want to accidentally cause damage to your home—for instance, overly high pressure can force water behind the siding, potentially leading to mold growth, says Bagwell. 
"Durable surfaces such as concrete, brick, and most vinyl sidings can be traditionally pressure washed," says Busch. But for wood and stucco surfaces, he recommends calling in a professional. You can also use a garden hose with a gentle nozzle or a bucket of soapy water and a soft scrub brush to spot clean.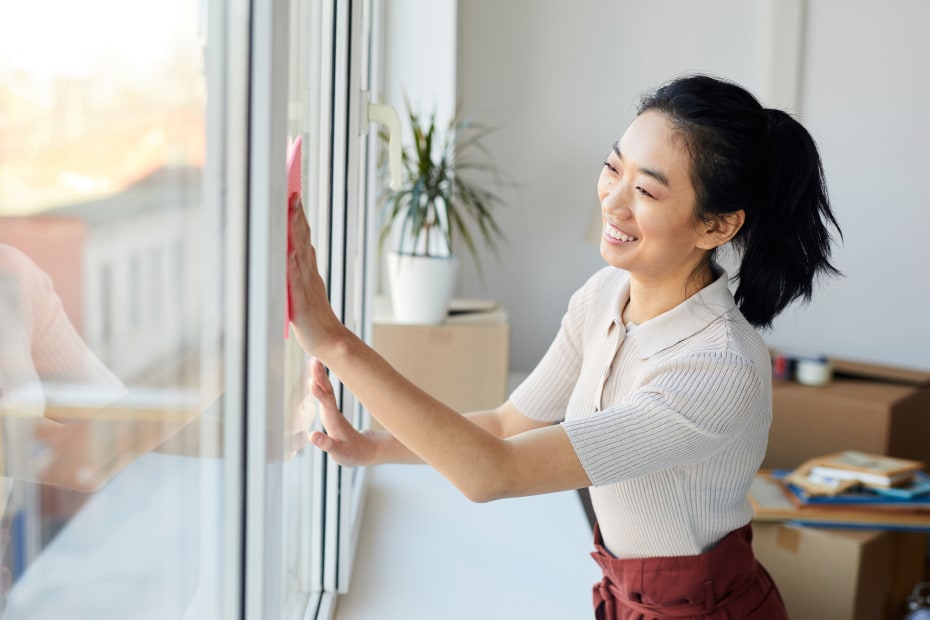 Wash your windows.
Sparkling windows let in the sunshine. Try to choose a cool, cloudy day to tackle this task in order to prevent streaks. Use a soft brush or cloth and a bucket of cool water with a tiny squirt of dish soap—avoiding overly sudsy water. For windows out of reach, carefully get up on a ladder and scrub by hand, use an extendable brush, or try using spray cleaners that attach to the end of a hose. 
Before reinstalling any screens you've removed, "be sure to brush and rinse them off," says David Flax, VP of operations at Window Genie. Patch up any small holes in screens so that bugs can't fly in. 
Smart Tip: To tackle the inside window pane, use a clean cloth along with a glass cleaner or a mix of diluted vinegar and water. Avoid getting the window frame and sills wet.
Trim trees and shrubs.
Give your garden and lawn some attention so they can bloom and flourish in the warmer weather.
Trim back greenery. Prune anything that's close to the side of the house, roof, walkways, or driveway, recommends Josh Sevick, president of the Grounds Guys. By getting plants away from the siding and foundation, you'll protect your paint and prevent water from getting inside your home.
Rake leaves. If you have any lingering leaves on the lawn or under plants, remove them, says Sevick.
Add plants. Plant both annuals and perennials to add a pop of color, recommends Sevick.
Test the irrigation system.
"Each spring, the sprinkler system should be pressurized and run to identify any leaks or damaged components," says Sevick. 
Start by closing the backflow pressure valves and opening the main irrigation water shutoff valve, he says. Next, "set the controller to run each cycle for a minimum of two to three minutes. Walk along the system as the heads come up and evaluate each head for pressure and coverage," says Sevick. Note any leaks or damaged components, and repair or replace them. 
Finally, adjust the direction of nozzles to get the desired coverage. Make sure there aren't any sprinklers aimed at the house so water doesn't get behind the siding, says Bagwell.
Refresh your driveway.
Fallen leaves, rain, and snow, along with salt and ice melt, can leave concrete areas—such as sidewalks, driveways, and patios—looking discolored and damaged. 
Use a flat-surface pressure washer to get rid of grime. "It can lift a lot of dirt and other contaminants that may have embedded themselves in your concrete," says Flax. Next, apply professional concrete sealant to protect against the elements, he recommends.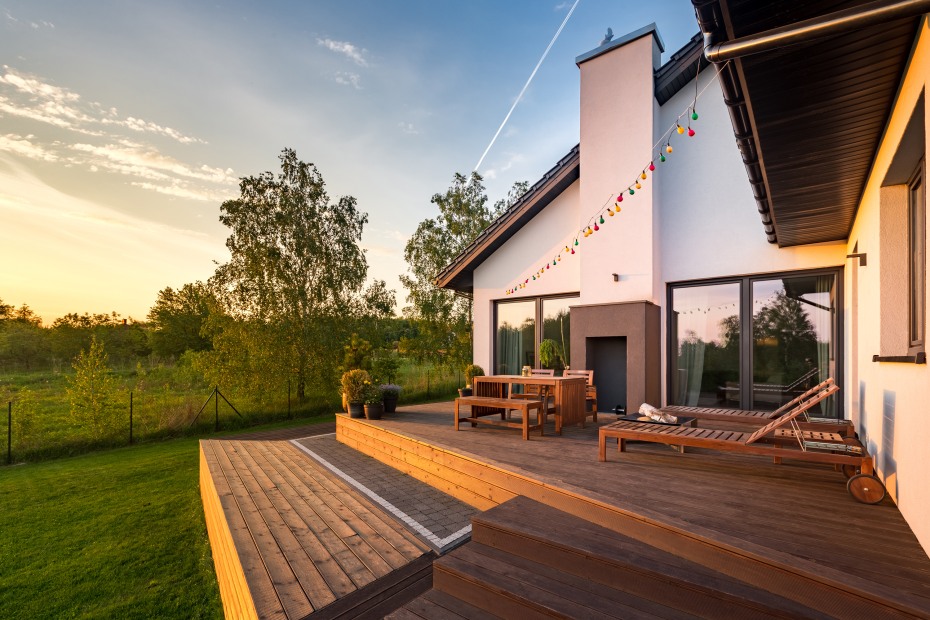 Inspect and clean your deck.
Closely examine your deck, looking for cracks, loose boards, and shaky railings or stairs. "Structural damage to decks should be addressed immediately," says Busch. Winter freeze-and-thaw cycles can cause joints and nails to loosen, he notes, so you may need to retighten them. 
Only use pressure washers to clean your deck if you're trained with the equipment, Busch advises. Even durable composite decks can get damaged if there's too much pressure; the task is best left to professionals. 
If you have small amounts of damage on a wood deck, you can sand down the area, then repaint or restain it. "If the majority of the deck is damaged, it may be time to strip off the current finish and reapply a new coat," says Busch. Spring is the perfect season for this task—aim for a cool day with low humidity.
Bring out your barbeque and furniture.
The first step in preparing for grilling season is to take your barbeque out of storage and remove its cover. If you cleaned it at the end of last season, it should be in good shape. Otherwise, it's time to put in the elbow grease.
Bring your outdoor furniture out from storage as well. You can get rid of mild mold and grime with a mix of water, soap, and bleach—spray on the mixture and use a nylon-bristled brush to gently scrub before rinsing it off, says Vera Peterson, president of Molly Maid. Skip the bleach if you're cleaning fabric cushions to avoid discoloration, she says.