Before you pull outdoor furniture out of storage and fire up the grill, it's wise to inspect, clean, and repair your deck.  
Constant exposure to the elements—from heavy rain to bright sunshine—can damage the structure. Railings can give way, raised boards can cause trips and falls, and the structure can collapse completely. Between 2016 and 2019, there were nearly 3,000 injuries associated with decks, balconies, and porches, according to the US Consumer Product Safety Commission. 
"During winter, the constant freeze and thaw can cause joints and nails to become loose, so [spring] is a good time of year to inspect and repair your deck before regularly using it as the warm weather sets in," says Kevin Busch, vice president of operations at Mr. Handyman.  
Here are the tricks home inspectors and repair pros use to discover signs that a deck might need some TLC, plus tips on when to call a professional.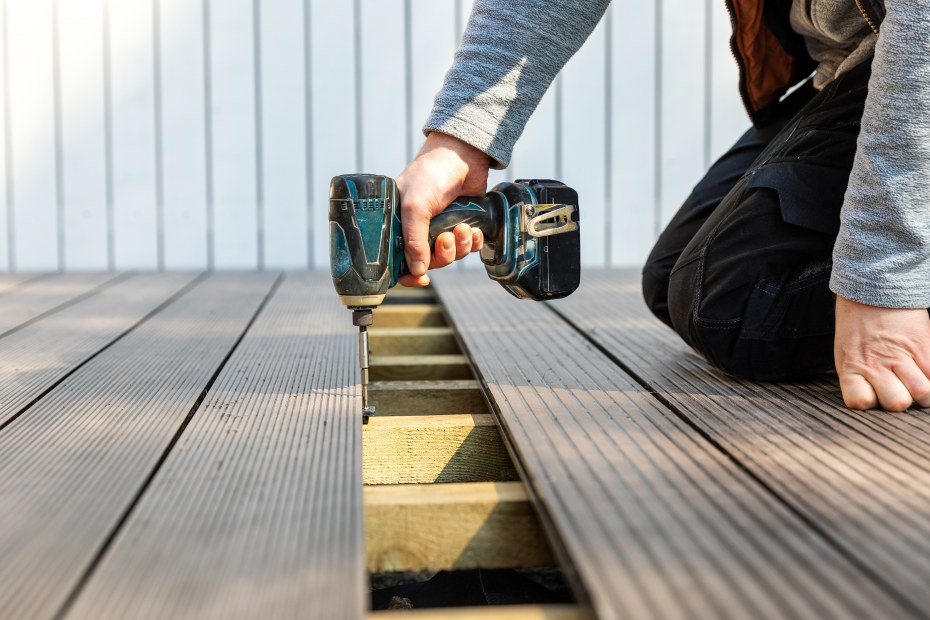 How to Inspect and Repair a Deck
It's particularly important to closely inspect and repair a deck made from wood, says certified inspector Jeff Frishof of Eagle One Services LLC. Composite decks—made from a blend of plastic and wood—are more durable. You won't need to paint or stain them, nor do you need to be concerned about insect damage. That said, they do still require regular cleaning, and it's also important to ensure the structure is secure at least once a year, regardless of materials. Here's what to do during these annual reviews. 
Walk the space. 
Some signs that your deck needs repair are obvious. "If a board or railing sags, moves, creaks, or is [clearly] loose as you walk on it, you'll know you need to repair it," Busch says. When walking on the deck, it should feel secure, not spongy. And the structure shouldn't sway, notes the North American Deck and Railing Association. 
Investigate underneath, too. This might reveal sagging beams or other damage that isn't visible from above. Stains or rusting hardware are early signals of needed repairs, Frishof says. 
Check railings and balusters. 
Rail failure is responsible for more injuries than decks collapsing, according to the International Association of Certified Home Inspectors (InterNACHI). Give a little push and tug on the railing to confirm there isn't substantial give, recommends certified professional inspector Pete Bagwell. Some building codes require railings to be able to handle 250 pounds of lateral resistance, he notes. 
Next, "run your hand along the balusters [the lateral pieces of the railing] like it's an introductory class to playing the harp," Bagwell recommends—this will help you identify anything loose that needs to be repaired or replaced. 
It's also a good idea to confirm that the height and spacing of your railings matches local regulations, notes Joe Cummins, director at the National Institute of Building Inspectors, which provides training and technical support for HouseMaster. In California, for instance, railings must be 42 inches in height and the space between balusters should never exceed four inches.
Look for rot. 
Inspect the joists under the floorboards for signs of wood rot, such as discoloration or a cracked appearance. "If it sounds hollow or you can easily poke a screwdriver into the area, then it's time for replacement," says Bagwell. 
As you're inspecting, keep an eye out for signs of termite damage—such as dark or blistered wood. You should also look for termite tubes, which are narrow, long, and winding mud tunnels that may be close to the house.
Inspect the posts. 
Wooden posts should be set in concrete to prevent the bottom of the post from coming in contact with soil, which can cause the wood to rot, says Bagwell. While you're looking at the posts, confirm there isn't water from a sprinkler or downspout hitting them, advises InterNACHI.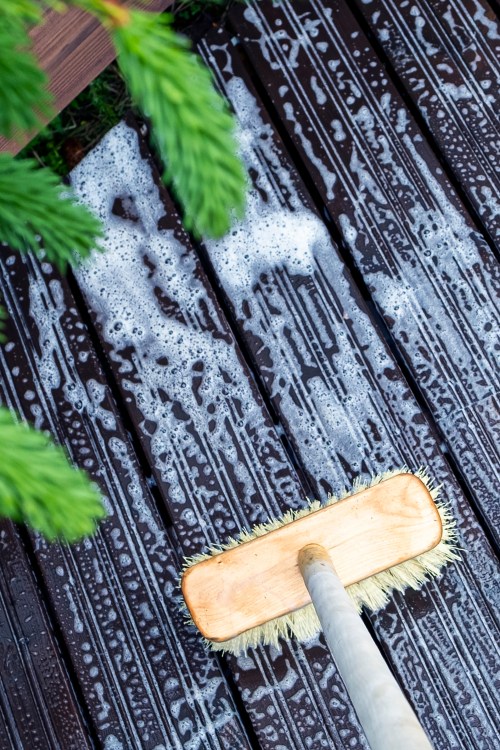 How to Maintain Wood and Composite Decks
Clean the space.
Use a broom to sweep the decking thoroughly and remove any debris, such as leaves and pine needles, from between the boards, recommends Frishof. If left in place, these bits of nature can lead to decay.
To wash away dirt and stains, you'll need to first consider what the deck is made from. Wood decks require careful cleaning to protect any paint, stain, or sealant. For a composite deck, check with the manufacturer for instructions. You can make a cleanser at home using water, dish soap, and vinegar or by diluting oxygenated bleach with water. Cleansers specifically intended for decks are also available at most hardware stores—check with the manufacturer before using a cleaning agent on a composite deck.
Typically, you'll want to use a hose to rinse of any type of decking off, then apply the cleanser using a soft-bristled brush and scrub in the direction of the wood grain. Gently rinse off the grime and cleaner. After a thorough cleaning, you may need to reseal the surface of a wood deck—just be sure to let the deck dry completely through before applying.
For all decks, but particularly wooden ones, be cautious about power washing the surface. Only use a power washer if you're trained with the equipment and know the appropriate pressure for your deck's materials, says Busch.
Repaint and reseal as needed.
If you have minor aesthetic damage—a small area of chipped paint, for instance—sand it down and paint or stain the spot. "If the majority of the deck is damaged, it may be time to strip off the current finish and reapply a new coat," says Busch.
If your deck is made with unfinished wood and it isn't repelling water, use a water-repellent sealer, he advises. The best time to stain or seal your deck is when the temperature is between 50 and 90° Fahrenheit and there's low humidity, notes Busch.
Whether you paint or stain your deck, you'll need to redo the process occasionally (perhaps as often as annually for stain; paint can last for longer stretches).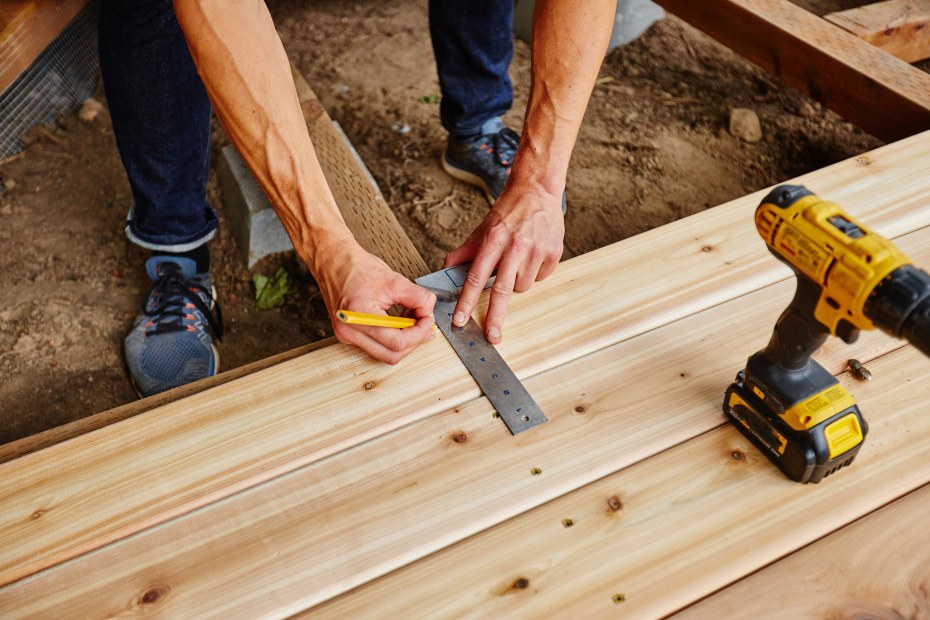 When to Call in the Pros
You can make many minor repairs on your own. For instance, it's easy enough to hammer in a nail that's loosened so it can't cause injury. Even painting and sealing the deck is a manageable DIY task. 
For bigger projects—or if you feel uncertain about how to assess the deck's safety—call in an expert. "When in doubt, always hire a professional to inspect and repair your deck to ensure safety," Busch says. Keep in mind that while some damage can be easily observed, other problems may be hidden and require a home inspector to suss out. Frishoff recommends reaching out to members of the American Society of Home Inspectors or North American Deck and Railing Association to find a qualified inspector.
Decks Have a Lifespan
These structures won't last forever, although maintenance can help with their longevity. A wood-only deck will typically last around 20 years, while a composite deck may last 25 years, Frishof says. Local weather conditions can also decrease a deck's lifespan. Even composite decks can run into issues: Sometimes boards are recalled due to various safety-related concerns. You can check for product recalls using the Consumer Product Safety Commission website.
If your deck is old—or was built as a DIY project—it may not adhere to current regulations. Sometimes a deck seems fine visually but the construction methods need correcting, says Frishoff. Using proper methods and materials to attach the deck to the house is absolutely necessary, he adds. "All too often this is where mistakes are made and decks fail."