AAA member D'Arcy Carden plays the helpful humanoid Janet on The Good Place, NBC's hit show about the afterlife. The San Francisco Bay Area–raised Carden has also toured with the Upright Citizens Brigade comedy troupe and played recurring roles on Barry and Broad City.
Q. How did you prepare for the role of Janet, an all-knowing being?
A. I did a lot of talking and, more importantly, listening to Siri and Alexa. As Janet, I'm obviously not going for their robotic sound, but those gals are so helpful and positive. That was a good baseline.
Q. Your character's costume rarely changes. What's that like?
A. I love my Janet costume. Designer Kirston Mann flew often as a child, and she was inspired by the flight attendants who took care of her in the sky. They were like superheroes to her. Janet is sort of like a sky superhero, right? But Bad Janet's costume is my favorite. I want those leather pants just to wear to the grocery store.
Q. Why is comedy important?
A. Life can be hard. We know this. And right now, it feels like we could use a break more than ever. To me, comedy—and completely losing yourself in laughter—is the best break I can think of. Things are rough, things will continue to be rough, but surrounding yourself with people who make you laugh, and people you can laugh with, makes things a little less rough.
Q. How do you decide which projects you'll sign on for next?
A. Here's the advice I'd give myself: Work with people you love. Work with people who inspire you. And trust your gut.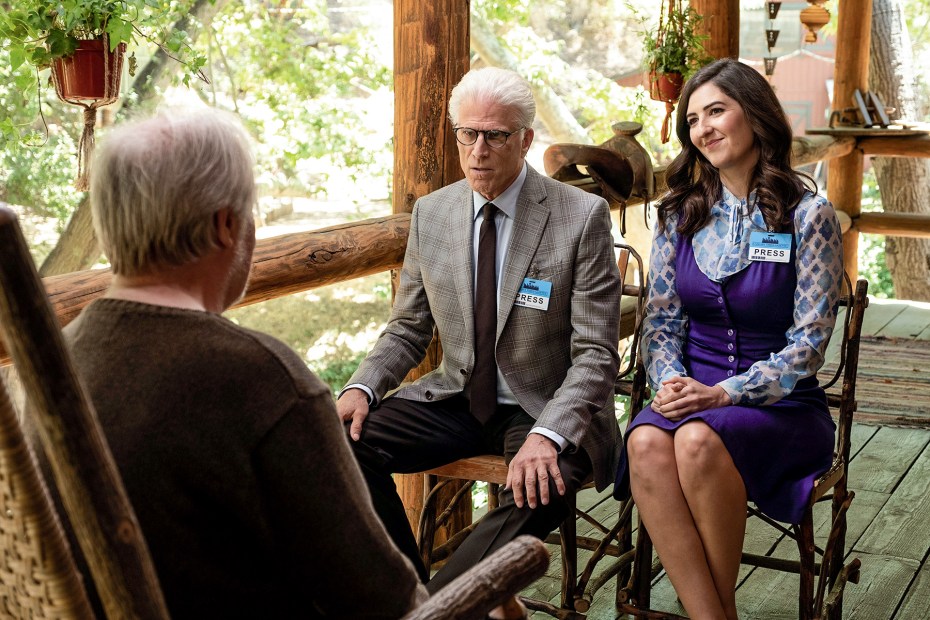 Q. Watching The Good Place is thoroughly enjoyable, but also makes viewers want to be better people. What's it like to be part of a project that does that?
A. It's just amazing. As actors, all we want to do is work; any acting job would do. But to get to work on a show that people respond to in this way has been so incredible. People tell us it makes them laugh, it makes them cry, it makes them think about how to be a better person. It made my brother-in-law Nate read the philosophy book What We Owe to Each Other, because Chidi talks about it so much. That's amazing to me.
Q. You got to switch roles and play your co-actors' parts on one episode of The Good Place. If you got to temporarily switch parts with anyone in real life, who would it be?
A. I know you mean anyone in the world, but I've got to go with Ted Danson. Ted lives a pretty dang perfect life, and I wouldn't mind stepping into his shoes for a bit.
Q What made you choose a career in the performing arts?
A. It's strange, but it didn't really feel like a choice. The choice would have been to not pursue a career in the performing arts. It's what I've loved since I was a child—there was truly never another choice. This industry can be tough, that's no secret. It can be crushing and hard on your self-esteem and your soul, but I love it. I just love acting so much. It's what I want to do forever.
Q. When you were a kid, which groups or people led to your success?
A. I played a lot of sports—soccer, basketball, softball, swimming. My high school water polo team even won our regional championship. And I was in a lot of plays. Those activities, which I took very seriously, shaped my love for being part of a team or ensemble. Working together toward a common goal is one of my favorite things about working on a TV show. The cast, the crew, the writers—it feels like you're on a big team. It bonds you. Some days you shine, some days I help you shine, some days I shine, some days you help me shine. I love that.
Q. How did you meet your husband?
A. We met through mutual friends in a big group, at Disneyland of all places. Then, a few months later, we were cast together in a play at Town Hall Theatre in Lafayette, California. We basically became instant best friends and were sort of inseparable after that.
Q. AAA's motto is "Outsmart Life." How does Janet outsmart life's roadblocks?
A. That could honestly be Janet's motto as well. She and AAA have so much in common, if you think about it. They're both problem solvers who go to great lengths to help people. They're always there when you need them.
Q. Do you wish you had a Janet?
A. I do. I love her.