You don't have to be a department store pro to produce perfectly wrapped gifts. All you need is a few household items and a little bit of time. Pop in Elf, pour yourself a tumbler of eggnog, and you're halfway to presents that are all cheer.
How to Wrap a Boxed Gift
The standby shape gets points for being easy to cover with paper and embellish without fuss. Take a material you probably already have—ribbon or string—and use it in every way but the standard criss-cross. Tie it off-center, layer a slim string over a wide ribbon (we love colorful hemp twine for this), or loop string or twine around a package several times for more interest. Finish it off with a tag and a prop: A live element such as an evergreen leaf or bundle of cinnamon sticks is elegant, a Christmas ornament is pretty and useful, candy canes are campy and fun. If you have a stash of adhesive paper bows cluttering your closet, get more oomph out of them by grouping them in various shapes and sizes (odd numbers look best).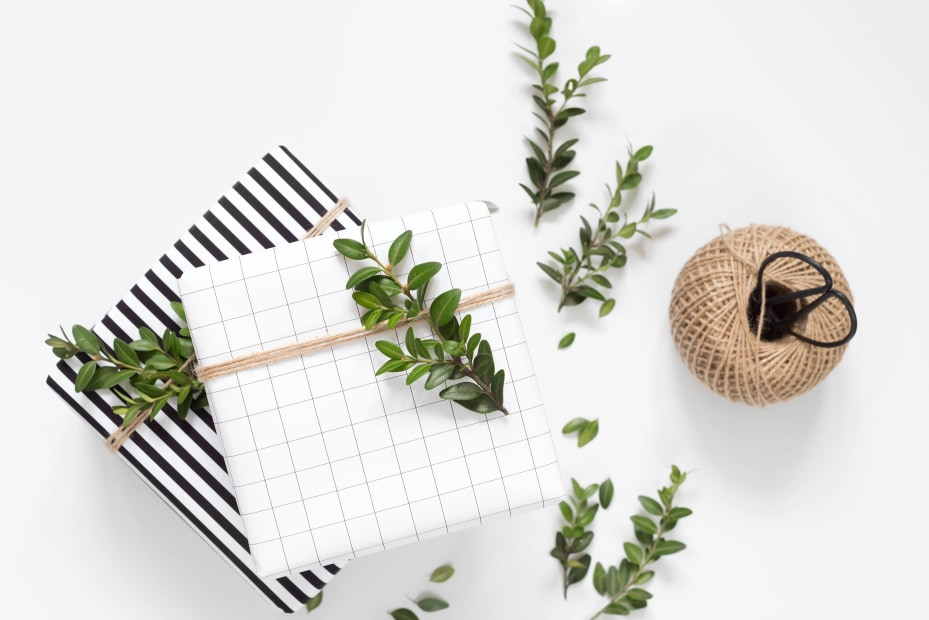 Wrapping for a kid? Glue a cotton ball "snowman" to the package, use washi tape to create a border around a photo of the child fixed to the top, tie it up with pom pom string, or tape new crayons to white gift wrap to let the recipient personalize it while they wait to open.
For the minimalist on your list, zhuzh up your paper by crumpling it before wrapping. (Yes, it sounds weird, but the textural look is Scandi chic.) Or, fold 3–5 pleats into the paper before wrapping and leave it unadorned.
How to Dress Up a Boring Gift Bag
Nothing beats a bag when you're wrapping on the fly. Still, a little extra touch never hurt. Start with a solid-color bag and dress it up by pasting a vintage Christmas card or postcard to the front. Or, head outside to grab a pinecone or small evergreen twig, then tie it to the handle so it dangles down the center of the bag similar to a swag (this looks even better if you combine the two with a cheery ribbon). If you're crafty and don't mind a little mess, freehand holiday shapes with glitter acrylic paint—or simply swipe a stroke or two on it and call it contemporary.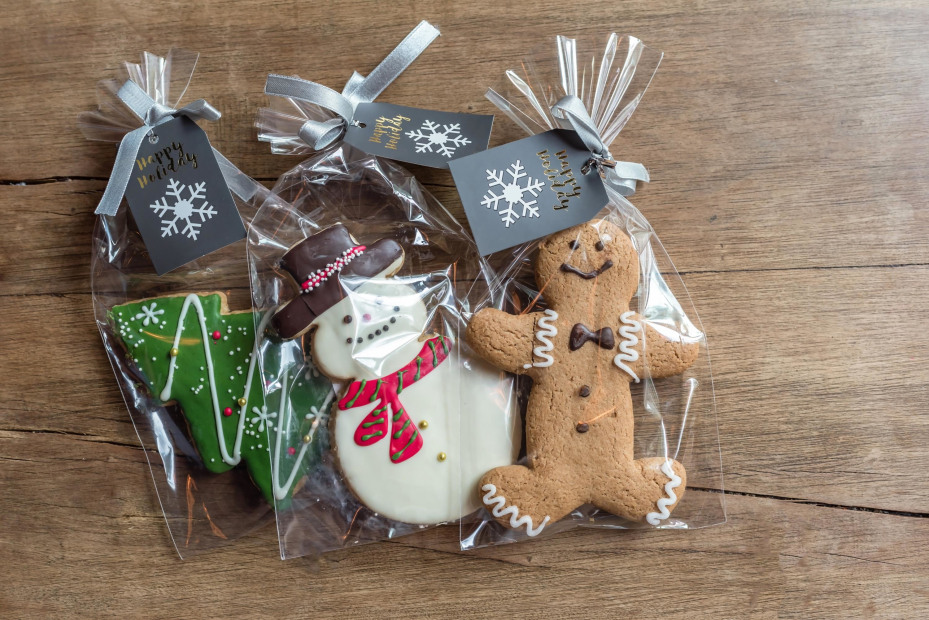 How to Package and Wrap Homemade Cookies and Treats
Giving homemade goodies to your friends this year? Send those sweets off in style by nestling treats in cupcake liners and packing them in a small garment box. It's a strategy borrowed from chocolatiers—and who doesn't want to be like them?
For teachers, clutch delivery pros, your favorite barista, and the Uber driver who's working that day-before-Christmas shift, hand out one spectacular treat—think a gorgeously iced gingerbread man or petite loaf of babka—in a cellophane bag that shows off your stuff.
How to Wrap Odd Shapes and Sizes
Make like a champagne cork and cover an entire wine bottle in gold foil. It's festive and makes blind tasting a breeze.
Yes, you can always stuff a lumpy gift into a large gift bag or Santa sack, but the Japanese have given us a more sophisticated option. It's called furoshiki and you essentially set your gift in the center of a large piece of fabric, gather the fabric at the top, and tie a neat knot. This low-waste idea easily sizes up, too. Start with a tea towel for a small item and progress up to a modest tablecloth or specialty furoshiki cloth for a large item. Hit up YouTube for tutorials.
Oversize gifts make enough of a statement on their own, but it's nice to signal to the recipient that this is it. The classic move is to plop a big ribbon on top, but the updated version is letter balloons that spell the recipient's name or a one-word exclamation like "CHEERS."