The holidays are a notoriously busy time for mail carriers. All those cheerful greeting cards, boxes of delicious goodies, and presents wrapped with care have to get to their destinations somehow—and, ideally, without delay. Combine an already active shipping season with an unprecedented increase in online shopping due to the pandemic and you have a recipe for an exceptional number of deliveries during a short window of time. 
To ensure your holiday gifts arrive safely and on time, consider these best practices for packing, sending, and ordering online. 
How to Pack Gifts for Holiday Shipping
A well-packed parcel is more likely to reach its destination, and in tip-top shape. UPS offers a guide to prepare a package—the basics include using a box that allows you to cushion all six sides of your item and choosing padding that prevents shifting. "Packing peanuts or recycled kraft paper are great options to help fill any gaps in your packaging," suggests Joshua Erickson, the COO of ShipBuddies, an order-fulfillment shipping company. You may need additional insulation or layers of protection if sending perishables or fragile items. When in doubt, consult the guide and err on the side of caution.
Regardless of what you're sending, it's a good idea to use shipping tape that's at least two inches wide across all flaps and seams, then affix the label flat onto the package's largest surface. "Do not use cords, string, twine, or non-packing-strength tape," advises Erickson, "because these can easily get caught in equipment along the transit routes." If you're reusing a box, remove old labels, black out previous addresses, and make sure that it's still sturdy with no holes.
Smart Tip: AAA Members get a 5 percent discount on shipping and a 15 percent discount on packing services at UPS Stores.
How to Send Packages to Ensure They Arrive Safely
You can avoid unnecessary trips to the post office by handling your gift shipments from home. Once you've packed your parcels, buy and print shipping labels online (most major shippers offer options on their websites) and schedule free pickups or head to a local dropbox. 
Should you request signatures upon arrival or buy insurance on your deliveries this year? Before you decide, consider the benefits—and limitations—of these services. 
"Requesting a signature or deciding to purchase insurance coverage will depend on the value of the products in the shipment and whether the recipient will be home to sign for the delivery," Erickson explains. If the item is high-value or irreplaceable, insist on a signature and purchase insurance, the cost of which tends to be nominal compared to the coverage it provides. "Whether the recipient has a parcel locker or lives in an apartment complex that securely holds packages can also factor into whether these services are necessary," he adds.
Keep in mind that requiring a signature can also thwart porch pirates who swipe boxes that sit unattended outside people's homes. Alternatively, your recipients can provide instructions to carriers about how to deliver packages more discreetly—leaving them tucked behind a plant, for instance—or to ring the doorbell so they'll know to look for a package and bring it inside. 
On the other hand, requiring a signature can cause delays if sendees aren't home when the delivery person arrives. Your recipient may have to set up a redelivery or visit the office that's holding the package. If you do choose to request signatures for your shipments, reach out to your recipients to share with them the carrier name, the estimated delivery date, and, if possible, the tracking number.
How to Avoid Shipping Delays
In addition to skipping a required signature, other ways to prevent holiday shipping delays include allowing plenty of extra time to accommodate any holdups, never sending restricted items, and double-checking your recipient's shipping information (all major carriers offer an address-verification service on their website). 
And while it's tough to predict exactly what shipping times will end up looking like, it's worth noting that the two weeks before Christmas are always the USPS's busiest time of year, and that Free Shipping Day—when some online retailers offer free shipping and delivery by Christmas Eve—is scheduled for December 14 this year. It's not a bad idea to use that as your deadline to get guaranteed ground delivery by Christmas. "Although this may seem early," says shopping and money-saving expert Andrea Woroch, "waiting any longer means you'll spend much more on expedited shipping and potentially run into unpreventable delays." 
You can check delivery dates and shipping timeframes at all of the major carriers' websites. In addition, many online stores provide estimated delivery dates during checkout. Whatever you're sending, make sure your special item gets to its destination on time by mentally adding at least two to three days to the estimated delivery times that you see online, recommends Amy Voldengen, who founded Penrose Candles, a company that specializes in shipping holiday gifts.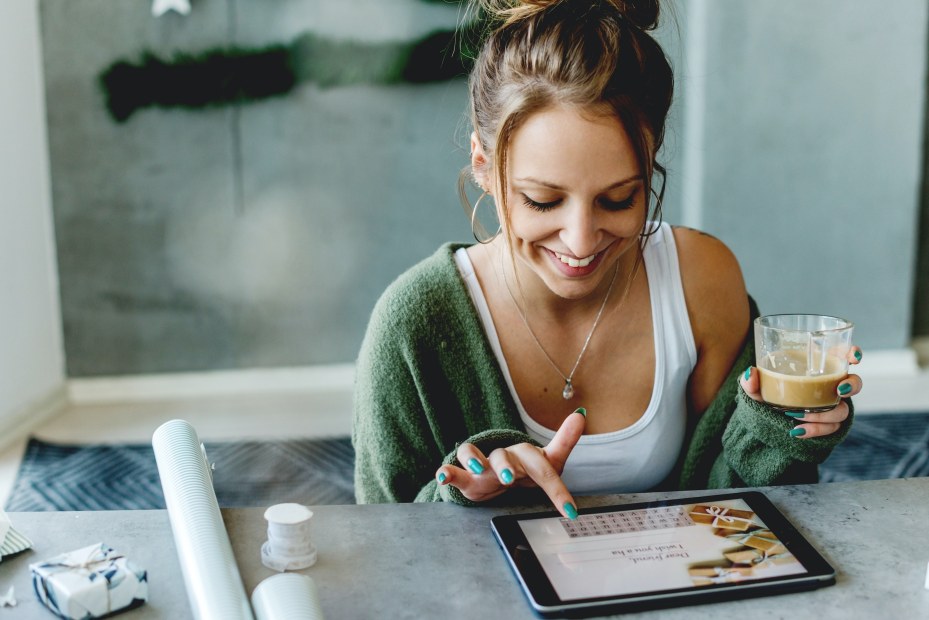 Ordering and Sending Gifts Online
Of course, you can also opt to have stores ship the goods directly to your friends and family. Many online retailers offer gift-wrapping services, and you won't need to leave the house or pack the items yourself. However, you'll still want to make sure you complete your purchases with time to spare. 
Smart Tip: Shopping online is convenient but not without risk. Protect your financial data with these savvy online shopping safety tips.
And there's always an electronic gift card, sent via email or text, which isn't subject to shipping costs—or delays.