Floods are the most common and the most costly natural disasters in the United States. A single inch of water can wreak more than $25,000 worth of damage on a home, according to the Federal Emergency Management Agency (FEMA) and the National Flood Insurance Program.
Nearly 52 percent of Americans do not have a plan prepared for a flood or other natural disaster, according to a 2020 FEMA survey. To protect your loved ones and your home from the threat of rising waters, take action now by following these steps.
1. Understand your risk.
In California, sellers and landlords are required to tell prospective buyers and tenants whether a property is in an area that has a higher annual risk of flooding than most, but this isn't the case elsewhere in the West. Arizona, Nevada, and Oregon require sellers to disclose if the property is in a designated floodplain—a low-lying area near a river or stream that's likely to overflow. However, Montana, Utah, and Wyoming don't mandate informing buyers or renters about a home's flood risk or past flood damages.
Smart Tip: Find out whether a home, school, or other building is in a flood zone by entering its address into FEMA's online flood map.
Homes near rivers, streams, or storm drains are among the most vulnerable to flooding, according to Gary Russell, a senior catastrophe claims manager for CSAA Insurance Group. Dangerous flooding can be caused by many factors, including heavy rains, storm surges, and damaged dams and levees. Flash flooding is particularly common in the West, where low-lying areas may be dry one minute and filled with rushing water the next.
2. Get flood insurance.
Know your risk so you can make an informed decision about flood insurance. "Because most homeowners and renters policies don't come with it, many Americans don't have flood insurance," Russell says. "Without it, they risk having to pay out of pocket to make repairs, which can be financially devastating."
Flood insurance is available through the National Flood Insurance Program or through private-market insurance providers, including AAA. Typically, it covers any damages to your home's structure (walls, cabinets, carpets), functional systems (electrical, plumbing, temperature-control), and major appliances, as well as your personal belongings (furniture, electronics, clothes). Experts recommend buying enough flood insurance to cover a full rebuild of your home and to replace your possessions (an insurance agent can help you determine the right amount for you). The average U.S. flood insurance policy runs around $700 per year, but your annual premium will depend on where you live and the level of coverage you choose.
Smart Tip: Don't wait until rain or snowmelt hits to buy flood insurance—most policies go into effect 30 days after purchase.
Once you're insured, create or update your home inventory. Apps such as HomeZada, Sortly, BluePlum, and Encircle can help you put one together, or you can make your own. "Go through your house and document your possessions," Russell says, "even those tucked away in closets, drawers, and cabinets. Take photos and videos inside and outside your home, making sure to include your attic, basement, garage, and any outbuildings. Save copies of your home inventory online or in a safe place that you can easily access."
If you've invested in any home remodels or upgrades, you'll want visual proof of those as well. In the event of a loss, a thorough list accompanied by receipts and photos or video will simplify your insurance claim.
3. Sign up for alerts.
Monitor emergency information and alerts about which flood safety measures you should be taking. "Listen to news reports," Russell says, "and follow the instructions of local officials, law enforcement, and emergency workers." Have a radio, spare batteries, and a solar or crank charger on hand so that you can receive publicly broadcast messages even if the power goes out.
Keep your phone as charged as possible, and pay attention to your community's warning system. Nixle, which serves many communities in the West, sends text messages whenever local agencies issue an alert; to sign up, text your ZIP code to 888777. The Red Cross's Flood or Emergency apps and NOAA radio stations, which broadcast weather-related emergency information 24/7, can provide more information. Contact your city or county government for details on how to stay informed during an emergency.
Understand the difference between a flood watch and a flood warning: A flood watch means that flooding is possible and may or may not occur. A flood warning means that flooding is already happening or will happen soon.
4. Prepare your home for a flood.
To make your house more flood resistant and limit potential damage, plan ahead. FEMA recommends that homeowners:
Incorporate check-valves, backflow valves, or standpipes into the plumbing system to prevent flood waters from backing up through drains.
Raise the furnace, water heater, and other electrical components and appliances above the base flood elevation if your home is in a particularly flood-vulnerable area.
Keep a working sump pump and a battery-powered backup on hand for the basement or other spaces below ground level.
Waterproof spaces below ground. Fill any cracks or openings where water might get in along the floors and walls with hydraulic cement. Coat any inside walls and floors below ground level with a waterproof sealant. Install a water alarm or leak sensor that sounds if moisture starts accumulating. Make sure nothing outside (such as spouts, gutters, or landscaping) is directing water toward the house.
Beyond that, CSAA's Russell advises keeping important papers in a fireproof, waterproof safe. "Include financial documents and account information; legal papers including birth and marriage certificates, passports, real estate deeds, and wills; and insurance and medical information," he says. Create password-protected digital copies of all your vital files, which may also include car titles, military records, and social security cards—or stash hard-to-replace originals in a safe deposit box at a bank. Doing so enables you to evacuate without hesitation and return to normal life sooner after a disaster.
While you're at it, protect cherished items from damage too. Avoid storing heirlooms and keepsakes in susceptible spots; basements and low shelves are especially bad for paper treasures like photo albums. Instead, put them on the top floor of your home or somewhere easily accessible so you can take them with you if you need to evacuate. Have a clear, quick plan for getting these items out of the house (if there's time) in an emergency.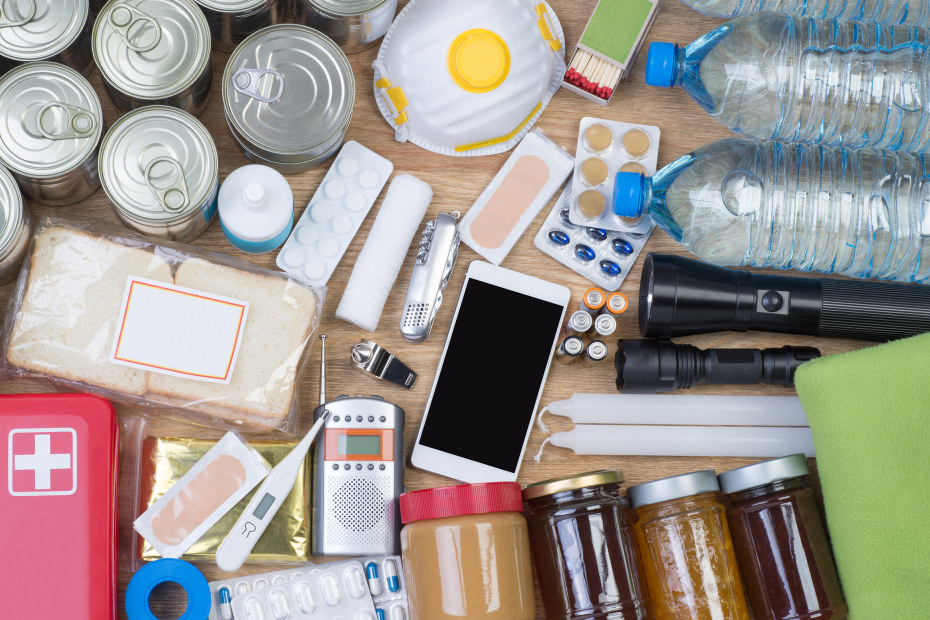 5. Assemble an emergency kit.
Your flood preparedness kit should contain enough nonperishable food, water, and medicine to support you and your family for at least three days. Other useful items to consider adding to your stash: cash, batteries, flashlights, blankets, a first-aid kit, a can opener, rubber boots, waterproof gloves, a wrench or pliers (to turn off utilities), laminated local maps, and any specific items that your children or pets may want or need.
When choosing food for your kit, Jason McLaren, who runs the emergency-preparedness firm Jason McClaren & Associates, says: "You want something that you'll eat and that will make you feel good after a disaster. Don't stock your kit with undesirable canned goods like creamed corn if you don't eat that regularly. My nightly snack is a bowl of cereal, so my kit has mini cereal boxes and powdered milk. These small comforts will take some of the stress off."
Seal your flood preparedness kit tightly and store it in a cool, dry, pest-free place that's easy to access. CSAA's Russell says: "Make sure that everyone in your household knows where the emergency kit is, and check it twice a year to replace out-of-date items. It's also a good idea to keep an emergency kit in the car and to have a backup stashed in a different part of the house."
6. Make a communication and evacuation plan.
Flood waters can rise quickly and easily cut off main evacuation routes, so it's essential for your household to have plans in place before an emergency happens.
Convene everyone who lives in your home and discuss:
How to respond to a flood;
Where to evacuate—a hotel, an out-of-town relative's home, etc.;
How to get there, and potential alternate escape routes to higher ground;
Who should grab what on their way out, if time allows;
What to do if you are separated.
Involve everyone in your household, including children, in creating and practicing your escape plan, and play out all possible emergency scenarios. Identify a safe place to meet in case you get separated or not everyone is home when the flood warning hits. Create a wallet-sized emergency contact list that includes an out-of-state relative or friend. 
"Program the contact into your phone as 'in case of emergency' [ICE-Firstname Lastname], a number that rescue workers are trained to look for," CSAA's Russell says. "Then practice your plan at least twice a year, keeping instructions clear, simple, and consistent."
Smart Tip: Add emergency contacts and medical information to your iPhone or Android that first responders can access even when your phone is locked.
For more guidance about how to plan for disaster—including specifics on how to choose your evacuation route and how to put together a family emergency communication plan—go to Ready.gov/plan. If you have a dog or cat, you'll want to identify hotels and shelters that accept animals.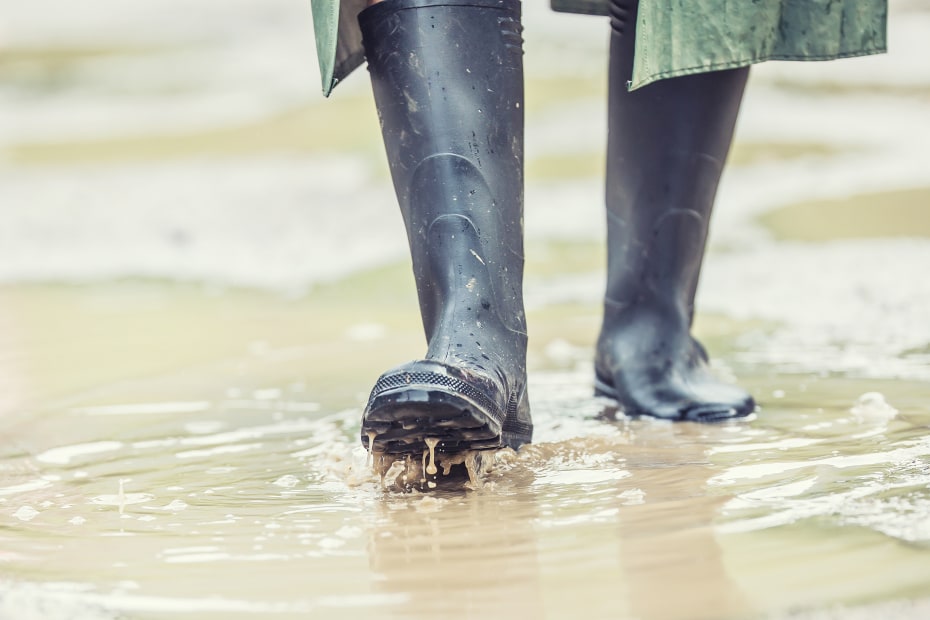 7. Know what to do during a flood.
Gas leaks, electrical fires, broken pipes, and contaminated water are common after disasters. If time permits as a storm approaches, the Red Cross advises charging your phone and then turning off all utilities in your home. Major utility companies generally recommend:
Use a crescent wrench to turn off the gas by rotating the tang (the part of the valve you put the wrench on) counter-clockwise until it is perpendicular with the pipe. For large, anchored propane tanks, turn the shutoff valve to the right, or clockwise. Ensure portable propane tanks are off and secure them away from your home.
Go to the main electric panel and flip off all individual circuits before turning off the main breaker.
Find the main water shut-off valve and turn the knob or handle clockwise until it's off.
Unplug all electronics, including appliances, and move them as high up as possible. Transport furniture (including patio furniture) and other valuables to higher ground, ideally upstairs if your home has multiple floors. Then, fill clean bottles with drinking water, fill bathtubs and sinks with water for cleaning and flushing the toilet later, and make sure your cars have full gas tanks in case you need to evacuate.
Put sandbags in place to prevent potential flooding. Some cities make sandbags and other needed materials available for free. You can also buy sandbags at home-improvement stores such as Lowe's and Home Depot. Get started early: According to the Red Cross, it takes two adults about an hour to fill and place 100 sandbags, which create a foot-high water-blocking wall that extends 20 feet long. A few sandbags can also prevent minor flooding, such as an inch or two of water at the front of your garage or a soggy front yard due to a blocked drain.
8. Evacuate safely.
If authorities mandate an evacuation, leave your home immediately. Never drive in floodwater. Just 12 inches of moving water can sweep most cars off the road, and many flood-related deaths happen in vehicles. ("Turn around, don't drown" is the catchphrase to remember.) Try not to walk in floodwater either, as it may be electrified or deeper than it looks. If you absolutely must step into the water, use a stick or wooden broom handle to test its depth, keeping in mind that six inches of moving water is enough to knock down an adult. If you're trapped by rising waters, move to the highest possible point and call 911.
Once you've evacuated, return only when authorities say it's safe to do so. To find your nearest emergency shelter, use FEMA's disaster recovery center locator, the Red Cross's shelter locator, or text "Shelter" with your ZIP code to 43362 (e.g., Shelter 01234) to find open shelters near you.