As another semester approaches, many parents are wondering how they're going to survive having their child(ren) study at home for a few more weeks or months. But as schools across the West prepare to welcome students back remotely—full or part time, subject to change with Covid-19 precautions—it's a reality adults in the most-affected areas will have to face. 
Here are five suggestions from teachers and homeschoolers to help you and your kid(s) make the best of remote learning.
1. Make your space suit your child(ren).
Beyond some basic tools and accommodations—a flat surface for writing, a place for storing books and supplies, and adequate lighting—how and where schoolwork gets done at home can look very different based on the age, needs, or preferences of each student. This flexibility, which is a big benefit of traditional homeschooling, can apply to all kids studying remotely this fall.
"Learning doesn't just happen at a desk with a book and a teacher," says Jamie Heston, a homeschooling consultant and board member of the Homeschool Association of California. "It's not necessarily important to have a dedicated space unless it's important to your kid."
In other words, some students may do better sitting in a bean bag chair or at a picnic table outside than at a kitchen table or a desk in the corner of a bedroom. Let your child(ren) try different scenarios until they find one that enables them to focus. Make sure they have space to leave their work undisturbed until it's complete.
Some items are helpful regardless of where your kid(s) end up studying in your home:
Shelves, containers, and folders to keep supplies organized and accessible;
Bulletin board, a string with clips, or refrigerator magnets for displaying work;
Lap desk for portable writing and computer work;
Noise-canceling headphones to drown out distractions;
Ergonomic chair, for promoting good posture over the long term.
Need a laptop or an additional device due to multiple users and conflicting schedules? There are a few cost-saving options. Many school districts are offering Chromebooks and Wi-Fi hotspots for check-out so that everyone can access remote-learning curriculum. San Francisco announced it will be opening 40 learning hubs throughout the city in September to provide education support, including access to technology—an idea other cities may seek to replicate.
Smart Tip: AAA Members save 10 percent on Dell-branded products and up to 35 percent on select HP products.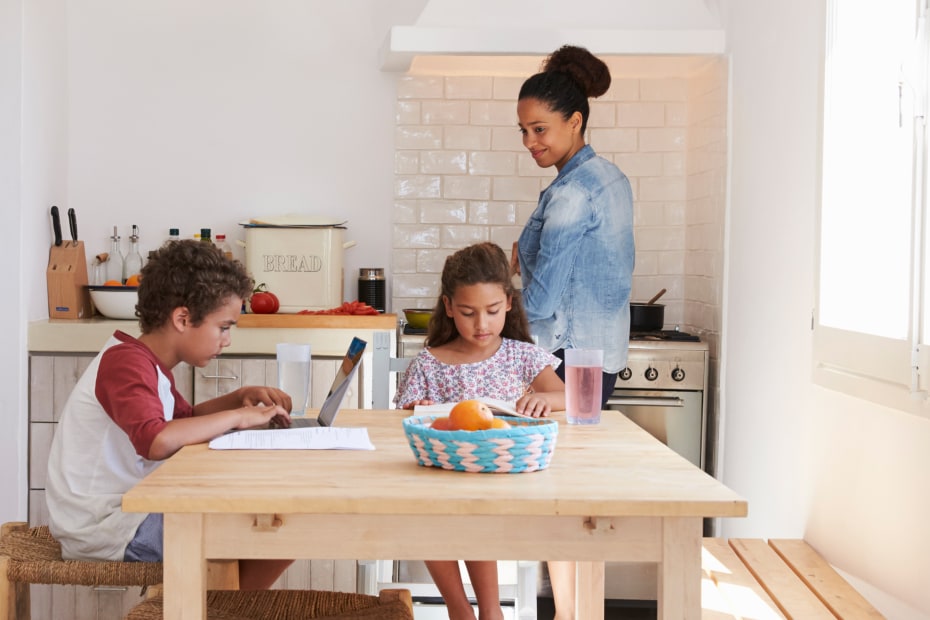 2. Adapt your school schedule to your family's needs.
At school, there's a lot of downtime for transitions, such as between classes, subjects, or project and cleanup. Students often can complete the same amount of coursework at home in less time than in a classroom. Use the extra time to your advantage and create a schedule that benefits everyone in the family—or at least as much as you can within the parameters of your child(ren)'s curriculum.
"This is a really unusual situation. So many parents are continuing to work through this from home," says Heston. "Just remember that school does not have to happen between 9 a.m. and 2 p.m. It can happen in the evenings. You can shift to weekends."
Consider letting your child(ren) sleep in while you power through work meetings or deadlines, then get them started on schoolwork later in the morning. Perhaps your co-parent takes over in the afternoon. Or you both wait until the evening, when your jobs aren't competing with your child(ren) for attention. Build in breaks for physical activity and independent time: Let your kid(s) put extra energy toward their hobbies while you work or get some downtime of your own.
If school requires time-bound lessons, such as via Zoom, your child(ren)'s schedule may need greater definition. That's especially true for high schoolers, who may find their weekday bedtimes slipping later and later while specialized coursework involves livestreamed labs or presentations. "A lot of my kids' sleep schedules got way out of hand," says Rosie Reid, a high school English teacher in the San Francisco Bay Area, about remote learning last spring. "They wanted to get up for school, but they were staying up 'til 4, 5, or 6 in the morning."
Smart Tip: Xfinity Wi-Fi hotspots in out-of-home locations (parks, shopping areas, train stations) are free to the general public through June. Find one near you at xfinity.com/wifi.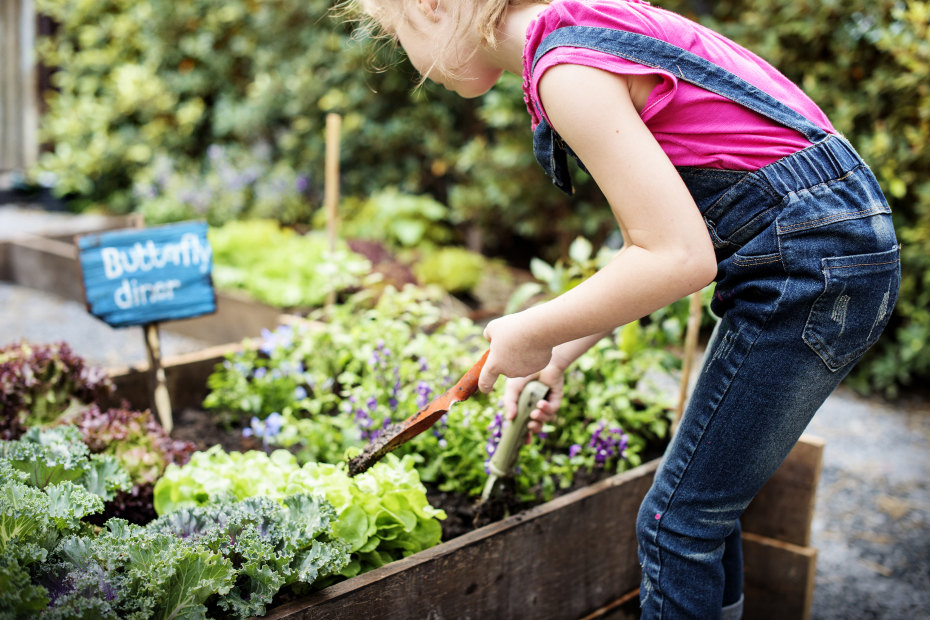 3. Let life provide a few lessons.
Another homeschooling tactic that parents of remote learners can embrace, Heston says, is to "de-emphasize curriculum and re-emphasize real life, which will feel more natural and more fun, and take some of that pressure off as well."
When approached with intention, fun and useful projects can double as lessons in nearly any subject, from history to home economics. Involve your child(ren) in cooking and baking, growing a garden, completing household chores, fixing broken toys, grocery shopping, playing dice and card games, and taking nature walks. Ask them to build something out of the cardboard boxes that have accumulated from increased online shopping, or stage a short play re-creating what they just learned in class.
You could also look for a documentary, video game, book, or YouTube DIY project that will reinforce what they are learning or interested in. And, as public safety measures and the family schedule permits, take your child(ren) to zoos, museums, science centers, and historical sites.
Complement their school curriculum, but also follow their passions, to help cultivate a love of learning that will sustain them through the pandemic and serve them well once they're back in school.
4. Use available resources.
Many free and low-cost resources are available to support learning. Although your child(ren)'s teachers may give you prepaid classroom access to tools, such as Starfall and Scholastic, here are a few more to try:
Smart Tip: If your child is heading back to the classroom, discuss the school's safety guidelines now. Make or buy statement face coverings—school colors, favorite characters, etc.—and clip a mini bottle of hand sanitizer to their backpack.
5. Find a support system.
Although sheltering in place with your child(ren) may feel isolating, you are not alone. The parents of every student in your district, county, and state are likely facing similar challenges with remote learning amid the pandemic. Don't be afraid to ask teachers questions to clarify assignments and expectations as often as needed.
Be proactive about communicating with other parents too. Check-in regularly by phone or email to work through challenges, or establish more formal support if needed. In July, Facebook groups began popping up for parents to seek connections for "pods," "bubbles," or "micro schools." The idea is to form small, stable groups (within county or state safety guidelines) of families living in the same area to support one another with curriculum and childcare. Each group decides how to operate, but it could include dividing lessons among parents by subject, rotating who oversees schooling while the others work, or pooling money for sharing tutors, nannies, and other resources. One group, Pandemic Pods - Main, exceeded 25,000 members by the end of its fourth week and quickly broadened its focus to communities beyond its San Francisco Bay Area base.
Sometimes extra support can be found among your relatives. Struggling to help your child(ren) through advanced algebra? Perhaps a grandparent or a cousin is more math-minded. Or maybe an older child can help their younger sibling. Try different types of support until you find a system that works for your family.
"If you're feeling nervous or scared or apprehensive, that is totally normal," Heston says. "What that means is you want to do right by your kids. That's a good thing. Just don't let it freeze you up. You don't have to have it all together on day one, and you'll keep growing."