Utah's Mighty Five national parks are beyond famous, but there are more than a few state parks in Utah that are worthy of exploration. These eight state parks boast brilliantly clear waters, acres of sand dunes, wide-open canyons and, of course, seriously gram-worthy views that rival any national park.
Bear Lake State Park, Garden City
Bear Lake State Park attracts visitors year-round, but it really gets hopping in warm-weather months thanks to Bear Lake's aquamarine waters and sandy shores. One glimpse of this massive 70,000-acre lake and you may think you're in the Caribbean. Minerals in the water—calcium carbonate, to be precise—create the freshwater lake's turquoise color. While boating and fishing are big draws, you can also camp, hike, or simply soak in the rays from the south shore at Rendezvous Beach. Looking for a fun family activity? Rendezvous Beach is also home to a floating water park made up of super-size inflatables, including slides, trampolines, and an obstacle course.
Antelope Island State Park, Syracuse
Antelope Island is Utah's third most-visited state park, and it's easy to see why. The views across the iconic Great Salt Lake are nothing less than exceptional. Enjoy access to an array of outdoor activities, like hiking, boating, swimming, mountain biking, and horseback riding. For some of the best views, take the popular Frary Peak Trail, which leads to the top of the park's tallest mountain (6,596 feet). It's not an easy trail, but the payoff is surreal panoramas of the renowned salty lake.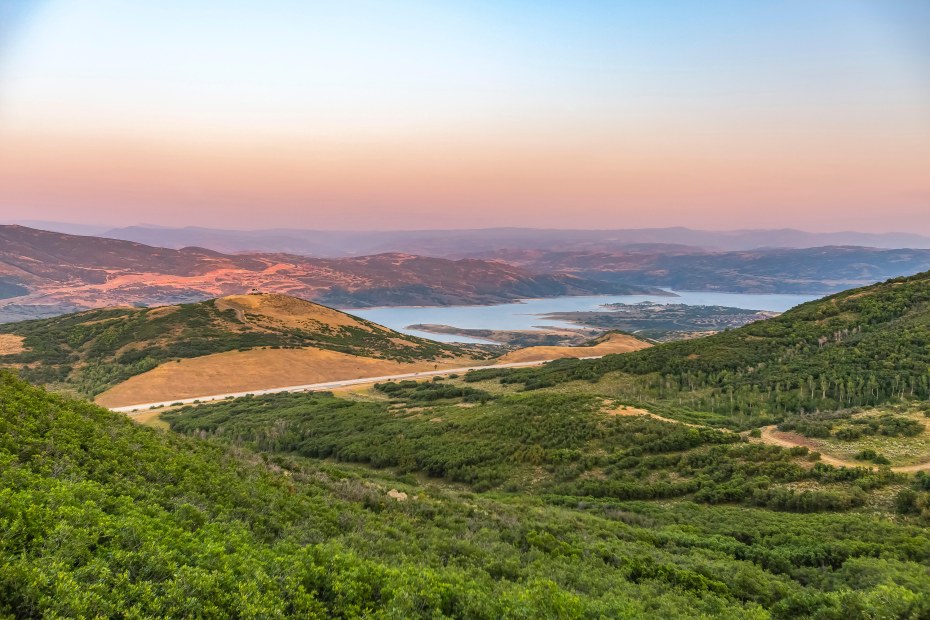 Jordanelle State Park, Heber City
Located on the shores of the 3,000-acre Jordanelle Reservoir less than 10 miles from Park City, Jordanelle State Park offers several boat launches to access the sections of the lake designated for motorized and non-motorized watercraft pursuits. At the park's marina, rent jet skis, kayaks, pontoon boats, paddleboards, and inflatable tubes. Three on-shore recreation areas—Hailstone, Ross Creek, and Rock Cliff—offer camping, picnicking, hiking, fishing, and mountain biking. 
Yuba State Park, Levan
Yuba Reservoir's warm waters make it an ideal location for swimming and boating, and Yuba State Park is home to several campgrounds along the shores so you can recharge at a campsite or cabin after a full day on the water. For primitive camping along the lakeshore, look to North Beach and West Beach. For a sunset show, take the short hike from the Painted Rocks Campground to the nearby overlook with far-reaching views across the reservoir. If you're looking for something more thrilling, hop on the 650- and 850-foot zip lines located to the north of the Oasis campground.
Dead Horse Point State Park, Moab
A stone's throw from Canyonlands National Park, Dead Horse Point State Park is an absolute stunner thanks to breathtaking canyons and curious geological formations. Take in the wide-open views across the sandstone canyons and flowing Colorado River from the trails along the east and west rims. At sunrise or sunset, walk the easy 200-foot path from the viewpoint parking lot to Dead Horse Point, which is thought to have been used by cowboys to corral wild mustangs in the 19th century. The park also has two campgrounds for tents and RVs, as well as yurt and mountain bike rentals.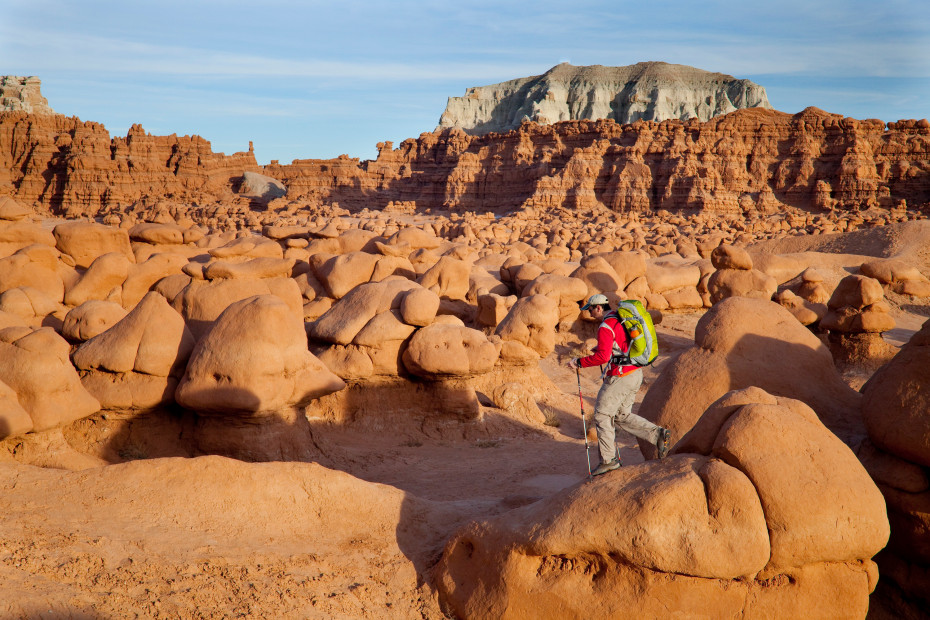 Goblin Valley State Park, Green River
The name alone inspires intrigue. Here, an otherworldly expanse of hoodoo formations that resemble goblins are the primary draw. Wind and water erosion created the shapes that welcome you across a three-square-mile expanse of the state park. Take them in from above on a viewing platform, then stroll across the valley to see the hoodoos up close. There are five hiking trails, including trails that lead to Goblin's Lair and Goblette's Lair, both of which involve an exhilarating rock scramble to scrutinize interior rock formations. The park's remote location roughly 3 hours from Provo also makes it a prime destination for stargazing. 
Escalante Petrified Forest State Park, Escalante
Skip the crowds and see petrified wood, lava flows, shell fossils, and petrified dinosaur bones at this lesser-known gem. Several easy hiking trails, including the Petrified Forest Trail, allow you to examine beautiful petrified wood and take in the views across the Wide Hollow Reservoir. You can also fish, camp, and rent kayaks, canoes, and paddleboards to get out on the crystal-clear reservoir waters at this 1,350-acre state park. At the visitor center, enjoy educational exhibits on the park's history, wildlife, and geology.
Coral Pink Sand Dunes State Park, Kanab
It's easy to be awed by the ever-shifting landscape of red sand at Coral Pink Sand Dunes State Park, which was created by wind erosion of red Navajo sandstone over thousands of years. If you get your kicks from a dune buggy, a sand board, or a sand sled, this park is for you. Bring your ATV or rent one from an outfitter outside the park, like ATV Rentals Utah, to zip across the rose-colored dunes. Within the park, you can rent sand boards and sleds for the day to play.