Located about as far from the glam of Jackson as you can get, Carbon County, Wyoming, considers itself the gateway to the most authentic part of the state. Blessed with phenomenal outdoor recreation—but with a fraction of the crowds—plus awesome Wild West history and plenty of pioneer-era fun, the county makes a fine winter getaway.
Things to Do 
The outlaw Butch Cassidy and his gang, the Wild Bunch, used to hang out in Baggs, just a few miles north of the Colorado state line, and today you can visit one of his favorite places to hide from the law. The Outlaw Stop in the center of town features a roadhouse and dance hall where Cassidy allegedly would play the harmonica, joining a local musician named Tom Vernon. Another building on-site did triple duty as the town hall, fire station, and jail. After wandering through the restored buildings, throw a blanket down and enjoy a picnic on the historic grounds. 
In Rawlins, the Carbon County Museum showcases exhibits on the Union Pacific Railroad, which forever altered the West, as well as displays on art themes, Indigenous tribes, and outlaws such as "Big Nose" George Parrott who, in 1881, met his fate at the hands of local vigilantes when they grew tired of him robbing stage coaches and murdering deputies. 
Just down the street you'll find the Wyoming Frontier Prison, the state's first penitentiary, which once housed outlaws. Today the stone fortress doubles as a museum, with guides who offer tours explaining what life was like for prisoners back then. Visit on December 3 for Christmas Out of the Big House, a Christmas market at the Jeffrey Center in Rawlins. Otherwise, call ahead for tours in winter. 
Take a stroll around town and note the 14 murals painted on buildings that highlight Rawlins's fascinating history. Don't miss the one of Thomas Edison fishing in the Sierra Madre mountains nearby, where he got the idea for the lightbulb filament from a fiber line on his fishing pole. 
Saratoga's annual Winter Wonderland and Lighted Christmas Parade happens this year on December 10, when colorful floats with thousands of dazzling lights drift through a beautifully decorated downtown, and local businesses stay open late, offering free hot drinks and snacks. Find Santa in his shack and ask him to bring you back again next year.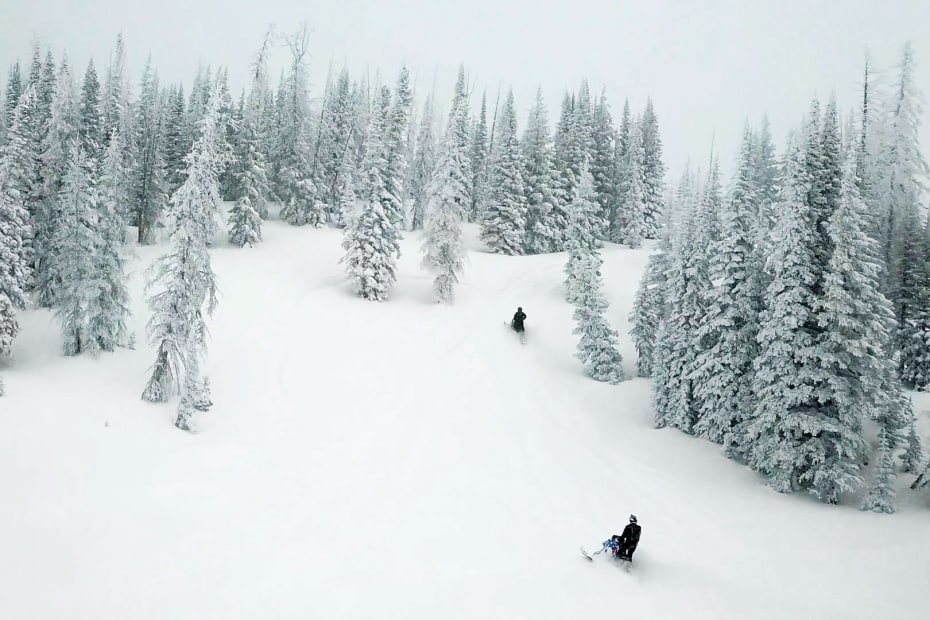 Outdoor Fun
This part of Wyoming, especially Saratoga, is synonymous with hot springs, and the land's Indigenous peoples were the first to understand how relaxing and healing a soak can be; they called this area the Place of Magic Water. Experience it for yourself at the Hobo Hot Springs in Saratoga, which are open 24 hours a day, seven days a week, their burbling waters ranging from 101 to 110 degrees. Be careful: A pool locals call the Lobster Pot can get as hot as 120°F. Coolest of all, (pun intended), the soaking is free. For a more upscale experience, try the Saratoga Hot Springs Resort where you can soak in teepee-covered pools after a day of snowmobiling. 
Cross-country skiers will want to explore the Bottle Creek Trails about six miles west of Encampment, where several groomed loops wend through the forests. Rent skis or snowshoes and find maps and more information at Wyoming Outdoor Adventures. 
Snowmobilers know Carbon County for its awesome network of trails—some groomed, many not—that run for more than 300 miles through the Snowy Range and 110 miles or more through the Sierra Madres. Wyoming Outdoor Adventures can help you here, too.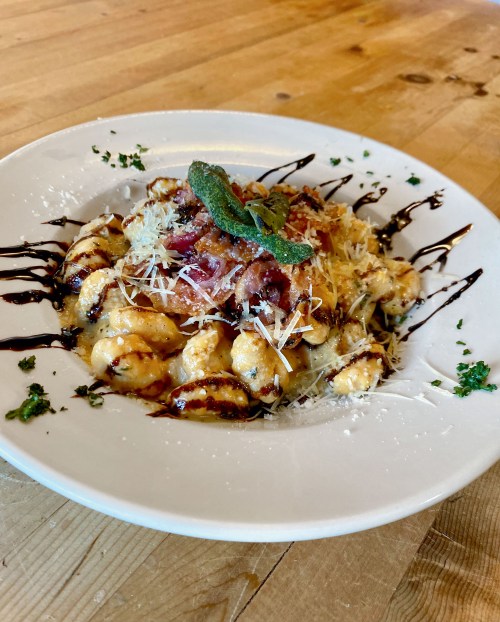 Where to Eat
The Historic Wolf Hotel and Restaurant in downtown Saratoga opened in 1893 when Frederick Wolf, a German immigrant and the accommodation's original owner, settled here after working for the railroad. People come for the steaks, seafood, and lamb chops, but stay for the cheesecake with berries. 
Locals swear by Bella's Bistro, an Italian restaurant located in a charming Victorian house downtown. Rumor has it that Katy Perry asked to have the restaurant all to herself once but the owners refused to cut locals out and denied the request. The lobster ravioli isn't always on the menu, but it's spectacular when it is. 
In Rawlins, the Ichiban Japanese Steakhouse remains popular for fresh sushi, bento boxes, and hibachi chicken cooked on a grill built into the table. Don't forget to look up at the star-like ceiling illuminated by hundreds of pinpricks of light.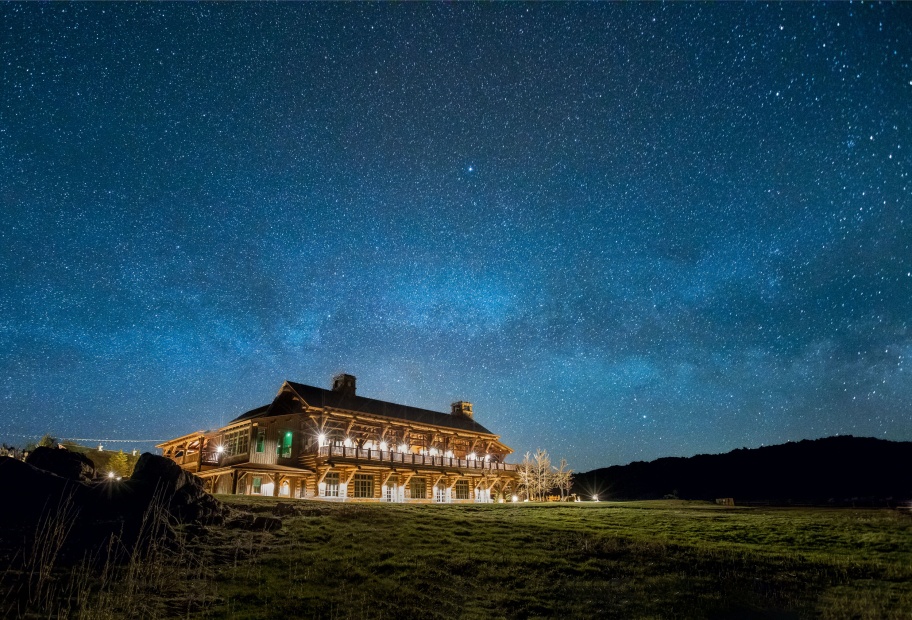 Places to Stay
If you're coming in from the east on Interstate 80 consider a layover at the Historic Elk Mountain Hotel in the hamlet of Elk Mountain, about 55 miles northwest of Laramie. Built more than 117 years ago, the Victorian-style hotel sits on the banks of the Medicine Bow River. With antiques from the early 1900s in each of its 12 rooms, it's something of a cross between a boutique hotel and a bed-and-breakfast. Claim to fame: Louis Armstrong played here. 
In Saratoga, the Historic Wolf Hotel and Restaurant turns 130 years old in 2023. Once dubbed the Grand Old Gal, the place has been a stage-coach stop, an art gallery, and a barbershop. Today the 10-room hotel—an odd two and a half stories tall—sits within walking distance of hot springs and shopping. A period-style saloon serves up burgers and microbrews. Neat fact: Superman himself, Christopher Reeve, once stayed here. 
Copper became a high-demand commodity after Thomas Edison invented the lightbulb, and soon after the metal was discovered in 1897 in the Sierra Madres, the very place Edison first figured out the filament. The CopperLine Lodge in Saratoga takes its name from the inventive ways that miners moved the ore from those mountains to a nearby smelter. Choose from one of 11 original 1950s-era rooms or a cabin with log bunk beds for the kids. 
For an unforgettable experience with impeccable service and amenities, book a stay at the all-inclusive dude ranch resort Brush Creek Ranch near Encampment, with 19 rooms, 25 log cabins, and nine suites to choose from. While there you can spend a day downhill skiing at the ranch's private 600-acre resort, open to only 18 guests at a time. 
Where to Shop
Located in downtown Rawlins—tucked into a gorgeous 1930s art deco building with a large glass entryway and pressed-tin ceiling—Windswept Goods is worth a stop just to see the renovation work alone. Locals Amanda Moore and Wayne Gotfredson offer home décor, boots, and clothing with a rustic Wyoming flair. 
The Mabuhay Oriental Market brings a taste of the East to the Wild West in Rawlins with yummy Asian sauces, spices, and unusual snacks such as dried fish chips from Thailand. 
Geek-ish Things in Rawlins tickles your inner nerd with Star Wars memorabilia, superhero coffee mugs, and other novelties. Check out the artwork from local artists, which changes seasonally.
In Saratoga, swing by the Laura M Gallery for Western wear, jewelry, gifts, and home décor, including a toilet roll dispenser shaped like a fishing reel. 
The Brush Creek Distillery opened in 2019 on a working 30,000-acre cattle ranch about 15 miles southeast of Saratoga called the Farm at Brush Creek. Come here for straight bourbons, a "Railroad Rye," and New American gins.