Anyone who has ever set foot in Ferndale, CA., will tell you about the wealth of Victorian architecture in a village of 1,400 souls near the rugged Lost Coast, about 250 miles north of San Francisco. What they don't usually mention are the vampires and the flying saucer.
The vampires, of course, aren't real. With redwood-dense mountains at its back, this town of pioneer cemeteries and gingerbread houses looks so peaceful and bucolic that filmmakers can't resist filling it with horrors like bloodsucking ghouls (Salem's Lot) and deadly viruses (Outbreak).
As for the flying saucer, well, it's real enough. Every Memorial Day weekend, Ferndale hosts the finish of the kinetic sculpture race, a three day, 40-mile trek of human-powered vehicles along roads, over sand dunes, and across water. You'll find examples of these wacky creations—including the flying saucer and a monster-size rubber ducky—in the Ferndale Art and Cultural Center.
Before grisly movies and wild rides, Ferndale grew fat on cream and butter. In the 1870s, roughly two decades after a pair of brothers first laid claim to the area, dairy-farming Danes arrived and set their cows loose on the rich Eel River delta pastureland still found here today. By 1890, the town had 11 creameries churning some of the state's finest butter, and Ferndale was known as Cream City. Wealthy dairymen built themselves "butterfat palaces." Nowadays a handful of their opulent homes are period-furnished, Wi-Fi–equipped inns.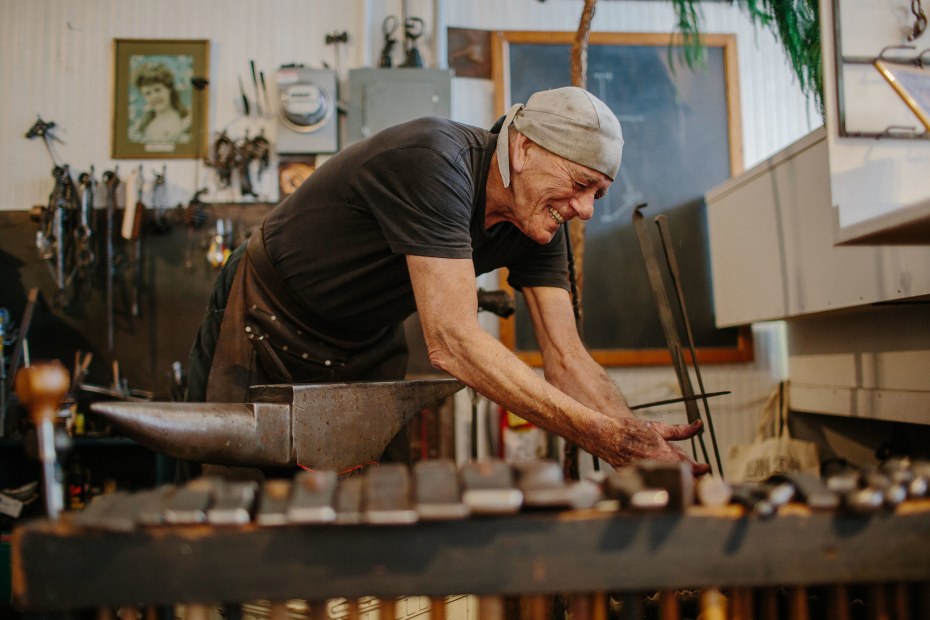 Things to See and Do in Ferndale, CA
So many of those Victorians survived that the entire one-square-mile town and its Main Street are listed as state and national landmarks respectively. In the 1970s a local woman, Viola Russ McBride, bought a passel of the town's ornate commercial buildings, rented them cheaply to artists, and promoted their restoration. "Viola is the patron saint of Ferndale," says Joe Koches, who was one of those artists. At age 81 he still labors at his coal-fired forge in the Blacksmith Shop, which carries hand wrought items ranging from drawer pulls to a $40,000 set of Maya-themed light fixtures by a top California smithy.
Re-energize at Sweetness and Light with handmade candies, including the signature Mooo Bar, a chocolate-covered confection of caramel, toasted almonds, and homemade marshmallow.
Nearby, the creaky-floored Golden Gait Mercantile sells everything from an antique clothes-washing stand to small batch soaps and hats. Both floors of the store are packed with heirloom wares and useful souvenirs.
Housed in an 1895 building that has been home to a grocery store, church, Buick dealership, and more, the Ferndale Emporium offers everything from art and home decor to items for your garden and skin care.
In quiet backstreets, rhododendrons put on a spectacular display around May. Another show, of the grandma's-attic variety, can be seen at the Ferndale Museum. Exhibits include a cross section of a 1,237-year-old redwood tree and a 1953 photo of "the world's tallest cake," a 15-tier creation made with 300 pounds of butter and served to 10,500 people at the fairgrounds.
Or find your next great read at Chapman's Bookery. The bookstore can also can help you track down a rare edition to fill a hole in your collection.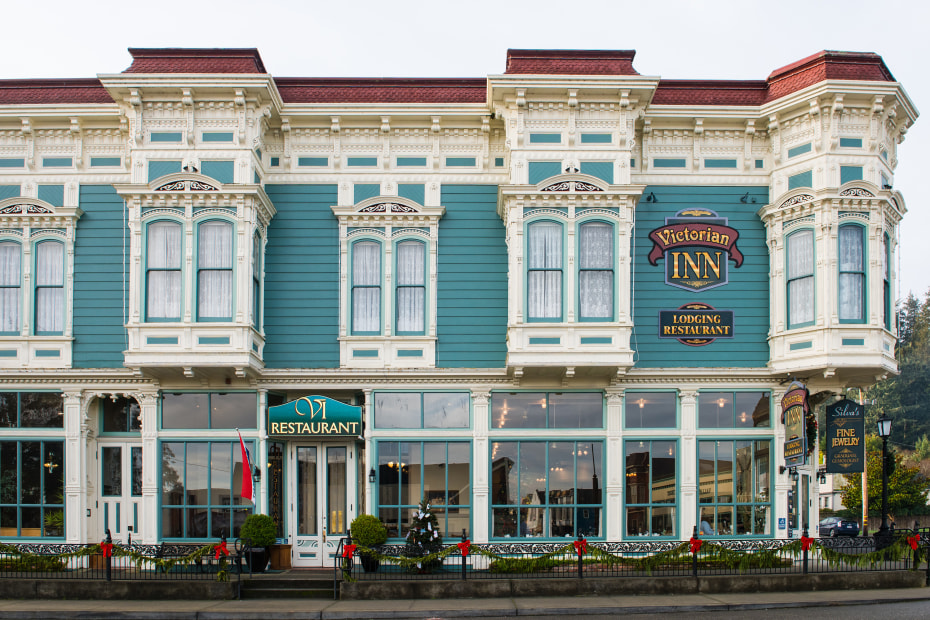 Where to Eat Near Ferndale, CA
Tucked inside the historic Victorian Inn, a Ferndale mainstay since 1890, VI Restaurant and Tavern is ideal for a romantic night out with its cozy small town, vintage feel. Expect hearty classics with a California twist such as pan-roasted lemon herb free-range chicken served with sauteed vegetables and fingerling potatoes with a white wine sauce; cold water lobster poached in butter; and Portuguese paella stuffed with free-range chicken, clams, scallops, linguiça sausage, and shrimp.
Hotel Ivanhoe Restaurant and Saloon is a great Italian spot serving scampi, chicken marsala, and linguine del mare. Located inside of Ferndale's first hotel, it's easy to imagine yourself seated at the table 150 years in the past. After dinner, head over to the saloon for dancing or pull up a chair in the lobby by the fire to read a book or relax before retiring for the evening.
You can find soup with vegetables and fresh, warm loaves of bread at Lost Coast Baking Company, but we all know the real reason to stop in is for a slice of pumpkin or carrot cake, or a sturdy helping of a seasonal pie such as the California citrus.
Ferndale's most recent motion picture appearance was in The Majestic (2001), in which the residents of a small town mistake an amnesiac writer (portrayed by Jim Carrey) for a long lost resident. In a bit of typecasting, Ferndale played the role of a friendly, slightly quirky hamlet with genuine heart, the kind of place you think doesn't exist anymore. Except it does.