When John Steinbeck's Cannery Row hit store shelves in 1945, Monterey's booming sardine industry—and its ragtag band of workers—gained widespread attention. In 1958, the city proudly proclaimed the canneries' bustling waterfront thoroughfare as Cannery Row, and curious visitors followed. The sardine factories have long since shuttered, their looming metal structures now home to lively eateries, pubs, and shops—yet it's not all seafood and souvenirs. Look beyond the otter plush toys and you'll discover fascinating reminders of the time when Steinbeck roamed the streets and the coastal canneries fed the nation.
What to See on Cannery Row
Rich with history, architecture, and sweeping views of Monterey Bay, Cannery Row rewards those who explore by foot. The sidewalks of main drag Cannery Row are dotted with colorful vintage sardine labels, plus interpretive signage detailing the rise and collapse of the local sardine fishery. Overhead, enclosed sky bridges emblazoned with erstwhile cannery names link old industrial structures. A cluster of historic austere, one-room cabins lends insight into the lives of seasonal cannery workers—primarily single men from Japan, Spain, and the Philippines.
As you walk the main strip, keep an eye out for Pacific Biological Laboratories at 800 Cannery Row. That's the former specimen-filled lab of Ed Ricketts, the marine biologist fictionalized as Doc in Steinbeck's Cannery Row. The lab is only open to the public a few times a year, but you can duck down the alley to the right of the building to view exterior concrete containers that once held preserved sharks, rays, and octopuses.
Insider Tip: The hidden deck at the end of the alley is often less crowded than many of the other overlooks.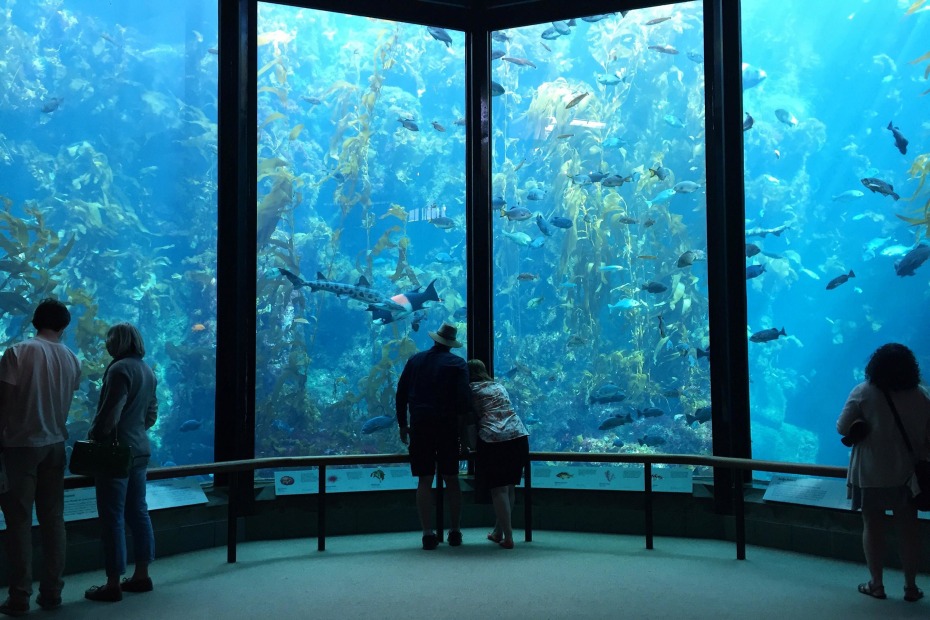 Ricketts would have swooned over the Monterey Bay Aquarium, which opened within the former Hovden Cannery in 1984 and has since grown to be Monterey's premier attraction. Its grand-scale exhibits feature the aquatic wonders of the bay it looks out on, and inspired the fictionalized Marine Life Institute of Pixar's Finding Dory. Experience a kelp forest teeming with sea life, marvel at the underwater acrobatics of frolicsome sea otters, and peer into the vast Open Sea aquarium swarming with hammerhead sharks, green sea turtles, and schools of shimmering sardines. Kids can enhance visits with downloadable games and field guides that allow them to design aquarium exhibits and explore one of the most diverse ecosystems in the world. Families can even bed down amidst the marine life during special sleepovers.
The Aquarium is one of many points of interest along the Monterey Bay Coastal Recreation Trail. The paved, 18-mile path skirts Monterey's scenic shoreline and cuts through the heart of Cannery Row, passing vibrant murals, a monument to Ed Ricketts, and a 1916 caboose from the former Del Monte Express passenger line. You'll cover even more ground with a rental bike from Adventures by the Sea whose Cannery Row locale is situated along the trail.
Wander farther north along the Recreation Trail, and you'll stumble upon the golden sands of San Carlos Beach, a pocket cove backed by green lawns. One of few easily accessible beaches along Cannery Row, it's a popular staging area for scuba divers. For those without a license, picnic tables provide an ideal spot for a seaside lunch.
Where to Shop Along Cannery Row
Vintage treasures abound at the Cannery Row Antique Mall which houses roughly 100 dealers within the two-story, 22,000 square-foot former Carmel Canning Company warehouse. In addition to remnants from its former life—spy the original conveyor belt-like fish ladder linking the two floors—the massive space features a diverse selection of antique goods including local historical items such as vintage postcards, photographs, and restaurant menus.
Insider Tip: Don't be shy to ask for a better price; many dealers are willing to negotiate.
Monterey has long been a refuge for artists drawn to its inspiring landscape and bohemian culture. For a peek at contemporary artisans' work, head to Lilify. The serene space displays locally produced wares such as jewelry, pottery, home decor, and fashionable accessories. The stylish boutique is a regular stop for locals thanks to the butter chocolate lattes from Bright Coffee housed within.
Where to Eat and Drink in Cannery Row
For lattes with stirring bay vistas, stop by Tidal Coffee. The waterfront cafe serves up espresso drinks alongside fresh-baked pastries and a simple menu of breakfast and lunch items. Nab a Steinbeck novel from the shelf, and cozy up around the outdoor fire pit overlooking Monterey Bay.
Situated within the stylish Clement Monterey hotel, The C Restaurant + Bar showcases the beauty and bounty of Monterey Bay with local seafood and a modern space that peers out over sea life-filled waters. Dishes such as rock fish tacos, fresh red abalone, and crispy calamari feature ingredients plucked from the bay, and the kitchen adheres to the Monterey Bay Aquarium's lauded Seafood Watch program, which ensures your meal choices help sustain healthy oceans.
Engulfed by sweeping bay vistas, the waterfront dining room at Schooners Coastal Kitchen & Bar feels not too unlike being aboard a ship at sea. The all-day restaurant features a contemporary, seafood-centric menu of Dungeness crab cake benedicts, sea bass BLTs, and, for landlubbers, rib-eye steaks. On sunny days, head for the exceptional outdoor patio set directly above the bay's clear turquoise waters.
Insider's Tip: Locals swear by the Bloody Marys, made with a spicy house-made mix and adorned with a farmers market worth of veggies.
Housed in a former cannery building perched above Monterey Bay, The Fish Hopper dishes up panoramic views and seafood faves such as coconut prawns, fish and chips, and sourdough bowls brimming with clam-studded chowder. Their ultimate seafood bloody Mary is a meal in itself, lavishly adorned with an oyster, crab-stuffed olives, bacon-wrapped prawn, and crab cake slider.
Opulent dining rooms and upscale surf and turf have made The Sardine Factory a fine dining mainstay since 1968. Enjoy a Madeira-spiked abalone bisque and lobster ravioli under the dramatic glass dome of the Conservatory, or amidst 16th Century antiques in the subterranean, brick-lined wine cellar. Spring for a palate-cleansing fruit sorbet which arrives prior to your entree, served atop an illuminated, ice sculpture swan.