In his novel Cannery Row (1945), John Steinbeck immortalized the colorful denizens of what was then Monterey's thriving sardine-packing district. Now, Steinbeck and other well-known locals are immortalized in bronze.
Unveiled in 2014, a 15-foot-high, 17-foot-wide monument in Cannery Row's Steinbeck Plaza features nine slightly larger-than-life human figures. Its base resembles one of the rock formations that ring Monterey Bay, whose waters lap just steps away. Among the figures are a Chinese fisherman, cannery workers, a good-hearted madam, and Steinbeck's friend, the eminent marine biologist Ed Ricketts, who is depicted contemplating a sea star.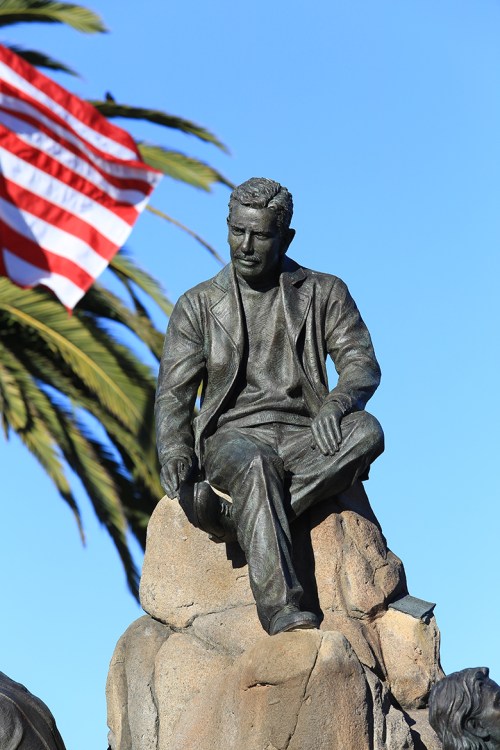 Four bronze card players pay tribute to "the boys"—the amiable layabouts of the novel, who among other misadventures decide to earn money by catching frogs. The figures are actually modeled after the quartet of entrepreneurs instrumental in reimagining today's to Cannery Row as a shopping and dining destination long after the sardine fishery collapsed and the canneries closed: Ted Balestreri, George Zarounian, Harry Davidian, and Bert Cutino. In another nod to the boys, 13 bronze frogs are hidden around the monument.
At the monument's peak, surveying all, is Steinbeck. Artist Steven Whyte, who sculpted the original statues out of clay in his Carmel studio and had them cast in Berkeley, says of the Steinbeck figure, "He's watching the thousands of Cannery Row visitors who now walk past every day."