On select nights this summer and fall, aquariums, zoos, and theme parks in the Bay Area offer unique slumber parties that adults and children alike will dream about for months. Don't be caught snoozing: tickets to these sleepovers sell out quickly!
Monterey Bay Aquarium, Monterey
Have you ever felt as if this marine museum was too much for one day? Try one of its overnights, which include live music and a no-host bar for adults during the summer. The program is open to anyone over age five, but you don't have to go with kids to have a great time. Perks like after-hours access to the aquarium with a fraction of the usual crowds, ocean-themed crafting projects for kids, and naturalist-led presentations keep everyone engaged.
After dark, settle in for a funny video orientation followed by a "midnight" snack of milk and cookies. Next up? Select your perfect sleeping spot by the kelp forest, jellyfish, or octopus tank. (Don't forget to bring a cushy pad or air mattress for the hard floors!) Before bed, there is a late-night movie screening, and then you're off to dream amid the fish. After a 7 a.m. wake-up call, enjoy a full breakfast before heading out at 8:30 a.m. Sleepover guests are welcome back once the site opens to the public, however, to enjoy a full day at the aquarium. By then, you'll know the place like the back of your hand. Jan.-Nov.; $125 per person.
Oakland Zoo, Oakland
The Oakland Zoo's long-standing Family Sundown Safari program is a Bay Area favorite. Guests bring their own tents and sleeping bags to enjoy a pizza dinner, head out on a twilight zoo tour, and camp in the meadow. After a night of learning and s'mores, you'll wake up to breakfast and more animal action. The overnight includes campfires with s'mores and hot breakfast in the morning. July-August; $95 per person.
Children's Fairyland, Oakland
Berkeley-based writer Michael Lewis describes this old-timey children's theme park next to Lake Merritt in Downtown Oakland as a "Lilliputian world drawn perfectly to scale." Its outdoor overnights are similarly perfect in design for children ages two to seven to enjoy a summer cookout dinner, rides with no lines, and entertainment. Set up your tent before settling in for magicians, circus acts, and the park's exquisite puppet show at the oldest continuously operating puppet theater in the U.S. Wake up with the donkeys and sheep, and enjoy breakfast before heading home. July-August; $45 per person.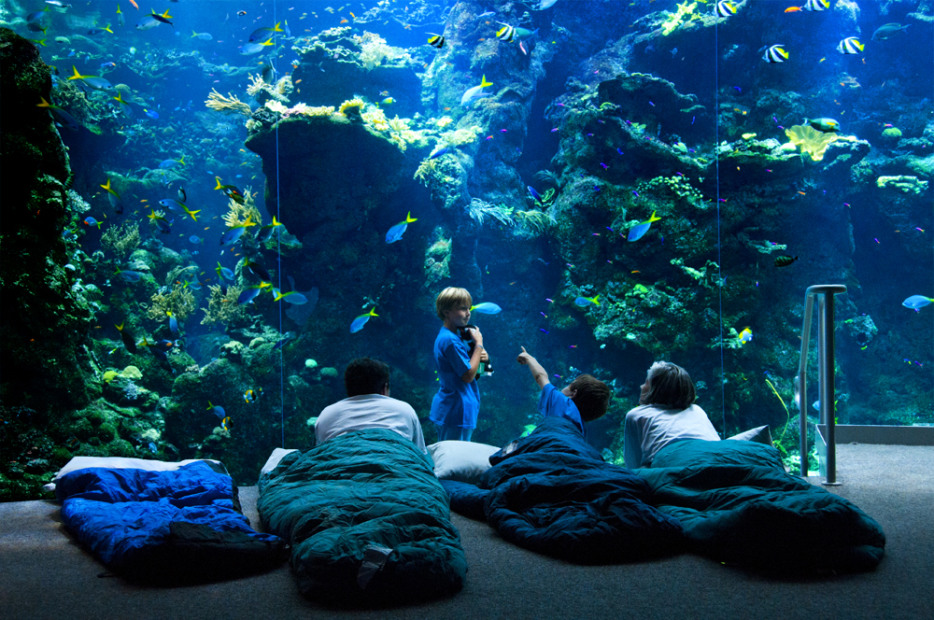 California Academy of Sciences, San Francisco
The Cal Academy's Penguins+Pajamas overnight for adults and children age five and up is the "wildest sleepover ever," with up-close views of the museum's collection of 38,000 wild animals, including Claude, the Academy's treasured albino alligator. Visitors enjoy late-night shows at the Planetarium, and, on clear nights, the chance to gaze at the stars through a telescope on the museum's living roof. Story time with a late-night snack rounds out the evening, and you have your pick of amazing sleeping locations adjacent to tanks full of marine life. Although as many as 500 guests attend the sleepovers, the place feels empty since it usually accommodates about 2,000 guests by day. Select weekend nights January-June; $119 per person.