Let's be honest: kids and museums aren't always a match made in heaven. Long lines and 'boring' exhibitions—not to mention those draconian no-touch and no-snack policies—hardly constitute an entertaining day out with little ones. Thankfully, the last two decades have seen a proliferation of dedicated children's museums where youthful creativity, imagination, and messiness are celebrated. But don't count out so-called "regular" museums, either. From high-tech science projects to digging in the dirt, these diverse institutions in the West will engage every member of your family, kids included.
Exploratorium, San Francisco
At the cutting-edge of interactive museums for 50 years now, the Exploratorium is part laboratory, part research facility, and part wonder factory. Opened in 1969 as a "library of experiments" where people could learn about natural phenomena and the world around them, the museum not only allows but demands participation from each of its visitors. Clever, often humorous displays invite visitors to listen, touch, smell, and create while illuminating scientific concepts ranging from photosynthesis to tidal movements. The state-of-the-art facility on Pier 15 of San Francisco's Embarcadero makes the experience even more memorable. Children in particular flock to the Tactile Dome, a wonderfully un-scary sensory experience that takes place entirely in the dark.
Smart Tip: AAA Members save 20 percent on daytime Exploratorium admission with advanced ticket purchase online.
SFMOMA, San Francisco
Older children with an interest in art find much to savor at San Francisco's Museum of Modern Art, but even the youngest family members will be mesmerized by its newest ongoing exhibition: the Chronicles of San Francisco, a massive digital mural by the French artist JR. Composed of black-and-white imagery of San Francisco's faces and places stitched together into a pulsing whole, this ground-breaking digital format breathes new life into the city's storied tradition of murals depicting the daily experience of working-class people. Free to the public and accessible through a street-level entrance, the Chronicles of San Francisco is the city's newest must-see.
The Broad, Los Angeles
If certain contemporary artworks leave you thinking, "My kid could have made that!", then a visit to the Broad might help you to confirm—or deny—it. Downtown Los Angeles' dazzling art venue is filled with thought-provoking work by the world's leading contemporary artists, much of which is bright and playful enough for kids to enjoy. The most adventurous can venture into Yayoi Kusama's Infinity Mirrored Rooms for a mind-bending experience (but note that they should be comfortable entering a dark, enclosed space on their own for 45 seconds for The Souls of Millions of Light Years Away). LeVar Burton narrates a free audio tour of the museum, Looking with LeVar, created specifically for families, and free daily admission relieves the pressure to see the entire collection.
USS Midway Museum, San Diego
Housed on a Navy aircraft carrier at the Port of San Diego, the USS Midway Museum thrills and educates its one-million-plus annual visitors with a fascinating journey through the history and evolution of naval aviation. Far from a passive experience, a trip through the Midway will take you from hangar to flight decks, up and down ladders, aboard a flight simulator, into a multi-media theater presentation, and to a remembrance wall dedicated to fallen heroes of the U.S. Armed Services. Kids love the Junior Pilot program, an audio tour and scavenger hunt that culminates in a ceremonial presentation of wings.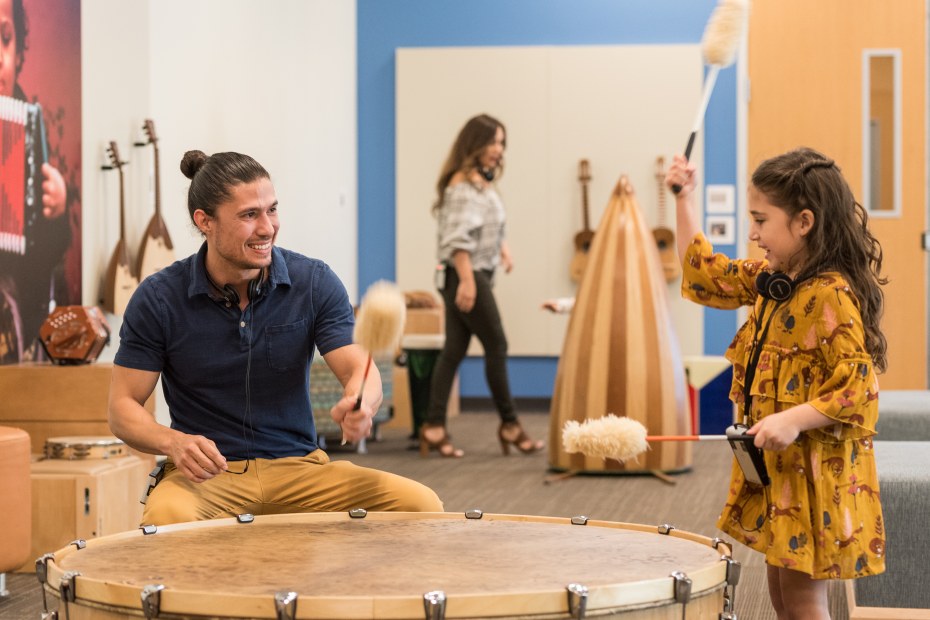 Musical Instrument Museum, Phoenix
The world's only museum dedicated to global musical instruments, Phoenix's MIM has become one of the city's top attractions in the decade since it first opened. In the Experience Gallery, young visitors can use their hands to beat a Native American ceremonial drum or a West African djembe, strum on a Peruvian harp, and even play some air guitar. The Geographic Galleries whisks kids on an around-the-world tour of the hundreds of unique musical instruments that play central roles in their cultures of origin. 
Museum of Pop Culture, Portland
With so many museums dedicated to the (sometimes stuffy) art and culture of the past, Seattle's MOPOP gleefully celebrates the popular culture of today and tomorrow. High-concept exhibitions explore of-the-minute phenomena like the video game Minecraft, the horror film genre, and the worlds of science fiction. A hands-on Sound Lab, Guitar Gallery, and DJ station underscore MOPOP's origins as a Rock and Roll museum; Mom and Dad can even take a pilgrimage to their Grunge days while exploring Nirvana: Taking Punk to the Masses—it's the largest exhibit of its kind and is set to the ambient music of legendary Seattle-based producer Steve Fisk (Nirvana, Soundgarden, Pigeonhed).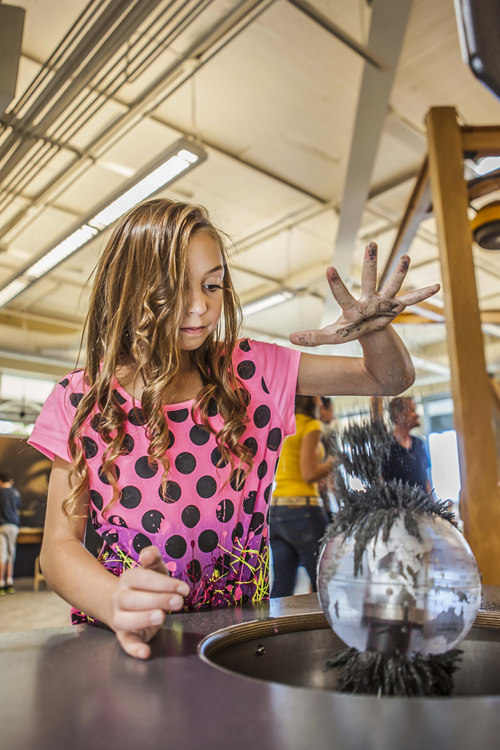 The Discovery, Reno
The curious-minded will be rewarded by a visit to the Discovery, a science center that was originally envisioned as a children's museum when it opened in 2011, but has quickly evolved into a hub for hands-on exploration and fun for all ages. Permanent exhibitions include Sun, Earth, Universe, which launches visitors on a journey to explore space through the latest NASA research, and the decidedly more terrestrial Truckee Connects, a working model of the Truckee River watershed. With its proximity to Lake Tahoe's outdoor adventures and Reno's more adult pursuits, The Discovery is the ideal pit stop to please every member of the family.
Wyoming Dinosaur Center, Thermopolis, Wyoming
Step way, way back into the past at the Wyoming Dinosaur Center two hours northwest of Casper. One of the few paleontological museums to offer access to a dig site, the Dinosaur Center also houses one of the most comprehensive fossil collections in the world. Even more remarkable, it offers a number of hands-on paleontological programs for young people, including their Kids Dig Program where youth aged 8–12 can participate in a day-long fossil dig (reservations required). Younger kids and the rest of the family can still participate in the Dig Site Tours, a guided visit in the museum's tour vehicle to the Something Interesting (SI) Quarry 10 minutes away.