It's San Francisco through a lens you've probably never seen—the city where poet Maya Angelou became a trusted advisor to Rev. Dr. Martin Luther King, Jr.; where California's first African-American millionaire, William Leidesdorff, made his mark in the '30s and '40s; and where famed Western painter Maynard Dixon, working with his contemporary Frank Van Sloun, created a mural depicting 16th-century black folklore heroine Queen Calafia.
These are a few of the historic highlights on the California African-American Freedom Trail, a collection of 6,000 fascinating black-themed sites throughout the state. In spring, brand-new trail markers will begin popping up in San Francisco, home to a total of 400 Freedom Trail sites.  
"San Francisco history puts the context of liberation into the accounts of the black experience in the Americas because it has been where the movements were launched to end racial discrimination in all its iterations," says California African-American Freedom Trail co-creator John William Templeton. "Their agency will give renewed hope to those who continue to fight against injustice."  
If you're interested in touring the entire California African-American Freedom Trail, San Francisco is indeed a good place to start. The statewide trailhead is located at the city's Pier 27, just across from the James R. Herman Cruise Ship Terminal. The SF Soul Shuttle tour, run by Templeton, kicks things off there by talking about the life of Michael Healy, a career captain of African-American descent with the United States Revenue Cutter Service, which later became the United States Coast Guard. (To explore on your own, pick up a brochure in person from the Visitor Information Center in the Moscone Center at 749 Howard Street.)
At Laguna and Post Streets, see the location of celebrated poet and author Maya Angelou's childhood home, now occupied by the Kabuki Hotel. Learn what San Francisco saga she recounted in I Know Why the Caged Bird Sings, and visit the long-gone site of the record store where a teenaged Angelou worked.
The store isn't far from where once stood the mansion owned by the so-called "mother of civil rights in California," Mary Ellen Pleasant, a 19th-century African-American multimillionaire and West Coast sponsor of the Underground Railroad. Today, Mary Ellen Pleasant Memorial Park sits in place of her former home.
A street named in Pleasant's honor still exists in Nob Hill near the InterContinental Mark Hopkins Hotel, which houses the historic Maynard Dixon paintings of Queen Calafia in the Room of the Dons. While in the neighborhood, learn the hotel namesake's connection to three other businessmen, who together were nicknamed the "big four," and discover how they may have helped further the abolitionist movement in the West.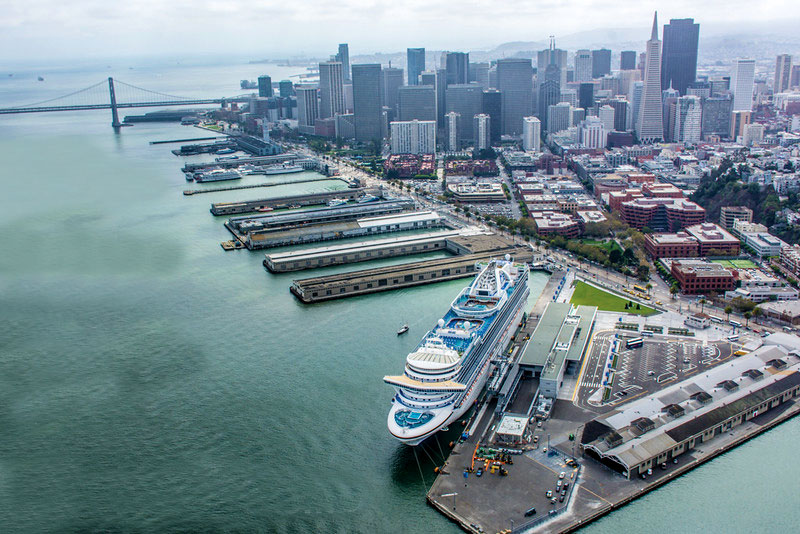 Downhill from the Mark Hopkins, at the southwest corner of Market and New Montgomery Streets, is the Palace Hotel. It was there, in 1964, that African-American teenager Tracy Sims led 2,000 demonstrators in a sit-in against employment discrimination and won an equal opportunity agreement with 37 major hotels.
Looking northeast from the Palace towards the San Francisco coastline, you may be surprised to learn that much of the land you see was underwater during the Gold Rush. The coastline stopped at what is now Montgomery Street. Today, a Freedom Trail site at Leidesdorff and Commercial Streets tells the story of Capt. William Alexander Leidesdorff, thought to be the first black millionaire in the state. Learn his remarkable story of disappointment and triumph—from West Indian immigrant to successful businessman.
Just under three miles from Leidesdorff and Commercial, Third Baptist Church—at 1399 McAllister St.—is a well-known institution among African-Americans. Paul Robeson, W.E.B. DuBois, and Dr. Martin Luther King, Jr. all paid a visit in their time.  It wasn't always a church, though. You'll learn what it used to be, and which American president visited before it was disassembled by hand.
You're bound to feel hungry along the way. Fortunately, Templeton's SF Soul Shuttle will also stop at any number of the black-owned restaurants thriving in San Francisco's competitive restaurant scene. (You can also find a list on SF Travel's trail guide.) A favorite includes Hazel Southern Bar and Kitchen, named Black Restaurant of the Year by blackrestaurant.net. Hazel features a fusion of Southern food ranging from Texas Smoke to Louisiana Creole and a collection of nearly 300 different whiskey selections to whet your palate. Or opt for a classic option: Sam Jordan's Bar & Grill. Founded in 1959 by the man who later became the first African American to run for mayor in San Francisco, Sam Jordan's touts itself as one of the oldest black-owned restaurants in the city.
For more information about the SF Soul Tour, contact John William Templeton at (415) 240-3537.