Thirty years ago, San Francisco's South of Market neighborhood—or SoMa— was best known for its warehouses. Now it's home to the San Francisco Giants (at Oracle Park), the city's tallest building (Salesforce Tower), and a world-class art collection (San Francisco Museum of Modern Art). But amid those marquee attractions are plenty of other delights.
San Francisco's downtown core is dotted with privately owned public spaces. SoMa's best is the garden at 555 Mission Street Plaza. Look for a colorful, 36-foot tower of pixelated figures by artist Jonathan Borofsky, a leafy green living wall, and Ugo Rondinone's trio of whimsical characters that look like they were plucked from a Tim Burton animation.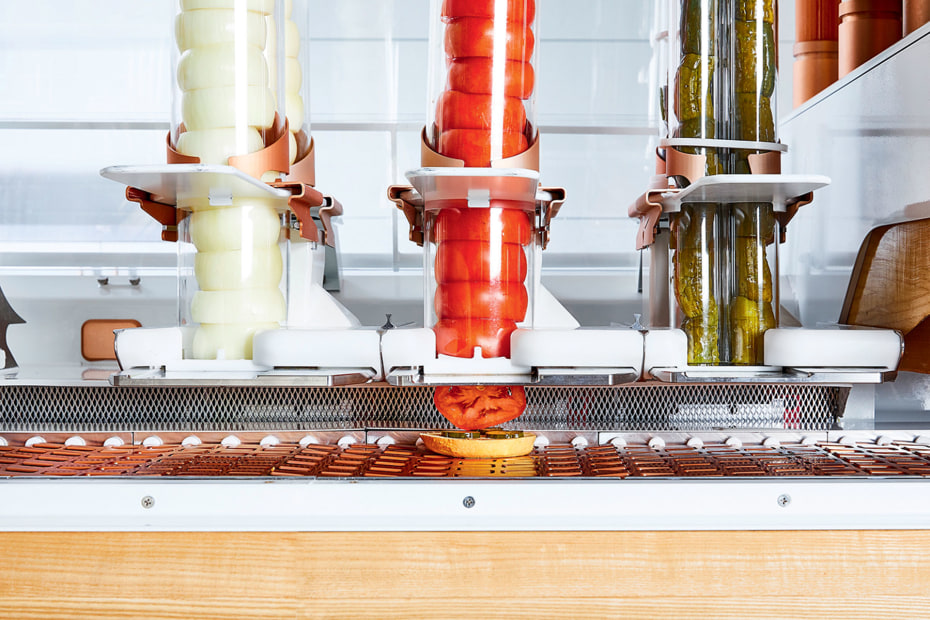 The San Francisco Bay Area's foodie and tech worlds meet at Creator, where gourmet burgers are made to order on a sleek, roboticized assembly line. Diners can watch toppings being sliced, cheese getting grated, and condiments dispensed as the automated device puts together the meaty sandwiches, some designed by notable local chefs. Best of all, these futuristic burgers sport the very retro price of $6.
Around the corner from SFMOMA and Yerba Buena Gardens cultural center, the Museum of the African Diaspora showcases contemporary works from an international roster of artists with links to Africa. Captivating aesthetics and social commentary frequently mix in exhibits such as Coffee, Rhum, Sugar & Gold: A Postcolonial Paradox, which explores the legacy of colonialism through the Caribbean's exports.
21st Amendment is the largest and most well-known brewery in the area. (You've likely seen its watermelon wheat beer at restaurants across the Bay Area every summer.) At this former machine shop, choose from nearly a dozen beers on tap. Brews vary from a cider to a saison to a sour wheat. Once you've made your selection, beeline for the prime seating in the beer garden.
A few blocks away, Black Hammer serves small tasters of beer for just $4 each, so you don't have to commit to a full glass if you need a mid-tour break. The award-winning brewers of this craft brewery have created a great local, neighborhood space that welcomes beer drinkers, kids, and dogs alike.
Ping-Pong gets the nightclub treatment at Spin, a stylish venue decked out with street art, lounge seating, a bouncy sound track, and up to 18 tables. One-hand snacks, such as fried chicken sliders, let you nosh while you play; regular events draw pro paddlers.