Pack the matching pajamas on Princess.
When packing for a weeklong holiday cruise along, say, the Mexican Riviera with Princess, you might want to remember bathing suits, dinner wear, and, most important of all, your family's best set of matching pajamas. That's the dress code for Christmas Day breakfast aboard the Discovery Princess, the company's 3,660-passenger ship. 
But it's not just on that ship or that itinerary. Any holiday cruise with Princess—be it along the coast of Australia or through the Caribbean—includes plenty of activities to keep it festive. There will be sing-alongs with the ship's officers, choir performances, as well as a special Christmas tree–lighting ceremony with live music. You and the kids can get creative at the gingerbread house–making competition and test your festive knowledge in a holiday trivia match. (Hint: Rudolph's dentist friend was Hermey!) 
Everyone is welcome to a guest-led Hanukkah celebration, and on the night before Christmas, volunteers lead a special service. Coolest of all, Discovery Princess's airy Piazza—with glass elevators and spiral staircases—gets decked out as a winter wonderland complete with fake snow falling from above. Of course, Santa will bring toys for all the children on board. 
A Dr. Seuss Christmas with Carnival.
No matter the ship, no matter the route, a Christmas at sea with Carnival means all the trimmings of the holiday, and years past have included one unique twist: The Grinch himself coming on board to add a little "Grinchmas" flair to the festivities. 
Holiday cruises, which begin around Thanksgiving and continue through December, have featured the Dr. Seuss party pooper who's found his heart for the holiday and is now out to spread some cheer. The grump has hosted a live holiday show and a breakfast, and even stared in his own movie in the ship's Seaside Theater. 
For the more traditionalist in your crew, Carnival holiday cruises will offer carolers, Christian and Jewish services, and no shortage of decorations from bow to stern, including a light snow falling inside the ship. The company's theater troupe puts on a performance of "Santa Claus Is Comin' to Town" that invites young sailors to participate. Forget to ask Santa for your own mask and snorkel? There's a letter box on board for mailing off those last-minute requests. 
This year two more ships will offer Caribbean holiday itineraries, one out of New York City and another out of Galveston, Texas.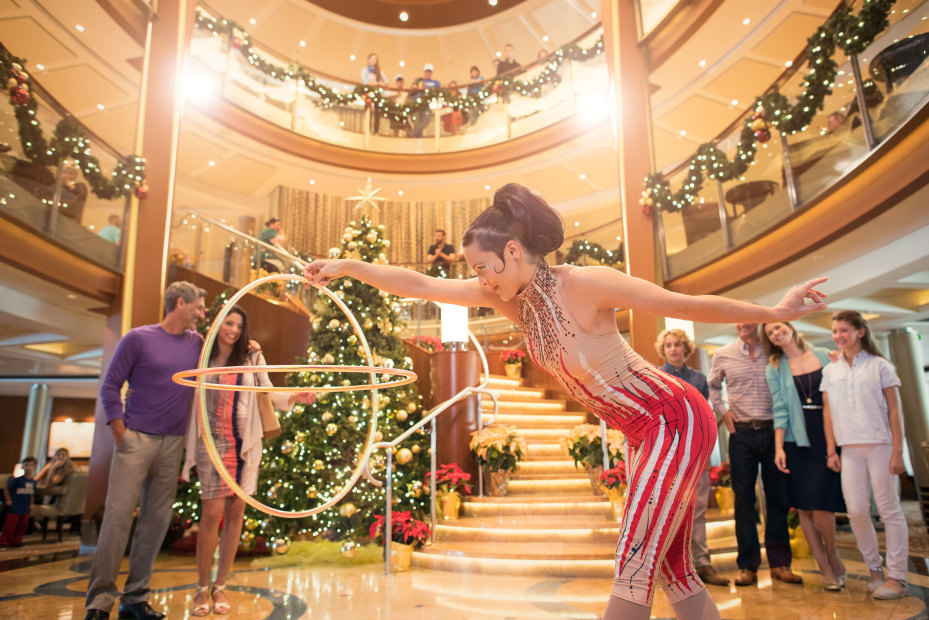 Celebrate on Celebrity's newest ship.
Celebrity's holiday festivities are particularly huge this year with the launch of its newest ship, the Celebrity Ascent, the fourth ship of its kind for the line. Join the maiden voyage for a four-night holiday romp through the Caribbean. 
The company goes all out between Thanksgiving and New Year's Eve with pop-up dance performances, singing, and tree-decorating celebrations you can do with the family. A Michelin-starred chef creates traditional holiday fare—so try not to eat the various "winter villages" scattered about the ship made entirely of gingerbread. A scoop or three of festive gelato—think peppermint, eggnog, and gingerbread—is always a hit. 
For the adults, holiday cocktails await. Start with the candy cane and gingerbread martinis at the Martini Bar or go with classic eggnog at the Ocean View Cafe. 
On the ship's first seven-night cruise you'll leave Fort Lauderdale for Nassau, Bahamas, where you'll spend Christmas Day. That night, head to the ship's rooftop for an open-air holiday movie before sailing on to Cozumel and Grand Cayman, before returning to Florida. 
A happy Christmas to all on Cunard.
It's hard to forget a Christmas at sea, but what's even more memorable than that? A very British Christmas at sea, of course. 
Cunard, the British cruise line, offers holiday itineraries from mid-December to early January on its fleet of "queens," such as the Queen Mary and the Queen Elizabeth, each dripping with jolly-good merriment. Take a five-night trip aboard the Queen Victoria and you'll stop at some of Europe's most colorful Christmas markets in Belgium, England, the Netherlands, and France.
Stepping aboard in Southampton you'll find Christmas vocalists and festive brass musicians, while a small gift and a miniature potted Christmas tree await in your room. Around the ship you'll spot tributes to The Wind in the Willows and the Nutcracker, too. There are movies, plays, games, and singing. Head to the lobby for a little snow.
Things get very British come Christmas dinner, when the chef might offer up cheddar leek tart, poached eggs, and Dorset lamb. And what would a British holiday be without pulling on some famous exploding, prize-filled "crackers" that are a tradition on every holiday cruise.