Sugary candy skulls. Bright, fragrant marigolds. Faces painted like skeletons. The trappings of Day of the Dead are familiar to many people across the West. But there's more to this spirited fall holiday than meets the eye: Its artistry and revelry represent time-honored traditions deeply rooted in Mexican culture.
El día de los muertos, as it's known in Spanish, originated in pre-Hispanic times to honor the lives of loved ones who'd passed away. Its modern name is a bit of a misnomer: Day of the Dead celebrates the continuity of life and spans at least three days, Oct. 31 to Nov. 2. It is believed that during this time the border between the spirit realm and physical world dissolves, giving families an opportunity to welcome back the souls of their dearly departed for a brief reunion. Families entice the deceased to awaken from their eternal slumber by adorning their graves with flowers, creating elaborate altars, holding candlelight vigils and processions, and preparing traditional foods.
"We don't want to forget the people we loved, and día de los muertos is a way to remember them," explains Mary Andrade, an award-winning journalist who has spent decades studying the holiday and served as cultural adviser to Disney/Pixar's critically acclaimed film Coco. "It's important to keep their memory alive, so this is a time to honor what they gave us and the community, country, or world."
In 2020, a tumultuous year that has brought significant loss to families around the globe, Day of the Dead may be more poignant than ever. Jessica Paz-Cedillos, the executive director of San Jose's School of Arts & Culture at the Mexican Heritage Plaza, explains: "Día de los muertos is not only about honoring those who've passed away, but also about remembering the importance of coming together and connecting with our friends and family. To me, it's all about community and celebrating the gift of life."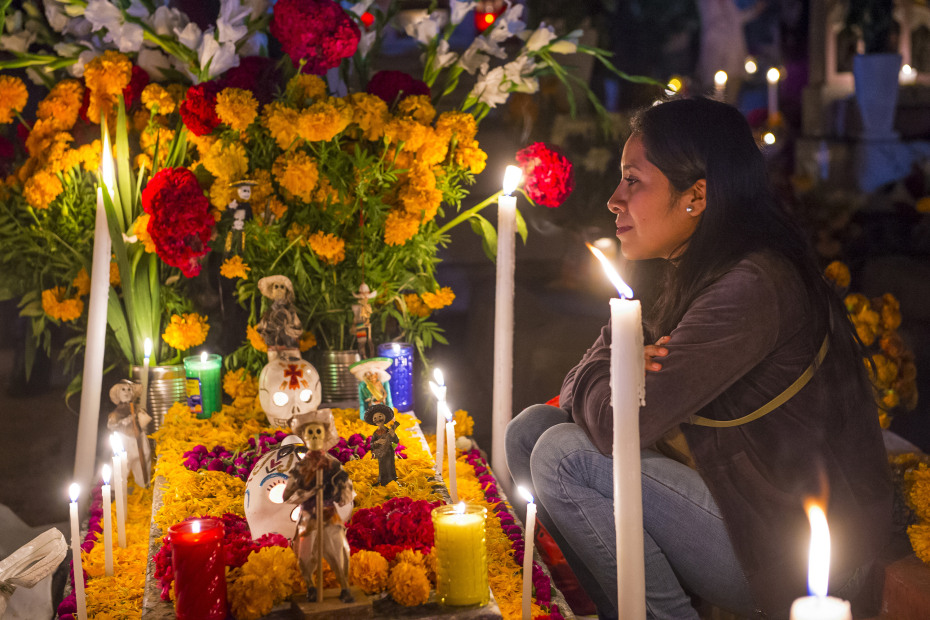 A Brief History of Day of the Dead
Day of the Dead traditions date back some 3,000 years. The Aztecs, Toltecs, and other indigenous peoples held a cyclical view of the world and saw death as simply another phase of life's long continuum. Upon dying, a person's soul was believed to travel to Chicunamictlán (the Land of the Dead) and reach the final resting place after getting through nine difficult levels of Mictlán (the Underworld). To aid the souls of loved ones on their journey, family members provided food, water, and tools—a practice that inspired the modern-day tradition of leaving offerings on the gravesites of departed family members.
For these pre-Hispanic cultures, the deceased were still seen as members of the community and kept alive in memory and spirit; during Día de los Muertos, they temporarily returned to earth. Over the centuries, what was once a month-long celebration became influenced by Catholicism, resulting in a shorter holiday that coincides with All Saints' Day (which honors children who have died) and All Souls' Day (which honors adults).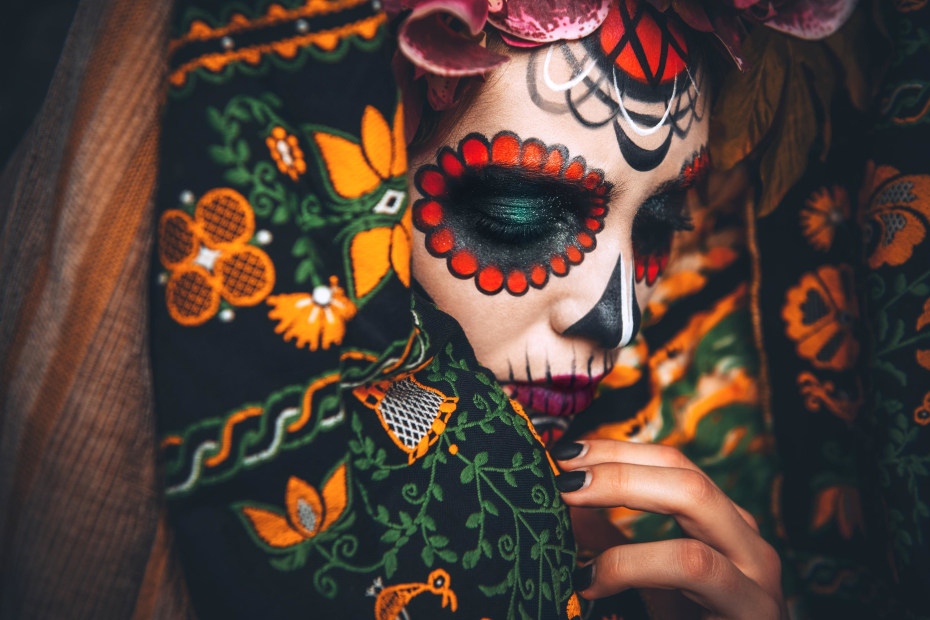 Ways to Celebrate Day of the Dead
Día de los Muertos festivities today vary widely, but at its core, the holiday is a reaffirmation of indigenous life and stays true to its original purpose. As Andrade notes, "There are small differences in how it's celebrated in various cities of Mexico—some have small parades with drummers and floats for the children, while others have ritual dances and daytime vigils—and that's what makes it so unique. But above all, it's a spiritual celebration and a powerful way to honor the lives of the people you've lost." 
Anyone can embrace the holiday as a heartfelt way to pay tribute to your dearly departed while also having a bit of fun. Here are some common ways to celebrate Day of the Dead:
Build an altar. This is perhaps the most sacred custom of Day of the Dead. Families set aside a quiet corner—or an entire room—of their home to pay tribute to loved ones. Altars can be as simple as a photograph of the deceased or as elaborate as a mutlitiered display decorated with vibrant marigolds (to help lure spirits back to the physical world), papel picado (to symbolize the fragility of life), flickering candles (to help guide the spirits on their journey), and colorful sugar skulls (to represent the sweetness of life). Many families also add salt, which is believed to help purify the souls, and incense, which cleanses the space of negative energy. Once embellished with the main elements, the altar is piled high with ofrendas (offerings), such as favorite foods and mementos. For tips on putting together an altar, see below.
Dress up. In typical years, Day of the Dead often manifests in the streets and public squares, where parades and dance performances help onlookers get into the spirit of things. In 2020, revelers can participate in online festivals, such as those hosted by the Mesa Arts Center (Oct. 24), Cultural Coalition of Phoenix (Oct. 25), and the Marigold Project of San Francisco (Nov. 2).
Eat and drink. Day of the Dead celebrations require sustenance. Families often leave favorite foods and beverages for hungry and thirsty souls to savor on an altar celebrating their life (see below). The traditional treat is pan de muerto, a sweet yeast bread featuring a skull-and-crossbones pattern on top. Other goodies associated with the holiday but enjoyed year-round include spicy hot chocolate and a corn-based beverage called atole.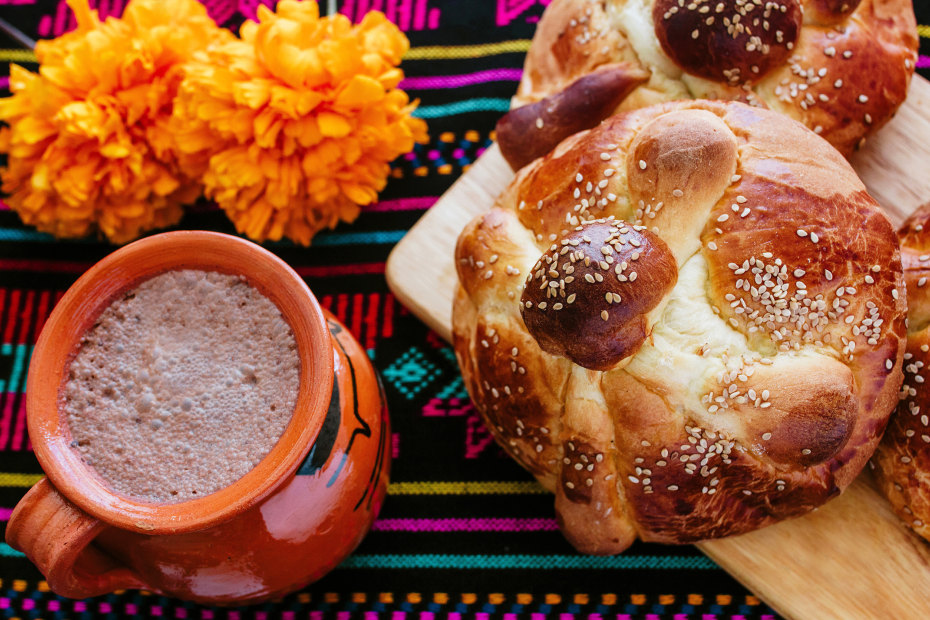 How to Make a Day of the Dead Altar
Setting up an altar to celebrate the life of a lost loved one is easy, because there are no specific rules. Here's a step-by-step guide on how to build one in your home.
Find a quiet area. Choose a chair, table, shelf, or other elevated surface that's out of reach of toddlers and pets.
Cover the surface with fabric. A tablecloth, sheet, or other material, perhaps in your departed loved one's favorite color.
Place boxes (or crates) on the surface to create tiers. This is optional, but adding at least one will help you attractively display decorative elements and offerings. (Tip: Cover the boxes or crates with a second tablecloth or sheet, so they're hidden.)
Hang papel picado. Place this colorful perforated paper (or streamers) around the edges of the table and each layer.
Add a photo of your loved one. Set the portrait in the middle or at the top of the altar. Additional, smaller images can adorn any lower levels.
Decorate. Traditional elements include a glass of water, marigolds and/or other flowers, candles, incense, sugar skulls, pan de muerto, fruits, or other foods.
Fill in the spaces. Round out the altar with a few of your loved one's favorite items, such as a musical instrument, mezcal, or books.