The Bake Shop, Girdwood, Alaska
"This great bakery on scenic Turnagain Arm is the home of sweet rolls so big and delicious that one will last you a whole day," writes Janet Gill of Anchorage. "Once you've visited, it will always call you back." 
Lu Lu's Breads and Bagels Bakery, Fairbanks, Alaska
"Offerings at Lu Lu's include traditional kettle-boiled bagels baked on a stone hearth and pastries made daily with real butter, cream, gourmet chocolate, and fruit in season," writes Stanley Guth of Mill Valley, California. "In winter, expect to wait behind a line of mushers and sled dogs." 
Copenhagen Bakery & Cafe, Burlingame, California
"If you have a fondness for European-style cakes and pastries, you'll be in heaven at Copenhagen Bakery," promises Zorica Gojkovic of Mill Valley, California. "Marzipan-filled vanilla-chocolate Mozarts, marzipan-topped triangles, black Russian rye, Dutch crunch loaf—even chocolate chip cookies."
Erick Schat's Bakkery, Bishop, California
"Erick Schat's Bakkery is a compulsory stop in the eastern Sierra," says Geeta Subramonian of Cupertino, Califrnia. "The sheepherder and olive breads, pound cakes, and eclairs are just out of this world. We eat our fill and take more home for friends." 
Gayle's Bakery & Rosticceria, Capitola, California
"The hands-down favorite of locals and out-of-towners," writes Nancy Cummings of Eugene, Oregon. "Gayle's has every bread you might desire, rich pastries and cakes, and even delectable gourmet meals to go."
La Panaderia Mexican Bakery, Modesto, California
"The dulce de leche cake and empanadas filled with pumpkin, pineapple, or custard are always worth a stop at La Panaderia Mexican Bakery," says Suzanne Perez of Modesto. "And try the pigs, which are sweet breads shaped like—what else?—little pigs."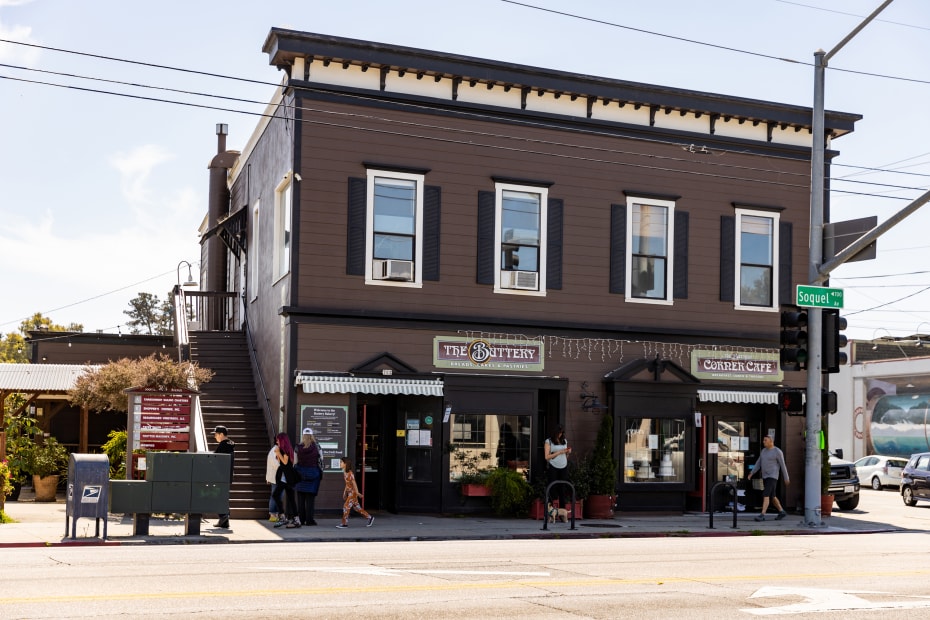 The Buttery, Santa Cruz, California
"This treasure bakes up a fantastically rich array of cakes, cookies, and pastries," says Cheryl Conner of Sunnyvale, California. "It's a favorite stop on weekends, when we sit out with our delicious treats on the little terrace soaking up the sun."
Wild Flour Bread, Freestone, California
"When you walk into Wild Flour Bread, the scent of handmade organic bread just out of the wood oven is intoxicating," says Phillip Novak of Pleasant Hill, California. "You can sample 10 or more kinds of loaves. Or order some of the huge scones, almond-chocolate biscotti, hearty cheese fougasse, or monstrous sticky buns."
Leonard's Bakery, Honolulu, Hawaii
"Locals hoped to keep it a secret, but the word got out," says Eloise Wilson of Elk Grove, California. "Leonard's is famous for its Portuguese doughnuts called malasadas. Eaten warm, sugarcoated or cream filled, they are sure to 'break the mouth,' as Hawaiians say."
Wheatfields Bakery, Lawrence, Kansas
"Wheatfields Bakery is always worth a drive," says Charles Murtagh of Bozeman, Montana. "The olive bread, sourdough rye, ciabatta, and dozens of goods make this one of the nation's 10 top artisan bakeries." 
Morning Glory Coffee & Tea, West Yellowstone, Montana
"Morning Glory Coffee & Tea is a must-see for coffee lovers," says Wendy Harvey of West Yellowstone. "They roast the coffee beans right here, so you always get a fresh cup. And they make great scones and other tempting treats." 
Polebridge Mercantile, Polebridge, Montana
"It's out of the way on a bad road way north of Columbia Falls," writes Jack Shellnutt of Red Bluff, California, "but this spot has excellent baked goods and pastries—especially the apple turnovers."
Sundance Cheesecake Cafe, Hamilton, Montana
"This rustic Mexican cafe serves desserts to die for," says Elizabeth Hamilton of Hamilton. "No one gets the recipe for the cheesecakes, but many go far out of their way to enjoy them." 
Josef's Vienna Bakery & Cafe, Reno, Nevada
"The cases at Josef's Vienna Bakery & Cafe are filled with the cutest European-style petits fours," says Kristen Power of Reno. "Also, decorated cookies, cakes, and tarts, some topped with fruit or draped with chocolate ganache."
Bandon Baking Co. & Deli, Bandon-by-the-Sea, Oregon
"This place is known far and wide for its cinnamon rolls, oatmeal-cranberry cookies, cranberry bagels, and cranberry bread," says Mary Schamehorn, Bandon's mayor. "Each day there's a wonderful soup, with all the bread you can eat." 
Le Patissier, Corvallis, Oregon
"Le Patissier's baker, Didier Tholognat, is from France, and his wife, Trinidad, works with him," says Jane Megard of Corvallis. "They make the best almond-paste croissants and cheese Danish, and wonderful cakes."
Little Cannoli Bakery, Salem, Oregon
"My nose guided me to this place in the basement of the Historic Reed Opera House," writes Bethany Evans of Salem. "I had never smelled breads, cookies, and pastries so delicious. Now we never go home without some chocolate-dipped macaroons or almond–poppy seed biscotti."
Pearl Bakery, Portland, Oregon
"The Pearl rocks," says Guinnevere Muir of Salem, Oregon. "So many wonderful breads, rolls, and delicious pastries to choose from—but why choose? I fill a couple of large sacks. It's all gone in a few days." 
Saint Cupcake, Portland, Oregon
"The cakes at Saint Cupcake are moist and flavorful, the frostings are soft and buttery," says Cathy Ingram of Portland. "It's a good thing the cupcakes also come in 'dot' sizes so you can try them all."
South Store Cafe, Hillsboro, Oregon
"South Store Cafe has the most delicious baked goods," says Kristen Phillips of San Mateo, California. "Everything is loaded with local seasonal fruits, from blueberries to marionberries. It's impossible to choose—so we buy one of each."
Sweet Life Patisserie
"I have not found any bakery anywhere that compares to Sweet Life Patisserie," writes Pat Vallerand of Eugene. "Petits fours and mousse tortes. Tiramisu to die for. Melt-in-your-mouth brownies served warm on request—topped with gelato if you want. And the wheat-free and vegan goodies are just as good."