Utah: Scone
Order a scone almost anywhere and you will receive a crumbly sweet biscuit perhaps embellished with dried fruit. That's not the case in Utah, where a scone is a hot, golden hunk of deep-fried dough accompanied by honey butter. How Utahans came to call this divine, yeasty pastry a scone is a mystery. One theory: Navajo fry bread migrated north from Arizona and New Mexico, and, for want of a familiar name, Western pioneers called it a scone. Valerie Phillips, food columnist for the Standard-Examiner in Ogden, recommends the scones at Sill's Cafe in Layton, which have a crusty exterior and a tender middle—and are so big that one fills an entire dinner plate. "Once at Sill's I saw my aerobics teacher," Phillips recalls. "I thought 'Oh dear,' and told her, 'I'm just doing this for research.' " For an even more indulgent experience, Penny Ann's Café in Draper offers toppings such as fresh berries, candied pecans, caramel, and whipped cream.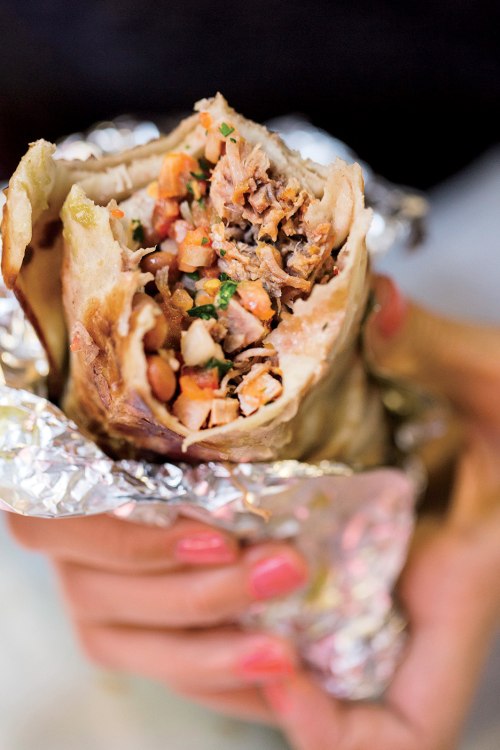 California: Mission-style Burrito
As the cheesesteak is to Philly and the deep-dish pizza is to Chicago, the burrito is to San Francisco: an affordable, filling entrée that unites diners of every tax bracket, political persuasion, and ethnic background. The precise origins of the city's droolworthy wrap remain in dispute, but we know it dates to the 1960s in the Mission District. It is distinguished in part by its heft (often upwards of a pound) and portability (wrapped in foil). Try La Taqueria for a superlative burrito, which packs carnitas, pinto beans, and salsa inside a flour tortilla—one of many popular combinations. Like all vital art forms, the Mission-style burrito continues to evolve and inspire new works. Evan Kidera, cofounder of Señor Sisig, a food truck that serves stick-to-your-ribs Philippine-Mexican fare, stuffs his Tosilog burrito with sweet marinated pork, garlicky rice, tomatoes, and a fried egg. "Sometimes," he says, "you don't want a salad."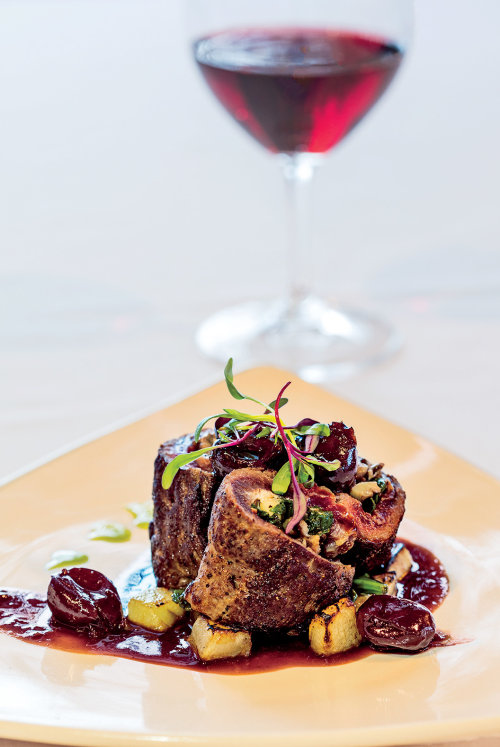 Montana: Elk
Rocky Mountain elk have been roaming the West for millennia and feeding its citizens for almost as long. Early inhabitants hunted the animals and dried the intensely flavorful, almost sweet, dark-red meat, while contemporary chefs use it to make chili, burgers, sausages, and carpaccio. "It's one of Montana's finer offerings," says Andy Blanton, executive chef and owner of Cafe Kandahar in Whitefish. Blanton, a four-time James Beard Award semifinalist, likes to present elk loin as a roulade, with forest mushrooms, local goat cheese, and Montana Flathead cherries. By law, the elk served in Montana restaurants is farmed, and according to Blanton that's a plus: Farmed elk consume a steadier diet than wild ones do, yielding better-tasting meat. "It's got great flavor," he says. "It's extremely lean, very tender, and high in protein."
Nevada: Picon Punch
In the late 1800s, sheepherders started emigrating from the Basque region of Europe to the western United States to find work. Basque-style hotels followed. These establishments provided immigrants with lodging, hearty family-style meals, and dainty, tulipshaped glasses of Picon Punch—a slightly sweet, bracing, and formidable cocktail of brandy, grenadine, soda water, and Torani Amer, a bitter orange liqueur. "We stir the Picon 13 times, every time," says Angela Metcalf, bartender at the 124-year-old Martin Hotel in Winnemucca. "That's what they taught me when I started." Another historic spot to sample the heady elixir is Louis' Basque Corner in Reno. But watch out: "They don't call it punch for its fruity flavor," warns dining-room manager Debbie LaPrairie. "It packs a wallop."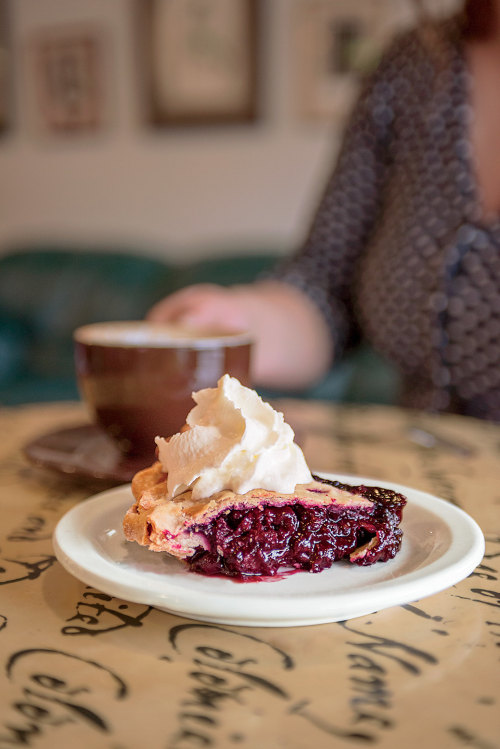 Oregon: Marionberry Pie
A plump, succulent hybrid of olallieberry and Chehalem blackberry, the marionberry was developed at Oregon State University in the 1950s. Since then, it has become the de facto state berry. Oregon annually produces 25 million to 30 million pounds of "the cabernet of blackberries," which packs more antioxidants than a blueberry. We know a great deal about the history of the marionberry, but we'll probably never know who baked the first marionberry pie, arguably the fruit's most iconic use. At Portland's Bipartisan Cafe, the sweet-tart marionberry pie is made according to the owner's cherished family recipe. Says baker Marcia Fornataro, "It's always just flying out the door."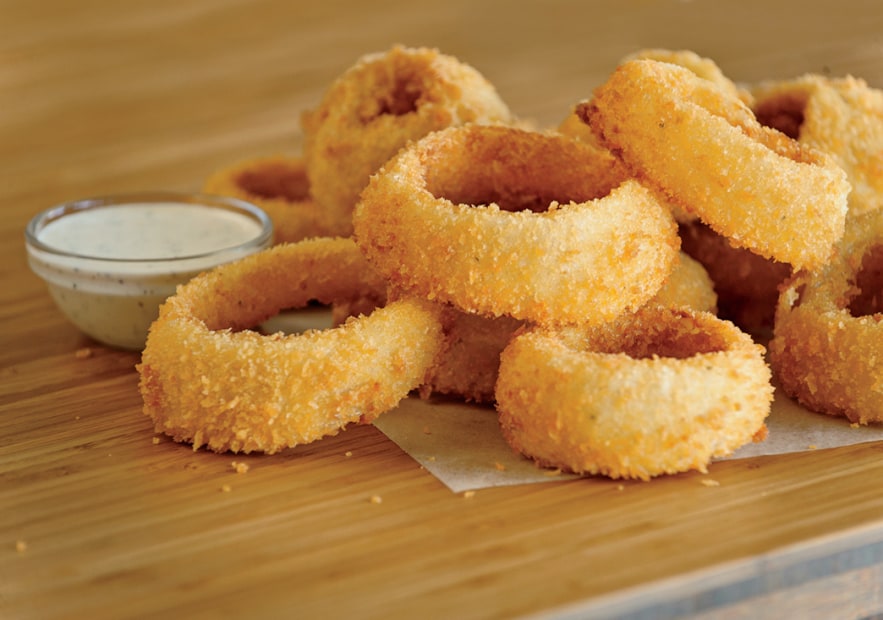 Washington: Walla Walla Onion Rings
Sturdy, juicy Walla Walla sweet onion rings begin with a sturdy, juicy—and fresh—Walla Walla sweet onion. The large, mild allium thrives in the low-sulfur volcanic soils of southeastern Washington. Burgerville, a beloved Northwest chain, says it even has a few out-of-the-area fans who plan their vacations around the onion rings' availability, which typically lasts from mid-June to mid-August.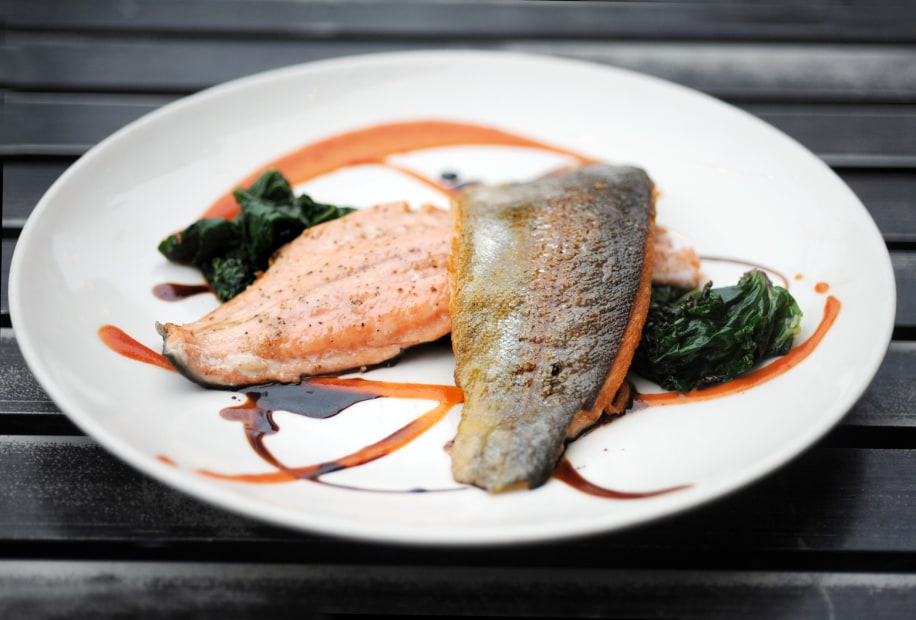 Idaho: Trout
Nearly 75 percent of U.S. trout comes from Idaho farms fed by the aquifer beneath the 10,800-square-mile eastern Snake River Plain. There, the consistent flow of high-quality, warm water creates ideal conditions for nurturing the fish, which has supple, creamy flesh that tastes almost buttery. At Fork in Boise, chef Kristopher Ott likes to sear Idaho trout—one of the most sustainable fish you can eat—in a cast-iron skillet. Says Ott, "The skin gets really crispy and delicious."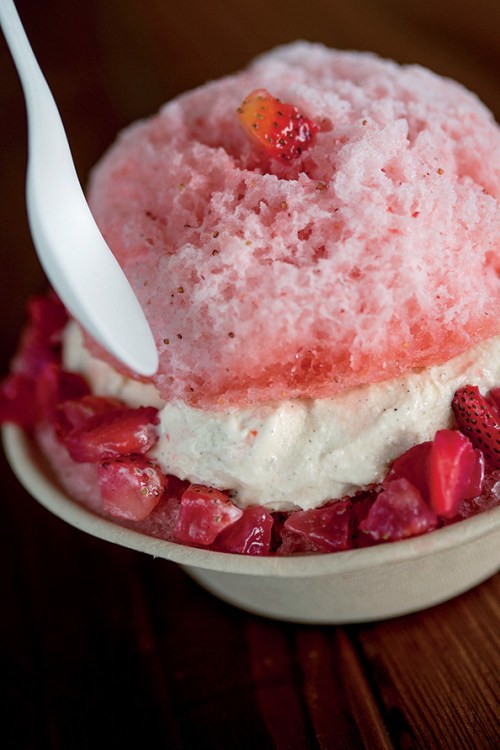 Hawaii: Shave Ice
The frozen treat probably originated about a century ago when Japanese immigrants scraped blocks of ice and drenched the fine shavings in sweet syrups. Shave ice looks like a snow cone, but its consistency is soft and fluffy. Uncle Clay's House of Pure Aloha in Honolulu sells 11 flavors made with natural syrups, from kale-spinach to strawberry. Add-ons include fruit, adzuki beans, and ice cream.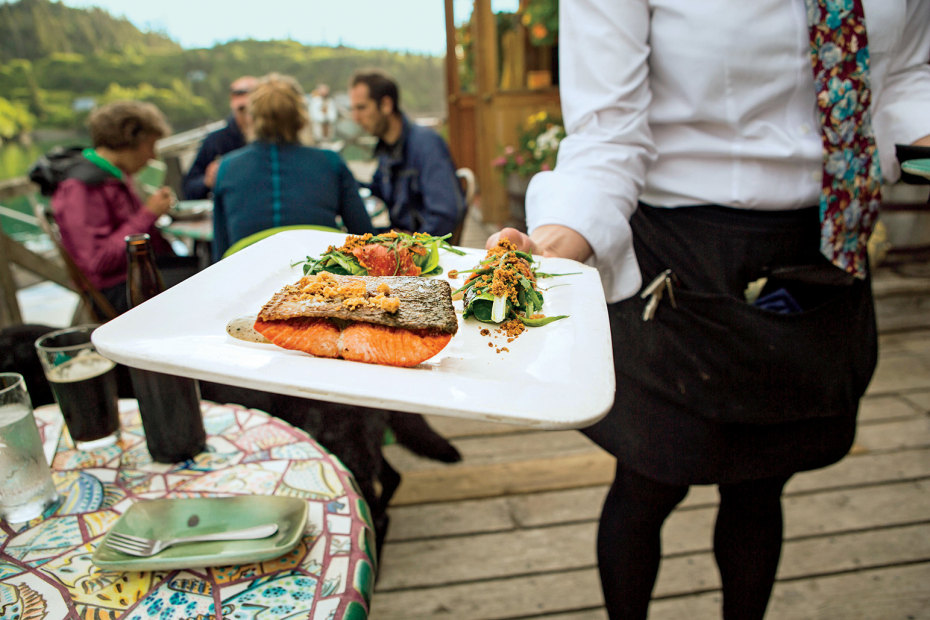 Alaska: Salmon
There is little cooks don't do with wild salmon in Alaska, where five varieties of the gorgeous fish—threatened or endangered in much of the West—still flourish. The Saltry Restaurant in Halibut Cove serves locally caught sockeye salmon three ways: seared, smoked, and cured. At the Rookery Café in Juneau, diners may find salmon in a rich chowder or spiced like pastrami. Chef Beau Schooler won the gold with his nose-to-tail preparation of a wild sockeye at the 2015 Great American Seafood Cook-Off.
New Mexico: Hatch Green Chile Stew
The fabled Hatch Valley, northwest of Las Cruces, N.M., produces one of the meatiest, most delicious peppers in the world. A truly local way to appreciate the chile's firm texture and mild heat is in green chile stew. Maria's New Mexican Kitchen in Santa Fe makes a robust version with pork and russet potatoes. Dave DeWitt, author of The Chile Pepper Encyclopedia, describes the stew as "the macaroni and cheese of New Mexico"—a basic dish with as many variations as there are cooks.