San Francisco's Union Square is a bustling destination for shopping, hotels, and theaters, but scratch below the surface and you'll find hidden bars where you'll feel like an insider.
The Green Room is located on the second floor of August Hall, a historic theater that hosts live music and DJ's. While the venue has plenty of bars, this one is tucked behind the marquee and is open only during shows. The lounge has forest green, hand-textured walls and velvet banquettes. The full bar has three signature drinks plus beer, sparkling wine, and a couple of wines on tap. A library wall with vintage radios, instruments, and records, plus an upright piano reinforce the musical theme. It's the perfect respite from the hubbub of a live show.
The award-winning Benjamin Cooper has no sign. Instead, look for a door past the front desk at the Hotel G or turn right onto Mason and walk through the black door marked with a drawing of Mr. Cooper. Both routes lead to a bar cryptically named using a combination of family names from the bar owners. It has an appealing quirky vintage style that feels familiar yet fresh. The short creative cocktail menu changes constantly, but favors brown spirits along with seasonal and esoteric ingredients. A lack of pretension and a focus on hospitality comes across in everything they do, including batching drinks for speedier service.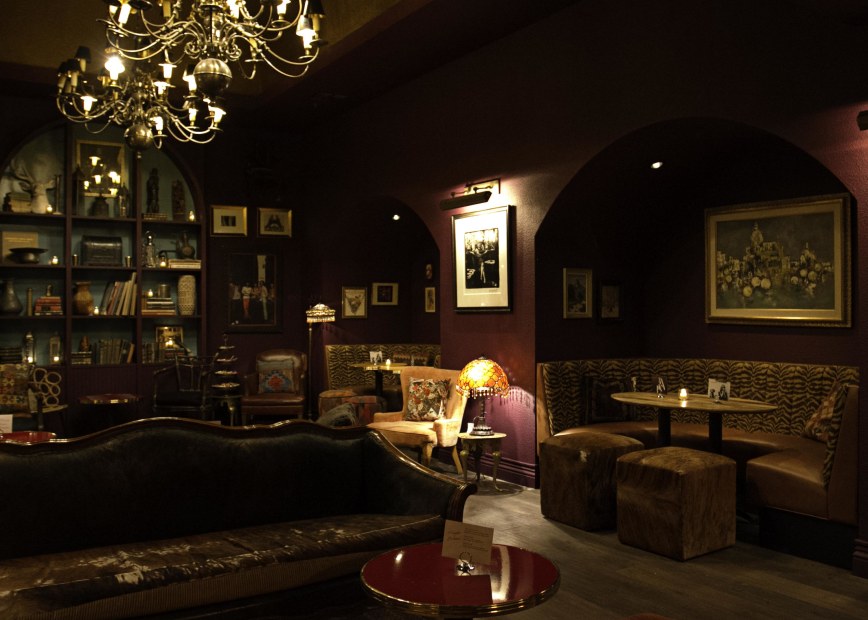 Victorian opium den meets '70s rock 'n' roll glam at the cozy, candlelit Marianne's, hidden in the back of The Cavalier restaurant. Named for '60s chanteuse Marianne Faithfull, the bar features period photographs of musicians, vintage décor, and a rocking soundtrack. The short cocktail menu offers twists on British classics like the Pimm's Cup and the full menu from the restaurant is available too, making it as suitable for a quick drink as it is for lingering. Check in at the host station to get inside.