Your roof protects your home, facing the sun's rays and harsh temperatures, and, perhaps most vitally, keeping precipitation out. Before winter approaches, it's wise to check that your roof is in tip-top shape. 
The best way to do that? "An annual inspection by a professional roofer is the main ticket," says Kyle Shirley, owner of Sol Vista Roofing, in Denver, Colorado.  
Calling in the pros is essential, but there are other steps you can take as a homeowner, including keeping an eye out for probable issues and knowing what to expect from your roof over its finite lifespan. 
Common Roof Problems 
Where you live can influence the types of issues you may experience with your roof, Shirley says. 
"For example, humid climates may bring more algae streaking and snowy climates have the challenge of ice damming in the winter," he says. Ice damming, when ice at the edge of the roof prevents melting snow from properly sliding off the roof, can lead to damaging weight and leaks. 
Other common roof problems include: 
Failing flashing: Flashing is a waterproof material (typically metal) that's placed in the corners and edges and used to aim water away from the roof (say, into gutters). Issues can arise due to poor installation or cycling temperatures. Flashing failures are most commonly found around skylights and chimneys, says Shirley. 
Moss growth: When moss grows on your roof, it promotes rot and decay and can damage shingles or tiles.  
Leaks in roof valleys: The valleys are where two slopes of the roof meet. It's a common site for leaks, and often, this is due to debris (think: leaves and sticks) building up in the valley, Shirley says. 
Damaged or missing shingles: Since shingles are the outermost layer protecting your roof, it's important for them to be present, and in good repair. Improper installation and weather can cause shingle problems. Asphalt shingles, for instance, "fail for many reasons, but mostly due to UV rays, heat, wind, moisture, or age," says David Steckel of Thumbtack. Some signs of failure are that the shingles will shrink, nails will pop, or edges will curl. "All three of these [scenarios] will lead to leaking," Steckel says. 
Storm damage: Roofs are intended to stand up to inclement weather, but sometimes the damage is intense. "If it has storm damage from hail or wind, the expected lifespan of the roof may be compromised to the point of needing to replace it," Shirley says.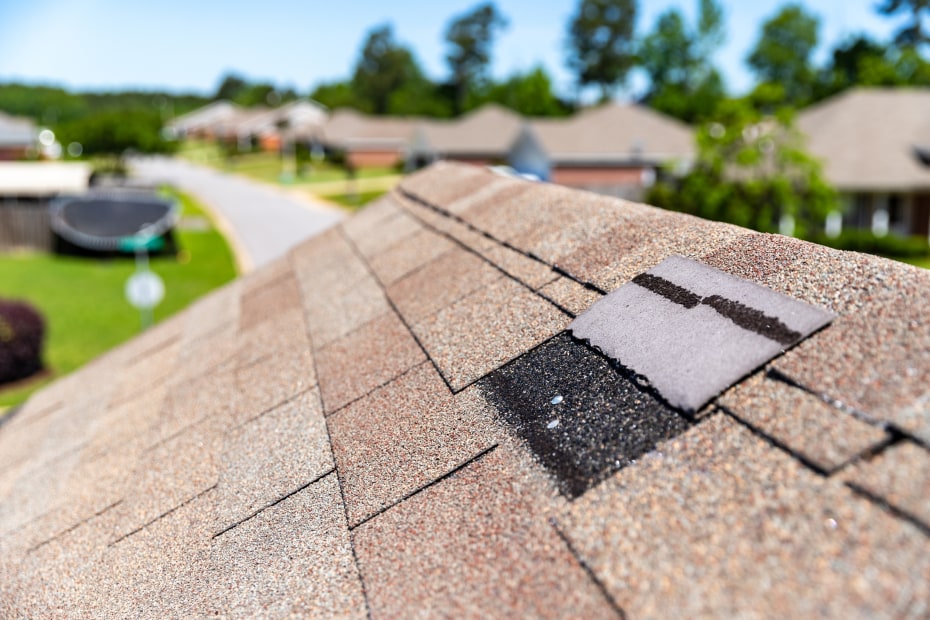 When to Replace Your Roof
Roofs have a limited lifespan. "A roof is very much a depreciating asset, and in a climate with lots of precipitation, expect to have to start doing repairs at the 10-plus year mark," Steckel says. 
While roof longevity varies depending on climate, Shirley provides some rough estimates of a roof's lifespan: 
Asphalt shingles: 20 years (If your home is in an area with a lot of precipitation, it may only last between 10 and 15 years, according to Steckel.) 
Concrete tile: 40 years 
Synthetic/composite tile roof: 50 years
Metal roof: 75 years
Shingle issues are often the prompt to replace a roof. "If you notice curling, cupping, or warped shingles or tiles, the roof is at the end of its life," Shirley says. When the granules—small crushed particles of rock that top asphalt shingles—start to go, it's also a problem since they protect the waterproof asphalt material from the sun. "When UV rays hit the asphalt material directly, they eat away at it and can allow water underneath over time," Shirley says. 
Annual Inspection 
Shirley recommends that homeowners have a yearly professional inspection, which most roofing companies will do for free. There are many things trained professionals can catch that might not necessarily be clear to most homeowners, such as hail damage and improperly installed flashing.
During an inspection, pros will "ensure the roof is properly ventilated to prevent ice damming, and that the downspout drains, gutters, and roof valleys are free of debris," Shirley says. Debris pileup can lead to snow and ice staying on the roof for days after fresh snow, which in turn causes roof leaks, he says. 
Another reason to call in the pros: safety. A fall from a ladder or roof can be deadly.
Trained and insured professionals know how to safely access and navigate the height and slope.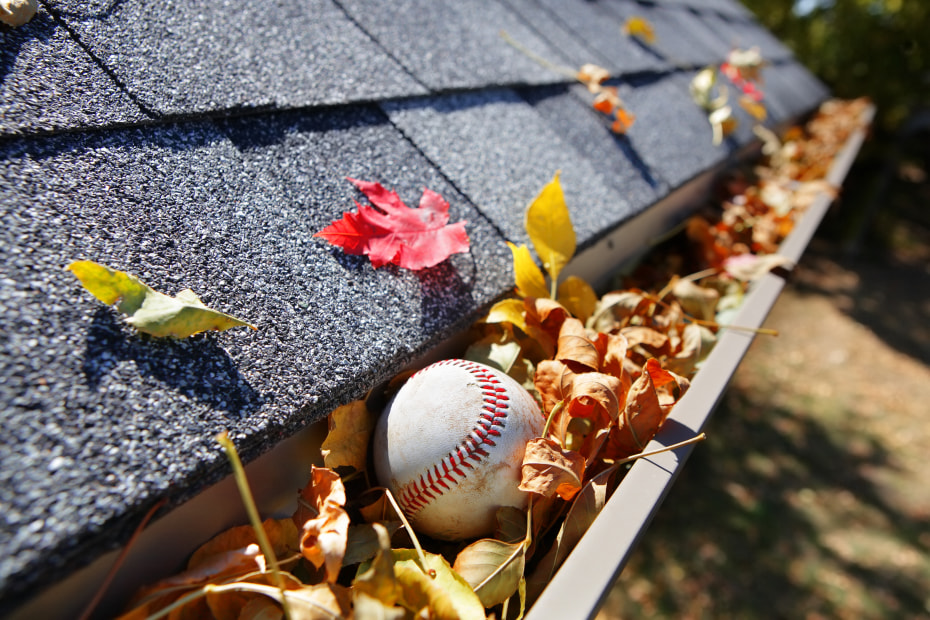 What You Can Do on Your Own 
While there's no replacement for a professional roof inspector, there are some things homeowners can take on. 
Carefully take a look. 
If you're comfortable doing so, photograph the roof. "Annual roof photos are a great idea, as it shows the roof over time," Shirley says. Along with a historic record, being able to share photos of potential problems can speed up the repair process, Shirley says. 
But prioritize safety: Tie the ladder securely to the gutter to prevent it from falling, Shirley advises. "Inspect as much as possible from the ladder, only walking on the roof when necessary," he says. And never, ever walk backwards. 
Smart Tip: Take advantage of modern technology. "If possible, use a drone to capture photos instead of walking on steep roofs," says Shirley. 
From the ground, check out your shingles. 
You can see signs of problems with shingles from street-level, without getting up on a ladder, Steckel says. "You can even ask a neighbor if they can see any curling, shrinking, or overt damage to the shingles," he says. 
Look from inside your home. 
Check for damaged or missing caulking around skylights, plumbing stacks, and chimneys. "Quite a few leaks come from these small areas," says Steckel. 
Clean your gutters.  
If you're comfortable on a ladder, you can clean your gutters, removing leaves and debris, Shirley says.
Remove snow. 
You want to "make sure there is no massive amounts of snow building up," Steckel says. A roof rake—which has a long handle, so you can use it from the ground—can help you safely remove snow.