With snow and sleet, rain and hail, winter storms can really challenge your home: Pipes can freeze, cold can creep in through cracks, downed trees can damage roofs—the list of potential problems goes on and on. Fortunately, you can avert many problems, including the need for costly repairs, with a little preventative maintenance.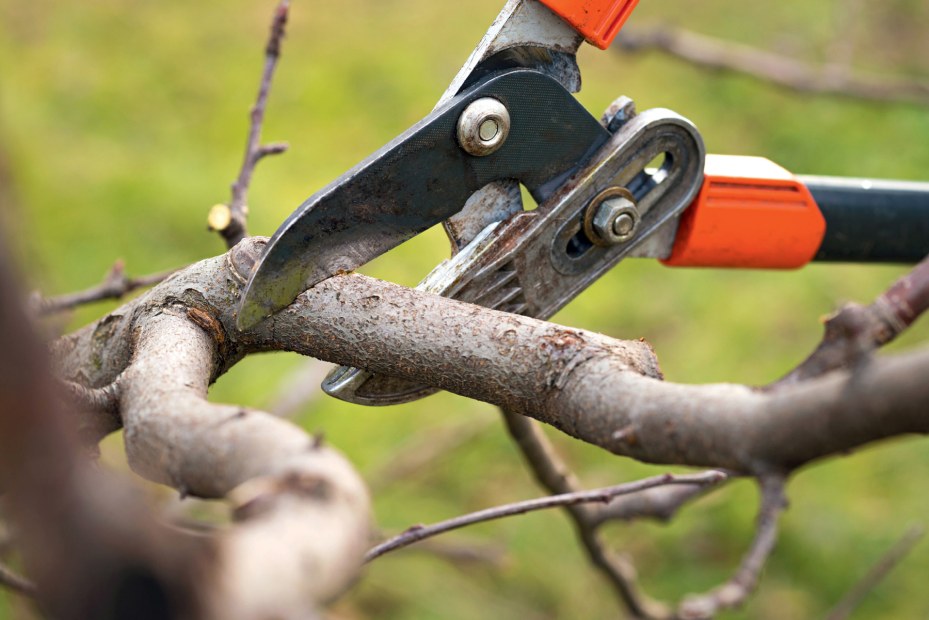 Take a look at the trees on your property.
Wind, snow, and ice can all cause trees and their limbs to fall, potentially damaging your roof or a neighbor's home.
Trees in poor health are especially dangerous. Before bad weather hits in full force, it can pay to have a professional arborist inspect your trees and trim them as necessary. Your local electric utility provider may also be willing to help remove problematic limbs or trees near power lines.
If you want to assess the risks yourself first, look for cracks in branches or trunks and for codominant stems (two or more main branches that are about the same diameter and which emerge from the same place on the main trunk). You also want to check for dead branches high in the tree, fungi near the roots, and hollow trunks. To assess trimming needs, Josh Sevick, president of The Grounds Guys recommends looking for two kinds of limbs: Those that are close to the roof (in a high wind, they could damage shingles) and those that are top-heavy. You should also check for trees that have grown too close to power lines, which can lead to fire or power outages.
It's not just your trees: Before winter hits, trim back shrubs so they don't rest on your house and potentially damage siding. "Trimming shrubs away from your home's exterior will encourage air and light to move freely and will prevent any rotting or insect issues," Sevick says.
Secure or bring in outdoor items.
Put the grill and patio furniture in a garage or shed. (Before moving the grill, be sure to turn off and disconnect the propane or other fuel source and leave that outside, away from any structures.) If you don't have storage space, cover and use stakes, anchors, or locks to tie down any furniture—or bring them inside—depending on the climate and sturdiness of the furniture. Smaller planters that won't withstand major weather or high winds are also candidates to spend winter indoors.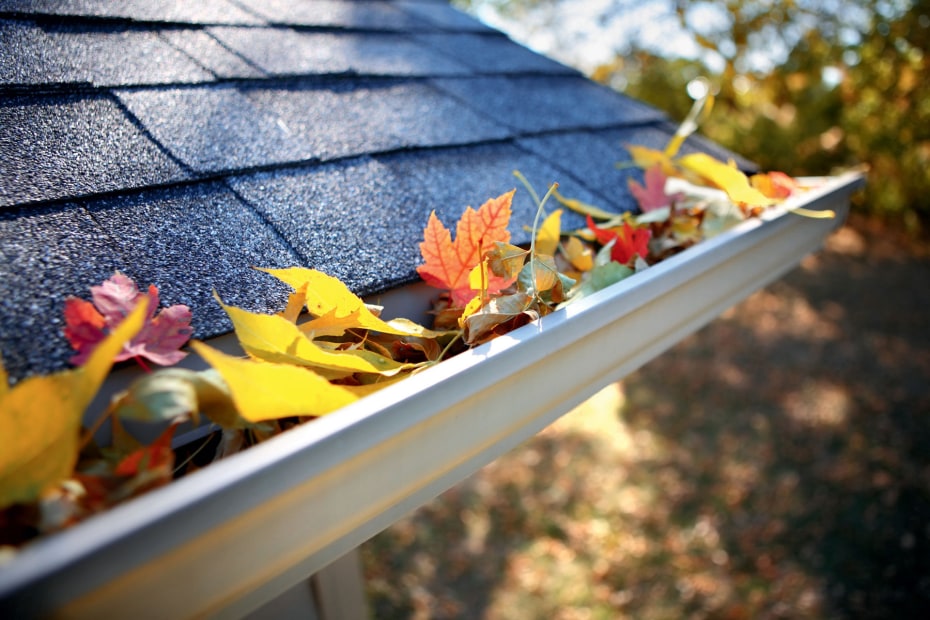 Clean your gutters.
It's hard to understate how damaging water can be to a home. That's why maintaining gutters, which drain water away from your home's foundation, is so important. Clogged gutters can lead to flooding, water damage, rotting, mold, and mosquitoes, says Kevin Busch, vice president of operations at Mr. Handyman. Standing water in your gutter can freeze and cause major damage to the roof, gutters, and siding.  
Start by clearing out leaves and other debris from your gutters. While you're up there, check that your gutters are securely attached and take a look at your downspouts. "Blocked downspouts lead to overflows that can create pools of water near the home. Water needs to be able to flow freely away from the foundation of a home to avoid causing damage," says Matthew Preble, a home expert with AAA. If the downspouts drain water close to your home, consider installing gutter extenders. 
Smart Tip: If you're uncertain about spending time on a ladder as high as your gutters, consider hiring a professional.
Seal up tight.
Hunt down any cracks, holes, and leaks, and seal them up so you can keep the heat inside and prevent winter's wet, wind, and cold from seeping in.
Inspect your roof. "Your roof is especially at risk during the winter as it's repeatedly exposed to rain, snow, ice, and freezing temperatures," Busch says. Repair damaged or weak spots before the rain, snow, or any other inclement weather arrives, Preble advises. Don't forget to inspect the fascia board under the eaves for peeling paint, openings, or signs of rot or decay.
Add weatherstripping to windows, skylights, and doors. "Windows and doors should be properly sealed to prevent rain from coming in," Preble says. Even a tiny gap can lead to heat loss and increased energy bills. Adding weatherstripping (a thin roll of foam or adhesive-backed felt tape) is an easy DIY project, Busch says. If there's a bigger gap at the bottom of a door, try installing a door sweep. You can also use caulk to seal up cracks and holes around windows, says Allen Hopkins, franchisee, owner, and general manager of Handyman Connection of Phoenix.
Put in storm windows. If you live in a harsher climate, Busch recommends replacing screens with storm windows. "Storm windows are meant to reduce drafts caused by wind and extreme cold in the wintertime," he says. If you don't have storm windows, a cheap, simple DIY solution is to add plastic inside the windows for extra protection from cold temperatures.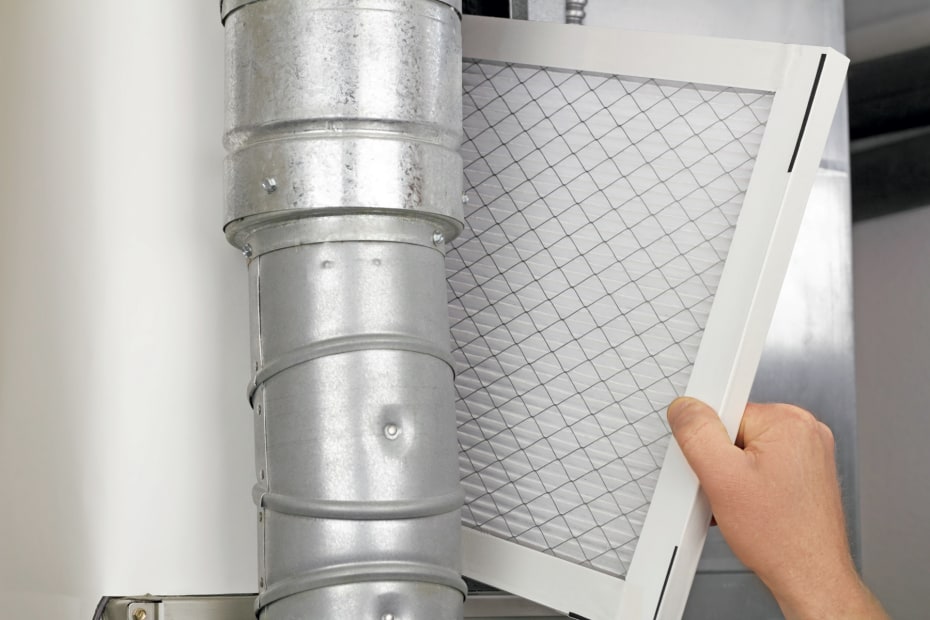 Make sure heating systems are in good shape and insulate pipes.
"A properly functioning heating system is probably the most essential, not only for comfort but for safety," Preble says. Make sure to clean and change your heater's filter so that the system will run efficiently, he says. "It's also a good idea to get the entire system checked out before the cold hits," says Preble. For fireplaces, have a professional clean and inspect your chimney.  
When the temperatures get cold, the water inside pipes can freeze and expand, leading to the pipes cracking and breaking or an ice blockage that prevents water from flowing. The solution: Insulate pipes ahead of time. The task is relatively simple: Just duct tape foam sleeves around the pipes.
Prepare for a potential power outage.
Dramatic weather can bring down power lines, causing a power outage. You should always have five days' worth of emergency supplies—water, first aid kit, warm clothing, and so on—in weather- and pest-proof containers. Make sure to include enough for every member of your household, and don't forget about pets. If outages are common where you live, this might be the time to buy a generator.
Be flood aware.
Overflowing waterways and pounding rain can lead to flooding. Be aware of the risk in your neighborhood, and take steps to prepare for a potential flood. Sign up for flood alerts for your community, or text "GETEMERGENCY" to 90999 to download a Red Cross app that monitors numerous emergency and weather warnings.
Make sure you've got the right insurance.
Winter weather can be tough on your home. Even with all of this prep work in place, it's still possible that a storm will cause damage. Get peace of mind that your home and belongings are covered. Take some time to:
Update or create a home inventory. Knowing what you have will help with repairs and recovery after weather-related damage.
Review your coverage. Double check that your home or renters insurance is up to date. Take a look at your insurance policy, or reach out to your agent, to ensure you've got the best coverage for your needs.
Don't forget about flood insurance. Most homeowners and renters insurance policies don't cover flood damage. Buying flood insurance ensures that you're covered if melting snow or heavy rain fills your basement with water or if a flash flood barrels through your neighborhood. Policies typically take 30 days to go into effect, so now is the time to purchase flood insurance.