When Matthew Ross bought his first house in Rocklin, California, last year, he had a long list of home improvement to-dos: install new flooring, fix dry rot, remodel the kitchen and bath. Ross, co-founder of the review site MySlumberYard.com, took on some projects himself. For others, he hired a contractor. But even in deciding to go with a pro, he underestimated how serious the bathroom repairs would be. Ross tried to cut costs and ended up spending $20,000 to repair damage caused by an unlicensed contractor. "It came back to bite me," he says.
DIY remodeling has never been easier, thanks to home improvement TV shows and online how-to videos that provide a wealth of inspiration and resources. California homeowners spent more than $20 billion on improvements in 2018, according to the National Association of Home Builders, up from $15 billion in 2015. Personal finance company NerdWallet reports that U.S. homeowners took on 43 million home improvement projects between 2015 and 2017. But when NerdWallet surveyed homeowners in 2018, more than one-third said a DIY project inspired by a home improvement show had ended badly.
It doesn't have to end badly for you. Even the professionals agree that DIY projects done well can add value to a home—and can be a lot of fun—if homeowners know their limits and follow some basic principles.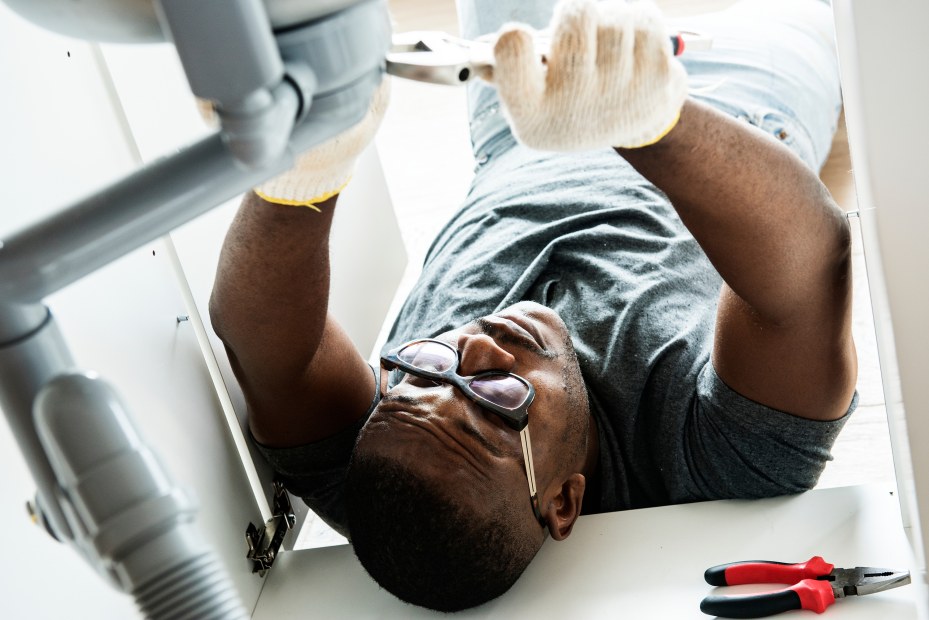 1. Put safety first.
Knowing when to do a job yourself and when to hire a professional contractor can be a tough call. Savings should never outweigh safety, which means some tasks are best left to the experts.
Mina Starsiak Hawk, co-star of the HGTV home improvement show Good Bones, says her rule of thumb is to get professional help with anything that can burn down (electrical), flood (plumbing), or damage the structure of (removing walls) a home. Hardware stores like Home Depot hold workshops on how to safely complete DIY projects such as tile installation and kitchen counter makeovers, including how to use the necessary power tools. 
"If you get in over your head, stop digging and get help," she advises.
2. Set yourself up for success.
DIYers should feel comfortable with any project that can be undone. "If you've never painted before, the worse-case [scenario] is that you're going to get paint on the floor," Starsiak Hawk says.
Homeowners usually get into trouble on DIY projects by trying to accomplish too much. But how do you know when to stop before you've reached that point? Ross says his big mistake was not doing research before starting projects. "I would just jump in and say, 'I can do this myself,'" he says. 
Experts say your progression from "I just learned what a hammer is" to "let's demo the bathroom" should be a series of many steps. Jim Hunter, CEO of House Doctors, a national home renovation and remodel company, says that starts with recognizing your limits.
"Read up before you start," Hunter says. "If you don't understand what you read, or you don't understand the wording, get help."
3. Figure out the costs.
Before beginning a project, homeowners should calculate the potential savings (subtract the cost of purchasing your own materials and tools from the cost of hiring a professional) and divide it by the total time the job will take to finish. 
"Is that "hourly rate" worth working for?" asks John Bodrozic, co-founder of the HomeZada app, which helps homeowners manage remodels by tracking costs, receipts, and warranties.
"Review your current work and life schedule" Bodrozic says. "Are you willing to devote the time necessary to complete the remodel in a timely manner? Is the time trade off worth the savings?" 
4. Hammer out the details.
"Whatever you do, don't start a renovation or remodel without a detailed floor plan," says Jessenia Toro, an executive at the renovation firm MyHome Design + Remodeling. The availability of easy-to-use 3-D design apps like SketchUp or Sweet Home 3D is a boon for DIY homeowners.
To start, measure the physical dimensions of the room you'd like to remodel, using either a conventional tape measure or an app like Measure. Then plug those measurements into the software and create the remodel layout. You can also populate your 3-D design with furnishings to visualize the finished space.
Even if you aren't planning to do the remodel yourself, a well-crafted design is a great way to communicate your ideas to a contractor. Does the design need to be digital? No, says HGTV's Starsiak Hawk. "Most of mine start as chicken scratch on paper," she says.
5. Assess your risk.
General contractors should be licensed and bonded, which assures the homeowner that they not only have the skills and experience needed to do the job but also carry the proper insurance (to cover any property damage or injuries). Always ask to see proof of a license and bond. 
Hiring an unlicensed contractor is cheaper but highly risky. "The short-term cost savings are not worth the potential long-term headache," Ross says after paying thousands to fix damage caused by an unlicensed contractor.
If you tackle a home improvement project on your own, your homeowners insurance will similarly cover any property damage as a result of the work, says Gary Reid, manager of insurance operations and specialty products marketing for AAA.