The stress of a move starts early, and not just for you. Pets can begin to feel the effects when the boxes and packing peanuts first appear. 
"It's no different whether you have two legs or four—what's new provides some anxiety," says Joe Alcorn, DVM, from Care Animal Hospital in Temecula, California. 
That stress only accelerates for pets as the move marches on. Once everything is packed, cats and dogs have to deal with the mayhem of moving day, along with the uneasiness that accompanies settling into a new space. 
We spoke to veterinarians to get tips on the best ways to help your pets navigate a move.
Before Your Move
Relocating furniture, packing boxes, shuffling items from one area in your home to another—the constant change is challenging for cats and dogs. These tasks will help line you up for a successful move and reduce the impact on your pet before the big day. 
Keep calm. 
Anyone who's moved knows it's not typically a relaxing process. Still, do your best to stay even-keeled since pets sense what you feel, says Sara Ochoa, DVM, a veterinary consultant for doglab.com, a pet gear review site. "If you are stressed with the move, your pet may also be stressed," she says. 
Go to the vet.
If you're moving too far to continue seeing your current vet, set up an appointment to visit one last time. The timing of this visit will depend on your specific situation, says Christine Long, DVM, head of veterinary medicine at Modern Animal in Los Angeles. International moves in particular can require visits and paperwork in advance, so she recommends reaching out to your vet at least two months beforehand. 
At your appointment, make sure your pet's vaccinations are up to date, and stock up on any existing medications. "Also, discuss where you'll be moving with your veterinarian, since infectious disease threats differ across the country, and your pet may need to be protected against a disease that isn't a concern in your current home," Long says. 
If you will be flying, she recommends contacting your airline to ensure that you understand the requirements for flying with a pet, as they differ from company to company. Health certificates or other paperwork may be necessary, says Alcorn, so call your airline before the vet visit.
Focus on a safe space.
To reduce anxiety in cats, create a "safe zone" in a low-trafficked part of the house (think: the guest bedroom or laundry room) where they won't see or hear any of the havoc while you're actively packing or moving things around, recommends Long. It can also be helpful to put dogs in daycare if you can't set aside space at home, she adds. "Any reputable daycare will have a process for assessing whether a dog that's new to the program is comfortable, so ensure that's part of the routine whenever you choose daycare," Long says—and opt for a familiar one if possible.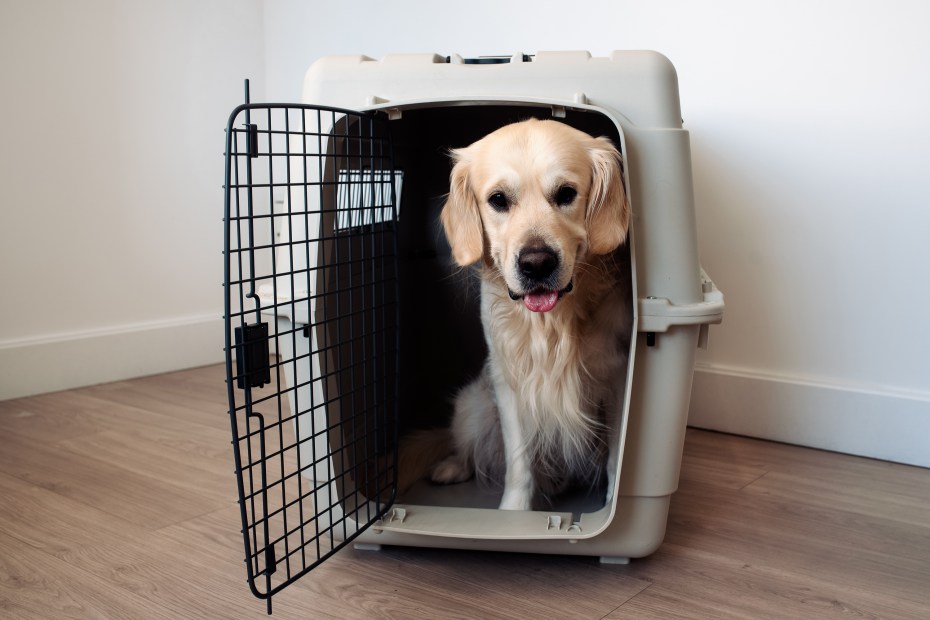 Prepare for the trip.
While there's no need for elaborate preparations if you're just moving a few miles, trips that involve long drives or a plane ride may require advanced planning. If you will be flying, keep the weather in mind as you make your plans. Some travel dates are blocked out because it's too cold on the tarmac for your pet to wait there before going into the cargo hold.
Take simple steps to get pets comfortable with their crates. The ASPCA recommends putting your pet's food inside the crate in the weeks ahead of the trip so it becomes familiar. If your pet is not yet comfortable in the car, the American Humane Society suggests going on a couple short trial runs beforehand to get pets accustomed to it.
If it all seems a little overwhelming, get some help from professionals. "There are pet transport companies that will make sure your pet gets safely to your new home, should you choose that route," notes Long. 
Moving Day
Expect your moving day to be a whirlwind. "Doors are open, people are in and out, and it's easy to forget about your pets as you focus on getting your belongings safely packed and on their way," says Long. 
Here's how to make sure pets are safe and secure as you move items out of your old home and make the journey to your new one. 
Keep pets confined.
Even if you haven't been keeping pets in a small space during the lead-up to the move, you'll definitely want to do so on moving day. That way, you won't have to worry about your cat or dog running out an open door or getting hurt underfoot. Try turning on a fan or a radio at a low volume to help drown out the sounds of the move. "Every couple of hours, go in and hug them and give them a treat," says Alcorn. Seeing you will help your pet know that everything is good, even if they find the confinement a bit unsettling, he says. 
Transport your pet safely.
Keep pets secure to ensure that they—and you—will be safe if you need to brake suddenly. "Make sure small pets are secured in a carrier for the ride, and larger pets should be in a safety harness that ideally has an attachment that clicks into the seat belt," says Long. Ochoa recommends putting one of your t-shirts or a blanket nearby or in their crate for comfort.
If you'll be driving for several days, Alcorn recommends booking pet-friendly hotels in advance to ensure you have a place for everyone to stay. On the morning of the move, offer food to pets a few hours before you get in the car. You don't need to give pets food on the drive, however, since they're not expending energy in the car, he says. Just give them water every few hours and let dogs out to relieve themselves when you stop to use the bathroom. For trips over six hours, the Animal Humane Society recommends giving your cat access to litter in its crate. Once you arrive at the hotel, put your cat in the bathroom along with food, water, litter box, and so on.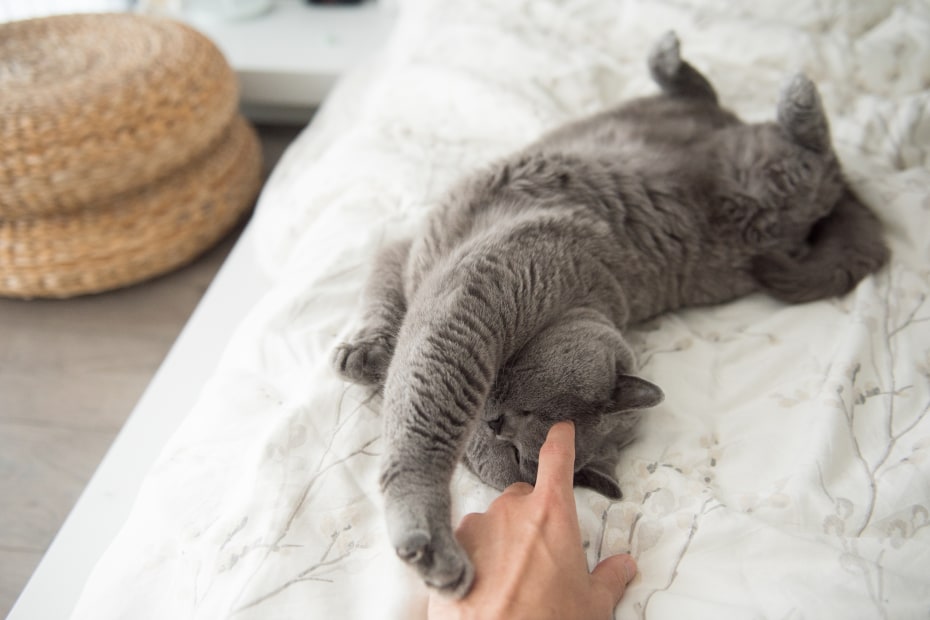 Settling in at Your New Home
Anyone who's dealt with unpacking and breaking down endless boxes knows that arriving in the new place is far from the end of the moving process. But while a new location can feel exciting to you and your family, this unfamiliarity can be a source of anxiety for pets. Here's what to do to counteract that. 
Pet-proof your home.
Before you bring your pet inside, take a moment to make sure there aren't any dangers to your pet—such as traps or poison for critters—and if the windows or doors are open, make sure all the screens are secure. 
Create a spot just for them.
Set up a space for your pet first—yes, even before you unpack your bathroom essentials and make your bed—in a small area, such as a bedroom or bathroom, that's stocked with all their familiar necessities. "Keep them in the confined setting for a few days," recommends Alcorn. "Then, one day after breakfast, open the door, and let them start to venture out and investigate." If your pets feel anxious, they can retreat to the safe zone. 
Update contact information.
Make sure your contact info is up to date—that includes on their collar as well as their microchip. "If your pet is microchipped, make sure you call the company it's registered with and update them with your new address. If your pet isn't microchipped, now's a great time to do so," says Long. 
Find a new vet.
If you can no longer see your old vet, prioritize finding a new one in the first week or two after your move, recommends Alcorn. "You never know when something is going to physically happen with your pet," he says. You can get recommendations at the groomers or the dog park, from neighbors, or online. Then, once you have a new vet, inform your previous vet and have them send over your pet's records. 
Throughout the moving process, make sure to spend as much time with your pet as possible. "The security for our cats and dogs in any living situation is us," says Alcorn—for pets, we're an extension of dinner, the water bowl, and all of a pet's necessities. "Being around them at either end of the move really helps," he says.