Snowshoes make hiking in winter infinitely easier because they pack down the snow when you step. By strapping the traction devices to your feet, you can unlock miles and miles of powdery trails through forests, along ridgelines, in ski resorts, and even to frozen waterfalls. Walking through snow is significantly slower than hiking on dirt, but the unhurried pace gives you all the more reason to take it easy and appreciate the journey. Here's a guide to the West's best snowshoe trails for this approachable, accessible, and family-friendly winter activity.
Lassen Volcanic National Park in Northern California
There's no better place to learn snowshoe basics than in a national park, and no better teacher than a ranger. Join one of the ranger-led tours in Lassen Volcanic National Park for a moderately strenuous ramble that's 2 miles or less through the red fir forest. On the park's southwest side, meet at the Kohm Yah-mah-nee Visitor Center, where you can pick up a free ticket to participate. Hikes leave promptly at 1:30 p.m. on Saturday and Sundays unless they've been canceled due to weather. You can call the hotline (530-595-4480) to check conditions. Snowshoes are provided.
Arizona Nordic Village in Flagstaff, Arizona
Only 25 minutes from downtown Flagstaff and 16 miles down the road from Arizona Snowbowl Ski Resort, the Arizona Nordic Village is a year-round recreation destination that maintains its trails in winter for snowshoers, cross-country skiers, and fat bikers. Several miles of snowshoe and multi-use trails range from easy to difficult. There are also ski-only trails specially groomed for skate skis. You can rent snowshoes and poles for only $15 at the center, making it a great place to take up this winter sport. You can also bring your dog on the snowshoe and multi-use trails.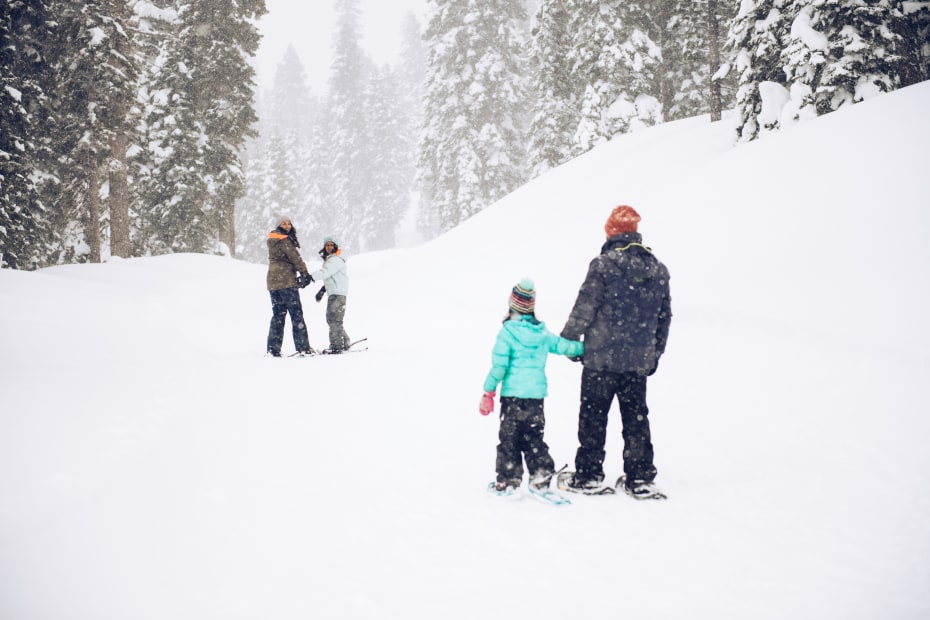 Northstar California in Reno, Nevada
Trade your downhill skis or snowboard for snowshoes at Northstar California, one of the area ski resorts that has set aside more than 20 miles of trails for cross-country winter activities. Directional signage leads snowshoers through the snow-cloaked pines. While the center of the trail is designated for skate skiing, the sidelines are perfect for snowshoe travel. Pick up rentals or book lessons at the cross-country center. For a unique experience, join a guided twilight snowshoe tour from late December through mid-March. After the 2- to 2.5-hour trek starting at the center, refuel on hot chocolate around a campfire in Northstar's lively village. 
Millcreek Canyon in Salt Lake City, Utah
Want to organize your own self-guided snowshoe adventure? Millcreek Canyon is just minutes from Salt Lake City at the base of the Wasatch Mountain Range. Pay a $5 entrance fee to get past the winter gate that closes to vehicles from November 1 to early spring. Rated moderate to difficult, four trails are ideal for those looking to level up their abilities. The 4.4-mile out-and-back hike to the Desolation Overlook leads to a stunning viewpoint. Or hike part of the Pipeline Trail that stretches 5.5 miles one way. Snag rentals in town at Canyon Sports or AJ Motion Sports.
Ousel Falls in Big Sky, Montana
Waterfalls aren't just a spectacle in summer. When Ousel Falls outside Big Sky freezes over, its more than 50-foot cascades turn into sparkling ice-encrusted columns. The thickly-timbered and canyon-sheltered route keeps temperatures low enough to chill the waters for the better part of winter. A popular 1.6-mile round-trip hike to the falls follows the South and West forks of the Gallatin River, crossing three bridges before reaching the lower part of the waterfall. It's relatively level although it can be slippery. The trailhead and parking area are plowed for easy access. Nearby, Grizzly Outfitters and Gallatin Alpine Sports offer rentals.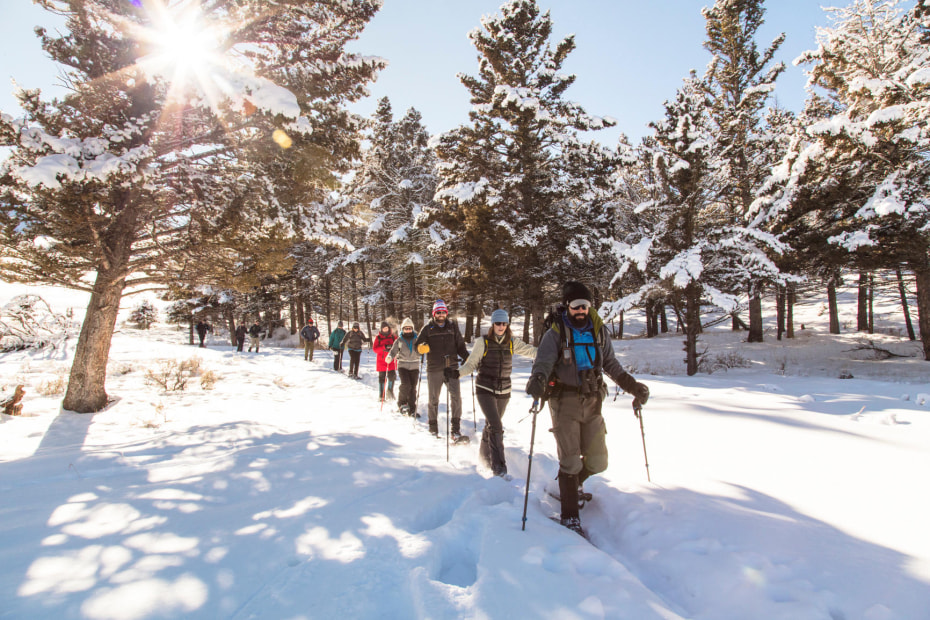 Cascade Lake Ski Trail in Yellowstone National Park, Wyoming
On the north side of Yellowstone, get a glimpse of Cascade Lake blanketed in ice and snow on the 3-mile round trip trail. Start on a wide service road for the first 200 yards, then pass through lodgepole pine forests before reaching an open meadow where bison often graze. Remember to stay at least 25 yards away from wildlife. This trail has a narrow creek crossing, so take your time and use poles to balance on the rocks. Check the weather for the day before you go because winter can be fickle in the park. The National Park Service also recommends a few other trails for snowshoe travel, and you can find rentals at lodges throughout the park. 
Eagle River Nature Center in Anchorage, Alaska
Dubbed a miniature Yosemite by explorer Walter Mendenhall, the Eagle River Valley is encircled by the jagged White Mountains of central Alaska. The Eagle River Nature Center is a basecamp for outdoor adventure all year long, including during the snowiest months. Serious snowshoers will appreciate that the 23-mile Crow Pass Trail follows part of the iconic Historic Iditarod Trail. More doable for an afternoon, the .75-mile-long Rodak Trail loop has interpretive signs, benches, and viewing decks. You can't rent snowshoes on-site; go to Alaska Outdoor Gear Rental for those. But you can book yurts and cabins for an overnight stay.