Hiking is an excellent way to get outside and spend time together, but it can also be intimidating and hard to know where to start. The fantastic news is that simple steps can give you the confidence to hit the trail with kids and make your outing more fun for everyone. 
Benefits abound when you hike together. "Experiencing new adventures and challenges in nature, outside of your regular daily routine, can be like pressing the reset button for the family," says Flagstaff native Danny Giovale, an outdoorsman and the founder of Kahtoola, an outdoor gear company. 
Whether you're loading up tiny tikes in a carrier or chasing after fearless preteens, here's what you need to know to make hiking safe and exciting for the whole family.
Find an appropriate trail.
A three-hour loop with a staggering ascent midway through is probably not the right fit for most young children. Before you head out, search online for family-friendly trails in your area or use an app like AllTrails. This will help you "go into the hike prepared and with peace of mind," says Ron Schneidermann, CEO of AllTrails. 
If your children are very young, experts from Sonoma County Regional Parks in California recommend opting for paved or well-graded paths. Consider your child's attention span, too. Carina Leveriza, a hiking guide and outdoor adventure advisor at Sedona's Enchantment Resort, finds that kids older than 8 are capable of doing a two-hour hike and staying engaged the whole time. Younger children will likely need a shorter adventure.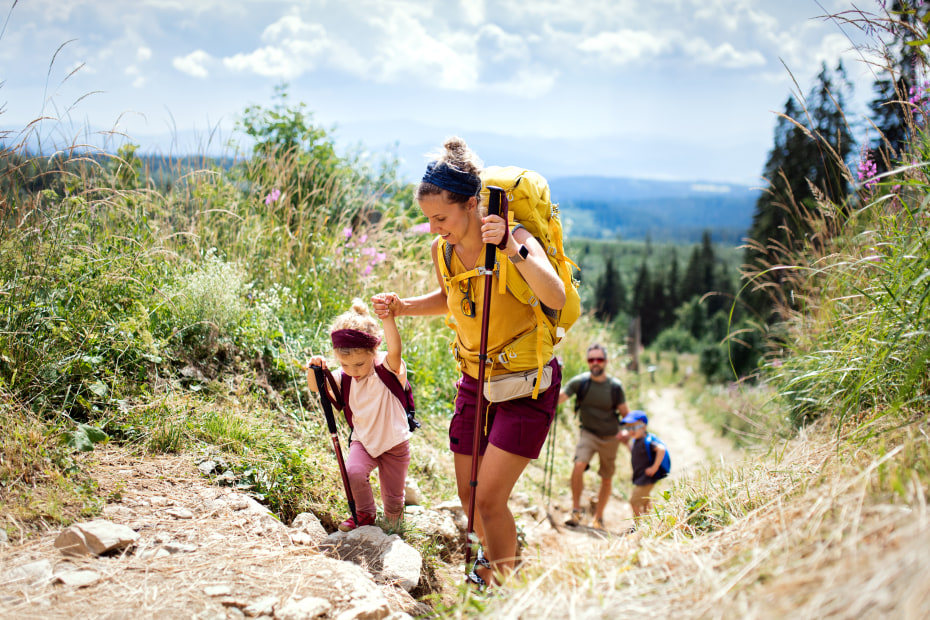 Dress everyone appropriately.
Being cold and wet is enough to make anyone grumpy, and it can be a dangerous combination outdoors. "Check the forecast before heading out," says Giovale, and avoid hikes on rainy days or when temperatures are extreme. 
Dress appropriately for the weather, and bring extra layers in case the temperature dips or an unexpected storm rolls in. And don't forget about footwear: Opt for shoes with a sturdy tread. That way, kids "can amble on rocks or varied terrain," Leveriza says. 
Smart Tip: Always slather sunscreen on all exposed skin (don't forget about the tips of ears and the backs of hands), and bring along hats and sunglasses to protect against damaging UV rays.
Pack smart.
Even with a short jaunt, you should have essential supplies on hand. Here's what to pack:
Sunscreen. You'll likely need to reapply.
First aid supplies. A small kit—with bandages in case of slips—should do the trick.
Snacks. Bring a bit more than you think you'll need, Giovale advises. Better to carry an extra baggie of trail mix than to feel peckish.
Extra layers. If the sun disappears or a cold wind picks up, layers will come in handy.
Water. Make sure you have enough water for every family member.
Age-specific supplies. If your child is still in diapers, make sure you bring along extras, plus wipes, hand sanitizer, and a bag to carry out used diapers and wipes if you're not near a garbage can.
A child carrier. "If you can still wear your kids in a pack, bring it for when they tire out," recommends Giovale. And make sure the pack fits and is comfortable for your child and you before you leave the house.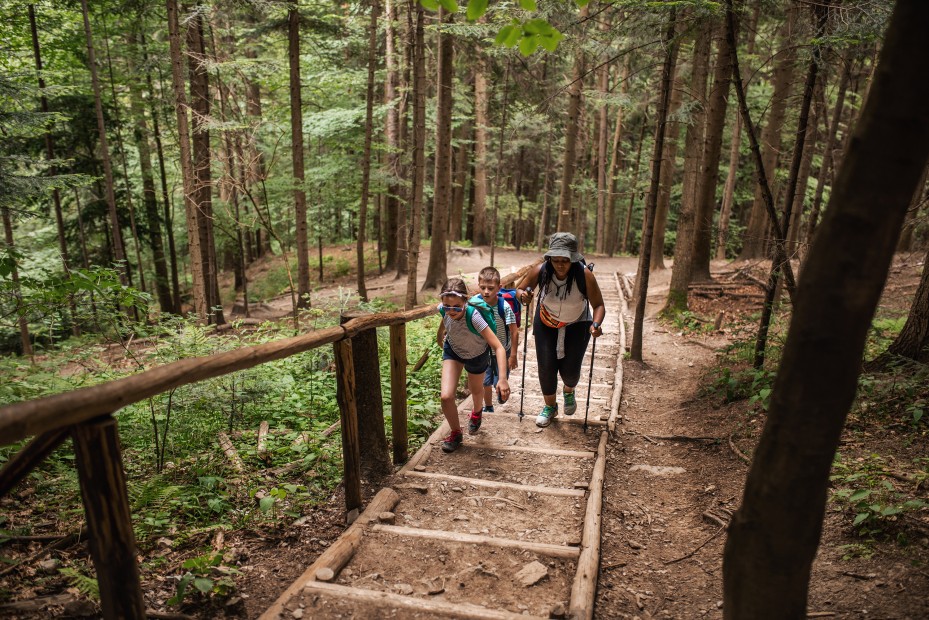 Get kids involved.
Most supplies will go in adults' packs. But once kids are old enough, they can wear—and pack—a backpack too, the pros at Sonoma County Regional Parks say. Some items to include are a water bottle, snack, and a favorite toy. 
Once you're on the trail, let kids set the pace and explore anything that's interesting to them. Encourage your child (or children) to take a turn leading the group, recommends the Wilderness Society. They'll find it empowering, and it's an excellent way to teach basic outdoor skills such as reading a map.
Call it an adventure.
Try not to use the word "hike," Giovale recommends. "That sounds like torture to a kid," he says. Instead, tell kids you're going on an adventure or that you will be exploring and looking for cool things. 
You might consider bringing a kid-friendly pair of binoculars and a camera, as well as a magnifying glass—these tools will help kids observe and explore.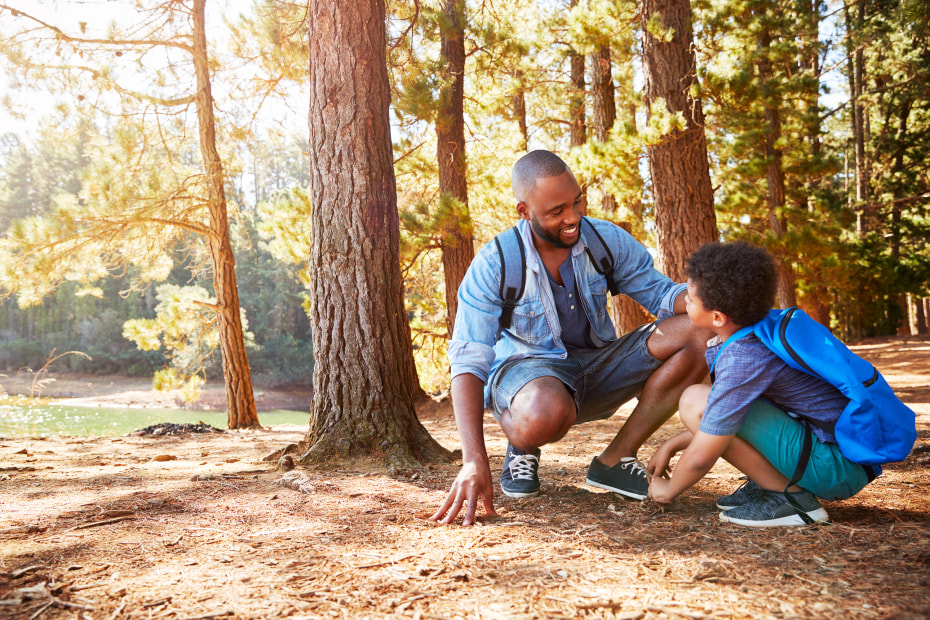 Have fun.
Above all, you want kids to enjoy the experience, so find ways to keep them engaged and happy. 
Play games. Try "I Spy," or have kids count: They can tally up how many hikers or butterflies they see, or track different bird songs.
Start a scavenger hunt. Looking for cool rocks, leaves, or animal tracks is fun for kids.
Invite friends. "Nothing makes a kid act more grown up than showing their friends how skilled they are," Giovale notes.
Capture memories. Take a family photo to remind kids of their adventure and any exceptional moments along the way, adds Leveriza.
Smart Tip: Fascinating rocks and vibrant wildflowers can tempt kids. Rather than weighing down packs or pockets, gently remind young adventurers that everything needs to be left where it was found (even that shiny pebble).
Take it easy.
When you're hiking with kids, keep it short and simple. "Don't bite off more than you can chew starting out," Giovale says. Neither you—nor any children with you—should overdo it physically. Plan to take it slow, and make time for breaks. Snacks can help keep everyone going. 
Aim to "instill a love of the entire process," Giovale says—from packing to scenic snack breaks to observations along the trail, he says. That way, "kids want to come back, do it again, and build up to longer adventures."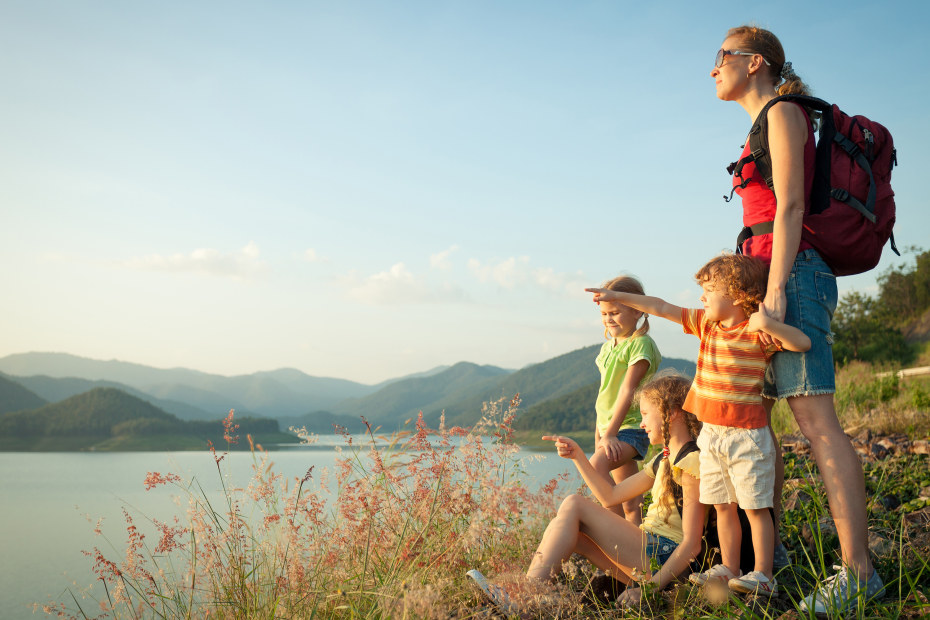 Keep safety in mind.
Put a safety whistle on everyone's backpack (adults too!), and tell kids to use it to find their parents if they get separated, advise the Sonoma County Regional Parks' experts. Teach children that, should they find themselves away from their group, they should stay put and blow the whistle three times, the American Hiking Society recommends. Avoid the word "lost," which might be confusing (or scary) to children. Always review what to do before setting out on a hike.
Hike responsibly.
While it's wonderful that more people are hiking, it also means trails are littered with trash, Schneidermann says. "Pack out what you pack in," he says. "Better yet, aim to leave the trail better than how you found it."  
Giovale agrees. "Bring a garbage bag to pick up the trash you'll inevitably find along the trail, which will instill in your kids a sense of stewardship and responsibility for nature," he says. While you're out, teach little ones the seven Leave No Trace Principles and make sure to follow proper hiking etiquette:
Give the right of way to people hiking uphill;
Let fast hikers pass your family;
Be generally mindful of other trail goers.