Back in May, California Governor Gavin Newsom set aside $5 million to acquire Dos Rios Ranch, a wetlands restoration project in the Central Valley between the Tolumne and San Joaquin rivers, and turn it into a new state park by late 2023. This will be California's first new state park in 13 years, and it got us thinking: What other park and public land expansion projects does Northern California have in the works? It turns out, plenty. 
San Francisco has two recently opened parks. The Presidio Tunnel Tops, which opened this month, is a 14-acre stretch above the Presidio Parkway's twin roadway tunnels. The latest addition to the Presidio and the larger Golden Gate National Recreation Area features elements such as a wind-sheltered Campfire Circle and the wheelchair-friendly Cliff Walk that offers several panoramic overlooks of the San Francisco Bay. There are also reservable picnic tables, meadows for lounging, and a playground constructed from materials that were plucked straight from nature, such as fallen tree trunks and boulders. 
In the city's Russian Hill neighborhood, a former reservoir was reimagined as the city's largest public park in 40 years and opened in April 2022. The 4.5-acre Francisco Park has an off-leash area for dogs, a playground with seven swings and a mini ropes course, and a historic area that honors its past as a water source for residents. 
Over in Berkeley, Brickyard Cove at McLaughlin Eastshore State Park (which is managed by the East Bay Regional Park District) opened to the public in March. The massive dirt pile that long occupied the cove has been lowered, opening up this waterfront land for picnic tables and expansive views of the San Francisco skyline. Native California poppies and lupine brighten the landscape in spring. Brickyard Cove also connects to the San Francisco Bay Trail, a multi-use pathway that when completed will allow continuous travel around the entire Bay. 
More than 85 percent of Marin County's former 157-acre San Geronimo Commons public golf course has been placed under a conservation easement, with the plan of making its open meadows and woodlands available for public use by 2023. The course's existing pathways will also be adapted as part of a multi-use trail system to connect more than 100,000 acres of public space in Marin County, from the Golden Gate Bridge north to Point Reyes National Seashore. 
Earlier this year, Sonoma County Regional Parks acquired 120 acres on Hood Mountain Regional Park and Open Space Preserve's western side—a move that helps protect mixed oak forest and native grasslands, and increase the size of a wildlife corridor for mountain lions and bobcats. The procurement also safeguards nesting habitat for the threatened northern spotted owl.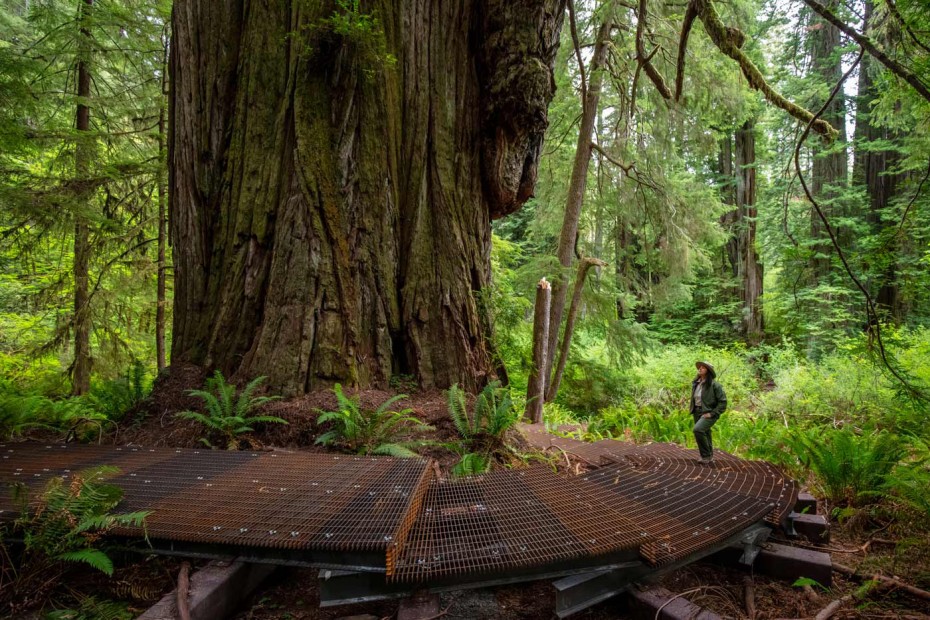 Along the Redwoods Coast, Jedediah Smith Redwoods State Park's Grove of the Titans—a scenic stand of redwoods known for their extraordinary size—is now home to a new boardwalk. Park officials closed the grove's original 3-mile-long Mill Creek Trail in November 2019, replacing it with an elevated walkway that opened in May. The 1,300-foot-long stretch features descriptive panels detailing the surrounding forest habitat, as well as interpretive signs highlighting local Indigenous history. Members of the Tolowa Dee-ni' Nation, whose ancestral lands encompass the grove, collaborated on the project. 
A portion of California's oldest state park, Big Basin, is scheduled to reopen this summer, after the CZU August Lightning Complex fire scorched approximately 97 percent of the park's trees in 2020. Thankfully, the park is still home to the largest stand of ancient coast redwoods south of San Francisco, and now it sports a new layer of lush green undergrowth beneath its canopy. Although much of Big Basin's backcountry trails will remain closed for the time being, 18 miles of fire roads, the Old Growth Loop, and part of the Dual Trail loop will be open to bikers and hikers.