Monterey Bay Coastal Trail, Pacific Grove, California
Start in Pacific Grove, California. Go southeast | 29 miles round-trip
Get rolling at Lover's Point, a crescent-shaped beach where sea lions and otters play in the surf. Ride southeast with the coast on your left, and after a mile you'll be at Monterey Bay Aquarium on Cannery Row, home to a small waddle of skittering African black-footed penguins. At Monterey State Beach, about five miles in, paragliders sail over the dunes and the sea. The turnaround point is Fort Ord, one of the nation's newest national monuments and a preserve for the endangered Smith's blue butterfly, which you'll likely find fluttering amid the buckwheat flowers.
Smart Tip: Rent a bike at Adventures by the Sea.
Iron Horse Regional Trail, East Bay, California
32 miles
At 32 miles, this trail covers a large swath of Contra Costa and Alameda Counties. The mostly flat path runs south through bustling Walnut Creek and heads in the four cardinal directions, connecting the grassy hills of Lime Ridge Open Space with the charming small town of Danville and numerous other cities, parks, and spur trails.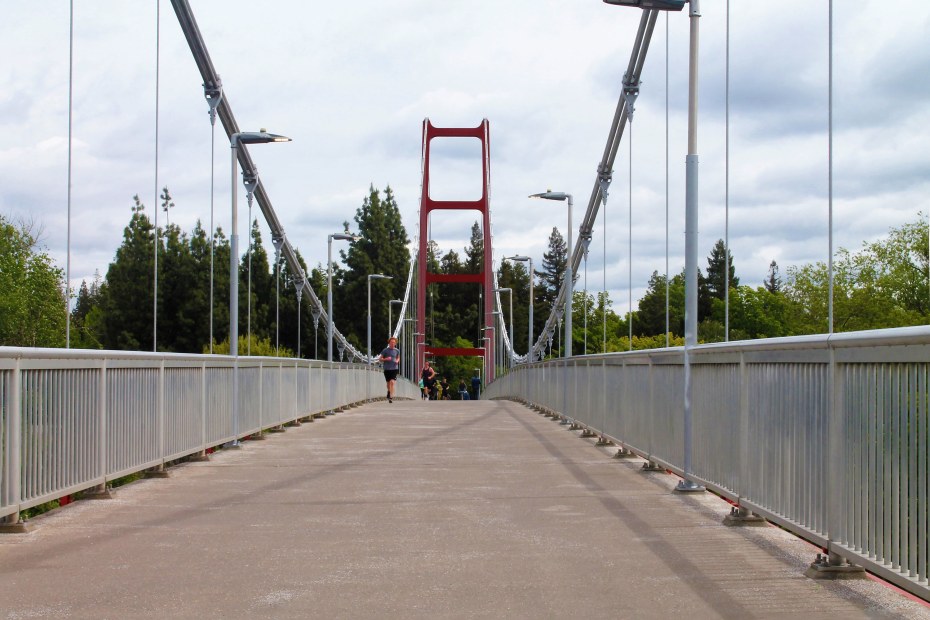 Jedediah Smith Memorial Trail, Sacramento
Start in Old Sacramento, California. Go north | 18 miles round-trip
Beginning in Old Sacramento, meander next to the broad Sacramento River for about a mile. Then, at Discovery Park, turn right along the American River (hence the trail's local moniker, the American River Bike Path). As you pedal through the tawny flatlands, watch for green herons and egrets feeding on frogs in the river. Around the eight-mile mark, gaze on the Guy West Memorial Bridge, a mini-Golden Gate Bridge. Turn back here or continue to the end of the trail (an additional 46 miles round-trip).
Smart Tip: Rent a bike from Practical Cycle.
Bear Creek Greenway, Central Point, Oregon
Start in Central Point, Oregon. Go south | 18 miles round-trip
Wildlife lovers will savor this easy route. About a mile in at Mingus Marsh, pied-billed grebes and other ducks glide among the water lilies. Three miles later you come to Medford's Hawthorne Park where returning chinook salmon, some as large as 40 pounds, struggle upstream through the clear water to spawn each fall. Roughly nine miles into the ride, turn left on to Fern Valley Road in Phoenix, where you'll find the Grass Shack Cafe serving up delectable Hawaiian food. Try the kalua pork and wash it down with a passion fruit–flavored iced tea.
Smart Tip: Bring binoculars for the critters.
Provo River Parkway, Provo, Utah
Start just east of Provo, Utah. Go northeast | 30 miles round-trip
Beginning at Utah Lake State Park amid farm fields, a ribbon of asphalt runs through the dry, cragged Provo River Canyon. The parkway is often shaded and the first few miles offer various spots for wading in the river. Near the three-mile mark, look for a footbridge over the river that leads to secluded Paul Ream Wilderness Park, where you can picnic beside a small duck pond. The marquee attraction is ten miles later: Bridal Veil Falls, a double-cataract cascade that plunges 607 feet.
Dry Creek Trail, Modesto, California
6 miles
The Dry Creek Trail runs under leafy trees as it follows a seasonal creek bed, linking Moose, Kewin, Thousand Oaks, and East La Loma Parks, and then skirting the Creekside Golf Course.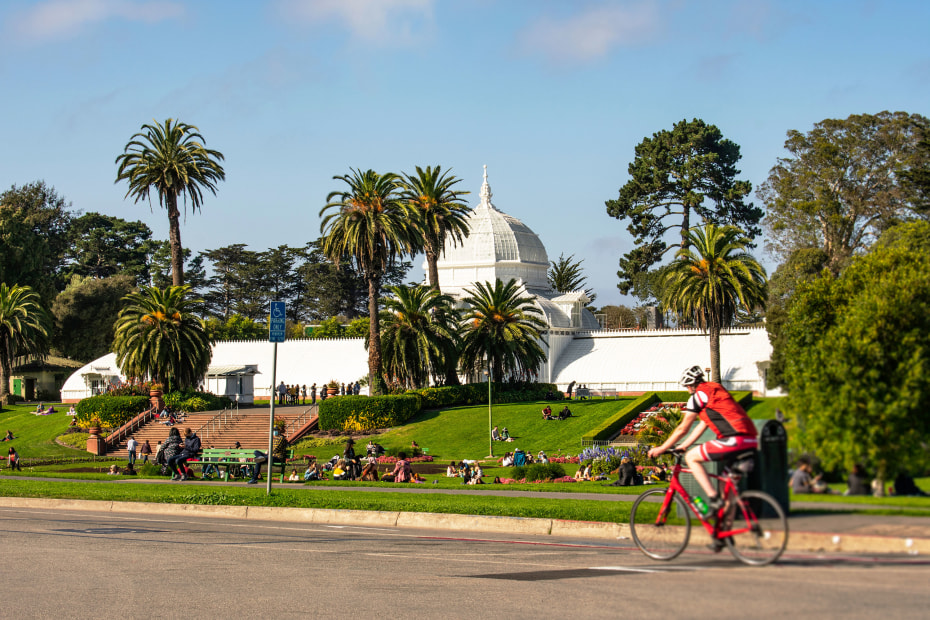 Golden Gate Park, San Francisco
Length varies
Dedicated trails give bicyclists the run of the city's favorite urban oasis, including the eastern half of John F. Kennedy Drive, which is temporarily (and perhaps soon permanently) closed to cars as part of San Francisco's Slow Streets program. Head west from Kezar Drive, past the Conservatory of Flowers, botanical gardens, and Murphy Windmill before hitting Ocean Beach, where two more miles of paths parallel the Pacific.
San Francisco Bay Trail, San Mateo, California
18 miles
From Coyote Point Park in San Mateo to Redwood Shores, this flat stretch of path cruises the bay front, offering prime views from Seal Point Park of planes landing at SFO. It passes the pickleweed marshes of peaceful Belmont Slough, where spear-billed great egrets wade in search of lunch.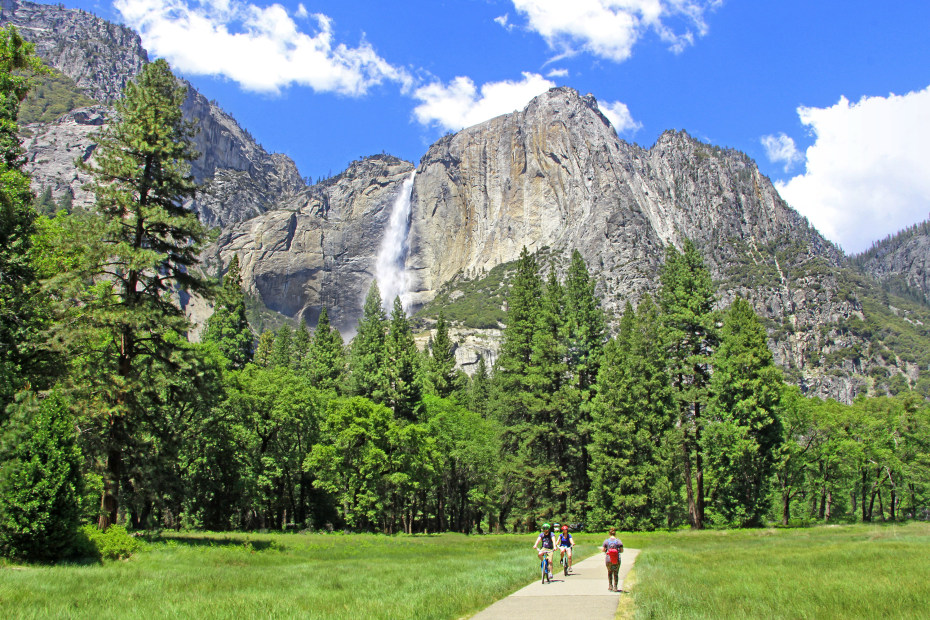 Yosemite Valley, Yosemite National Park, California
12 miles
The valley's multiuse trail crisscrosses the Merced River and delivers peaceful vistas of Half Dome, Yosemite Falls, Mirror Lake, and verdant meadows. You can take in Sierra splendor at a slow pace, making stops for views without fear of getting rear-ended.
Pittman Wash Trail, Henderson, Nevada
4 miles
The stretch of Pittman Wash Trail between E. Pebble Road and the Arroyo Grande Sports Complex in Henderson is just a sliver of the 66-mile network the city has built so far, but it's a particularly picturesque one, meandering alongside the scrub-speckled wash and past trees, cactus, and the grassy lawns of several parks.
Candy Mountain Express Bike Trail, Elsinore, Utah
Start at Center Street in Elsinore | 8 miles
The path climbs several hundred feet over seven miles along the rushing Sevier River. Keep your eye on the canyon walls for the rock face resembling a mountain man in sunglasses, but save some wonder for the reds, oranges, and yellows that seem to melt over Big Rock Candy Mountain at the top of the route.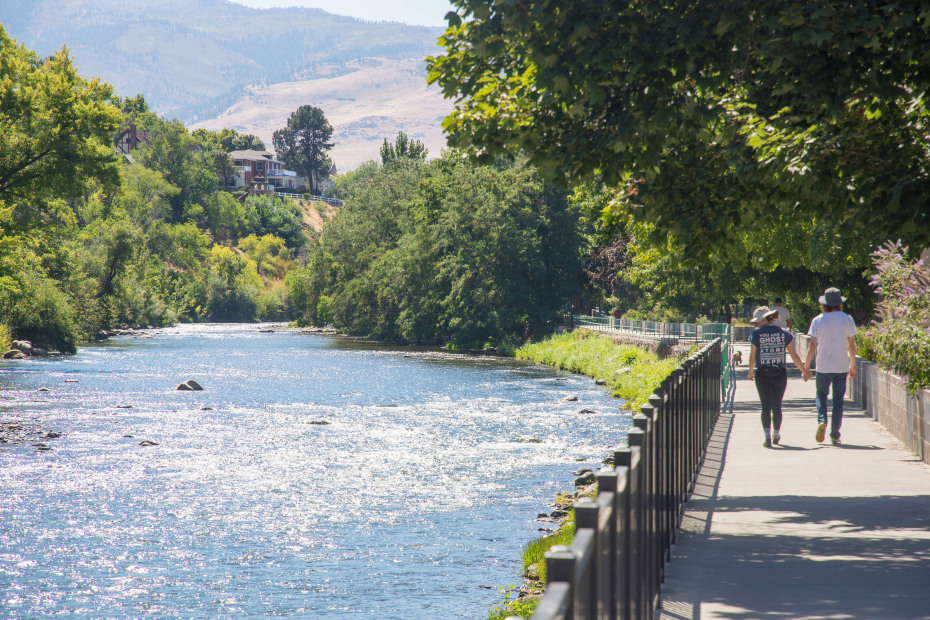 Truckee River Bike Path, Reno
Start in Reno's Wingfield Park. Go east | 16 miles round-trip
Roll onto the path in Wingfield Park. Watch kayakers at Truckee River Whitewater Park battle the rapids, and then ride east toward Sparks in the shade of the cottonwoods. Five miles along, beneath the East McCarran Boulevard Bridge, glance up at the summer home of 40,000 Brazilian free-tailed bats. Bring a flashlight to spy them inside expansion joints in daytime or better, watch them flutter out into the sky en masse at dusk. Three miles later, at the trail's end, stop and watch for wild horses, often whinnying on the other side of the river.
Smart Tip: The Wingfield Park Amphitheater often hosts free concerts.
Jordan River Parkway, Salt Lake City
Start West 200 South in Salt Lake City, 16 miles
Running for 16 peaceful, uninterrupted miles to South 700 West in Midvale, the bike path wiggles after the waterway, crossing over wooden bridges, under the branches of cottonwoods, past patches of bulrushes, and along the edges of many parks.
Olympic Discovery Trail, Sequim, Washington
19 miles
From North Sequim Avenue, the Olympic Discovery Trail runs 19 miles west—under the towering wooden beams of Railroad Bridge on the Dungeness River, through forest and field, along the edge of the Juan de Fuca Strait—to the ferry terminal in Port Angeles.