Alameda is a sweet, small-town getaway amid Northern California's leading cities. But the island just across a thin estuary from Oakland shouldn't be written off as "Mayberry by the Bay"—its Victorian charm is elevated thanks to a top-shelf food and drink scene and a what's-old-is-new-again culture anchored in a nautical past.
Top Sights and Museums in Alameda
Nowhere is Alameda's naval history displayed more proudly than at the USS Hornet Sea, Air, and Space Museum. Tour the Smithsonian-affiliated 1943 aircraft carrier to see more than a dozen retired aircraft on the flight deck, discover the Hornet's role in the Space Race, and take off into battle in the flight simulator.
Drop that video game controller: The Pacific Pinball Museum provides pure nostalgia with a collection of pinball machines spanning the decades. This museum–arcade houses 90-plus games, from a historical 1898 display to 25 machines from the '70s, all set to free play so you can get your game on with an all-day pass.
Whether you come to see a flick, eat at the adjoined Cinema Grill, or simply admire the 1932 Art Deco details, the historic Alameda Theatre & Cineplex is a must-see.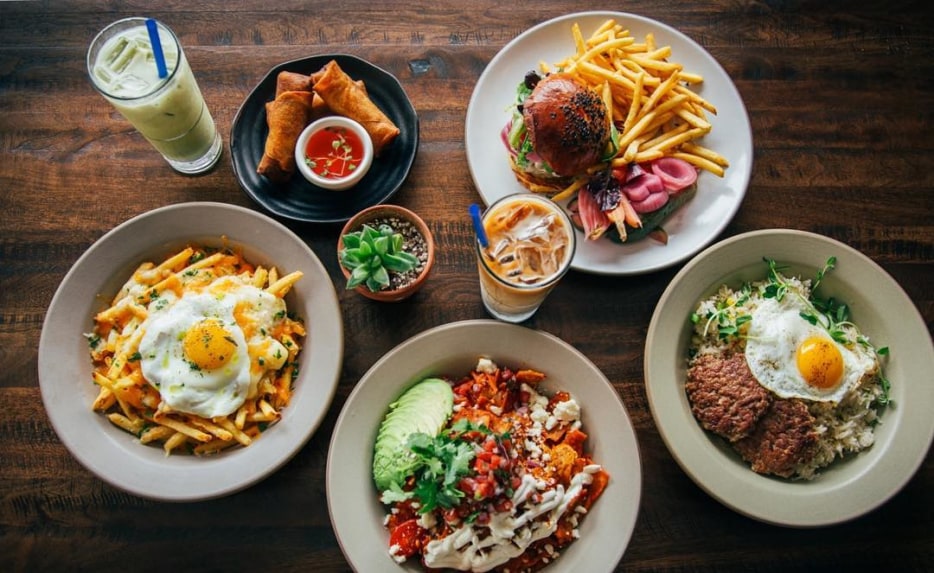 Where to Eat in Alameda
Cholita Linda is the latest of a slew of Oakland- and San Francisco-grown restaurants that have also set up shop here. You can now get the wildly popular baja fish tacos, Cubano sandwiches, and yucca fries on Park Street.
Opened in 2017 as the second act for a former Fosters Freeze location, Neptune's blends California cool with raw ingredients and Hawaiian influence. Currently offering take-out only, the walk-up window is easy for ordering a caffeine boost from the walk-up coffee bar, or brunch hits such as vanilla-battered French toast or Filipino longanisa pork sausage silog.
Whether in the grand, chandeliered dining room or on the street-side patio, you're in for a treat with a table at The Star on Park. This grown-up sister of San Francisco's Little Star Pizza specializes in deep dish, offering seasonal specials, customizable pies, and a cocktail list boasting local spirits.
The island is lucky to have its own Burma Superstar, a legendary eatery that got its start in San Francisco in 1992 and is consistently touted as serving some of the best food in the Bay Area. The fan-favorite tea leaf salad needs no introduction.
If you're looking for a date-night spot, the sleek Trabocco Kitchen and Cocktails may be Alameda's best bet. You can expect authentic Italian fare, fresh seafood, and a sophisticated atmosphere with modern decor and warm wood finishes.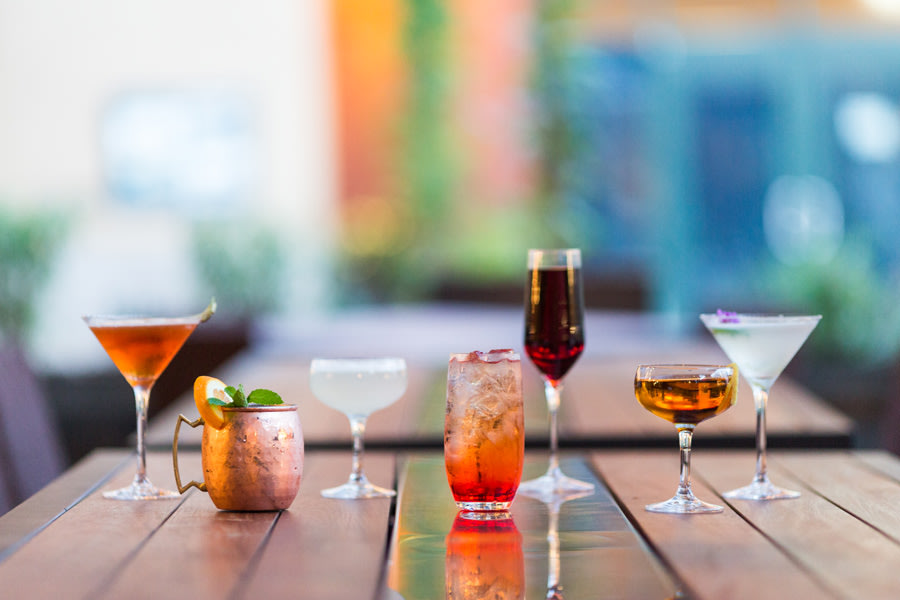 Best Tasting Rooms and Bars in Alameda
Alameda's Spirits Alley features a one-of-a-kind collection of wine, beer, and spirits makers, all housed in industrial warehouses on the island's former Naval Air Station site. Browse the vendor booths at the Head West outdoor marketplace held at St. George Spirits every third Saturday of the month; hit the tasting rooms at Faction Brewing and Building 43 Winery; or try a pint at one of the newest additions: The Rake at Admiral Maltings or Almanac Barrel House, Brewery, and Taproom.
Shoebox-sized Scolari's Good Eats doles out a rotating mix of classic cheeseburgers, fried chicken dishes, and pizza varieties. Get your goods delivered to the bar next door, Lucky 13.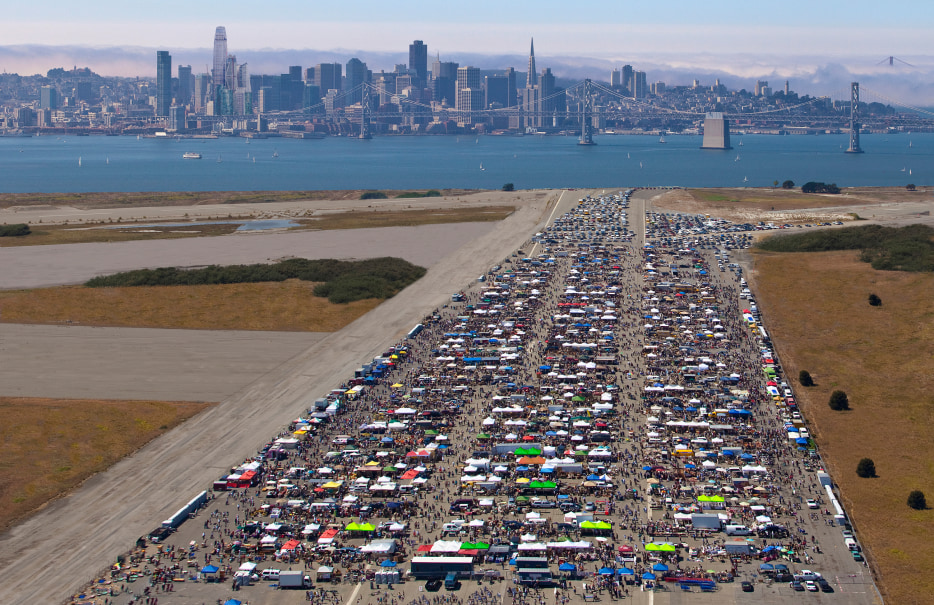 Where to Shop in Alameda
Every first Sunday of the month, treasure hunters from around the Bay Area descend on Alameda's West End for the Alameda Point Antiques Faire, the largest flea market in Northern California. Here you can browse some 800 booths for vintage wares, all at least 20 years old.
Looking for something fresher? Stop by the Alameda Farmers' Market on Haight Avenue every Tuesday and Saturday morning for seasonal produce, freshly baked bread and sweets, and local meats and seafood.
One of the brand's 10 Bay Area locations, Therapy Alameda offers modern home goods, cheeky gifts, locally made jewelry, and a curated selection of sharp apparel.
If you're in the market for home furnishings, there are deals to be found at the Pottery Barn Warehouse Outlet. Set in an industrial hangar building, this under-the-radar outlet sells discounted furniture and accessories from San Francisco–based Pottery Barn, Williams Sonoma Home, and West Elm.
Books Inc. is one of Alameda's dedicated independent bookstores, featuring bestsellers, classics, local titles, and everything in between.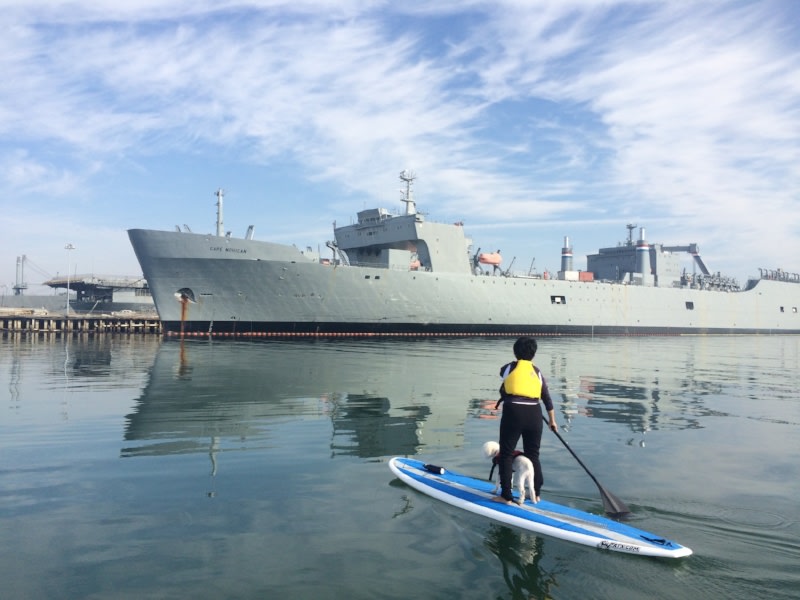 East Bay Outdoor Activities
You'd be remiss to skip Robert W. Crown Memorial State Beach, a 2.5-mile-long stretch of sand on the island's southern side. This spot is well loved for the boardsport-friendly winds, designated Shoreline Drive bike path, and marine exhibits at the Crab Cove Visitor Center.
Both a practical way to get around and a scenic outing, a jaunt on the San Francisco Bay Ferry can take you to and from Alameda with terminals on the island and in San Francisco, Oakland, and Richmond.
Mike's Paddle is all about stand-up paddleboarding on the bay. Tours, lessons, and kids' camps run regularly from April to October, as do SUP yoga and pilates classes, and just about every option will get you stellar views of the bay and surrounding skylines.