Upon first glance, Los Alamos, California does not exactly scream epic weekend getaway. One hundred and forty miles northwest of Los Angeles and 4-hours south of San Francisco, the no-stoplight town exudes the sort of untouched, old-West vibe in which a tumbleweed rolling down the street would not seem out of place. But scratch the surface and you'll find that this spot—once merely a place to gas up on your way to somewhere else—has become a destination in its own right. Here's what to do in Los Alamos for a relaxing weekend trip.
Where to Eat and Drink in Los Alamos
Full of Life Flatbread first drew attention when it opened in 2003, and it continues to enchant. The flatbreads (cheese and herb, date and bacon with blue cheese, and everything in between) showcase stellar ingredients and chef Clark Staub's talent with his trademark, gigantic, 900-degree hearth oven. The spacious outdoor garden is an idyllic setting for a leisurely dinner—and an ideal space to turn kiddos loose while grown-ups enjoy the libations.
Opened in 2014 by Hollywood expat Bob Oswaks, Bob's Well Bread cultivates a fanatical following with exquisite artisanal breads, baked goods, and café items like the croque-madame, a pain de mie topped with baked ham, gruyère, and béchamel sauce with an egg gently placed on top. While Bob's techniques demonstrate a reverence for tradition, the operation pulses with an artistic edge—the bathroom décor suggests that Mick Jagger and Joan Didion are Bob's spirit animals—that renders the goods downright addictive. Which is why, after savoring an avocado tartine in the courtyard, you may find yourself in line again, grabbing a levain for later.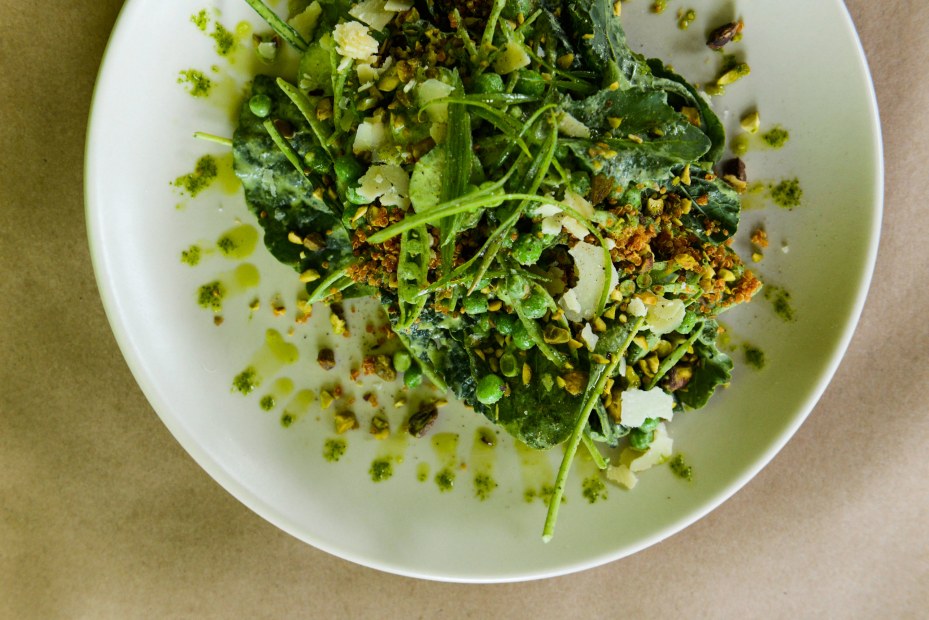 At Bell's, approachable French bistro-inspired fare is served in a gorgeous, tin-crowned dining room and fountain-adorned courtyard. Together with chef Sarah Williams, Daisy and Greg Ryan (both alums of Thomas Keller's Per Se) are winning over diners with dishes like sardines and saltines, salmon rillettes, and rotisserie chicken. But even more than the food, which deliciously infuses tradition with fresh energy, Bell's charms with its warmth, and feels—very much—like being welcomed into someone's home.
With three dining areas, a kids' nook, a dreamy garden, and a menu that highlights chef Drew Terp's chops, Pico—recently named to Wine Enthusiast's Top 100 Restaurants list—is both down-to-earth and out-of-this-world. Sophisticated dishes like the thinly sliced and seared Japanese beef tataki are spot-on, while the humble mushroom salad is perfection and the bacon praline is meltaway porky sweetness at its Platonic ideal. Owners Will Henry and Kali Kopley also operate the onsite Lumen tasting room, and host Friday blind tastings, Sunday burger nights, and yoga-and-wine events in the adjacent spaces.
At Babi's Beer Emporium, aficionados can sample six different brews on tap and geek out over the ciders and sours in the extensive bottle collection. Casa Dumetz's tasting room also shares the space, where winemaker Sonja Magdevski pours rose, viognier, grenache, syrah, mourvedre, and her Feminist Party blend. Whatever you're drinking, soak it up with tacos—braised pork belly or tempura avocado on handmade corn tortillas—from the Valle Fresh counter in Babi's.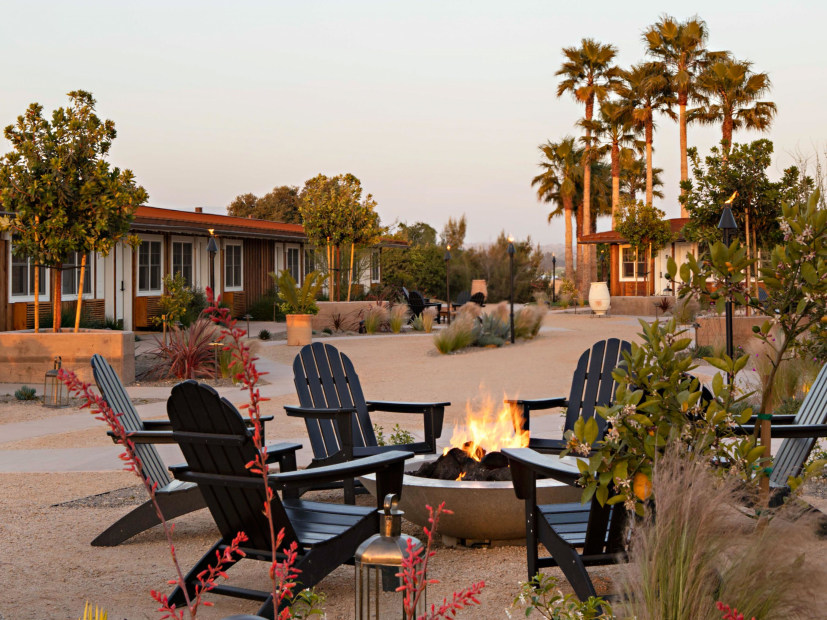 Where to Sleep and Shop in Los Alamos
Perched just above town is the newly redesigned Skyview, a one-time motor lodge turned midcentury-rustic boutique. With sweeping views of the ranchland and town below, the place feels otherworldly, particularly when the fire pits in the succulent-studded courtyard are roaring. With restaurant Norman on site, a pool, a working vineyard, and a fleet of loaner bikes, it's got everything a getaway needs.
Elsewhere in town, bed down in one of the cozy Airbnb guest cottages behind Pico and Bob's, get into character at one of the Victorian Mansion's themed suites, or grab your friends and take over the 1880 Union Hotel. The one-time stagecoach stop, which is rumored to be haunted, looks like a movie set—it actually played host to Paul McCartney and Michael Jackson's Say, Say, Say video. Inside you'll find a cocktail list that's cheeky, drinks that are stiff, and a bar full of local characters. Though the guest rooms are only available for private events and group bookings, the saloon is open to everyone and is a must-see.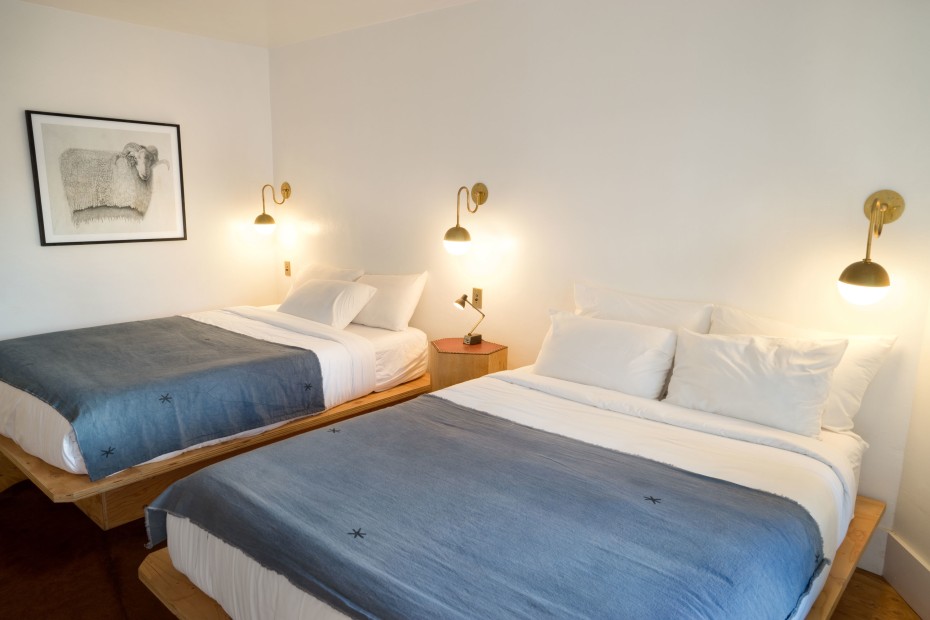 The Alamo Motel is a design-forward motor lodge that channels the soul of the southwest with a ranch-style minimalism accented by sculptural skulls and hide rugs. It's walking distance to everything, but it's tempting to stay put: grab some takeout from Plenty on Bell (the chicken-and-bread salad is a mouthwatering riff on the one Zuni Café made famous), and eat while sitting around the communal fire pit and sipping wines from Municipal Winemakers, which has a tasting room on the oak-shaded premises. Check Municipal's schedule for events like movie nights and live music.
Between sips and nibbles, check out the antique-filled Depot Mall (which has a bar inside, for the not-so-curious): formerly a train depot, the huge space offers goods of all varieties from more than 60 vendors. At the other end of Bell Street, check out the Gentleman Farmer for vintage and reproduction farm, country, and equine-themed pieces, and Sisters Gifts and Home, a historic building that's chock full of expertly curated, one-of-a-kind finds for the home and garden that would make even Fixer Upper's Joanna Gaines squeal.