Rain may fall on you while you're in Hilo, and if it does, it will be glorious. Sheets of water, often warm, will pour down in deluges, then stop as suddenly as they started. Afterward, the sun will reappear—and that will be glorious, too.
With rain falling most days year-round, Hilo is one of the country's wettest cities, thanks to its location on the Big Island's eastern, windward coast. If the sandy, sunny western shore is Hawaii's hit single, this relaxed college town and its verdant, awe-inspiring surroundings are the B-side: intimate, distinctive, a cult favorite that's easy to love.
The walkable downtown, a cluster of streets bordering Hilo Bay, is an excellent zone for taking Hilo's slow, steady pulse. The restaurant Pineapples, on a corner two blocks inland, sets a tropical mood with its open sides and fruity cocktails. From there you might watch shoppers laden with avocados and papayas leave the farmers' market up the street.
A couple of blocks away, the Pacific Tsunami Museum fills in the local backstory, illustrating how the ocean has repeatedly reshaped the town. In one exhibit, a parking meter bows 90 degrees in testimony to the ocean's power. Between the restaurant and the museum, colorful wooden storefronts house low-key eateries, boutiques, and galleries as well as the Palace Theater, a neoclassical 1925 building that hosts movies and live shows.
Nearby natural wonders form a stirring counterpoint to civilization. Six miles north of downtown, Hawaii Tropical Bioreserve & Garden sends you down a boardwalk into a valley bursting with greenery and flowers, all the way to an ocean view. Just east of downtown, Rainbow Falls drops 80 feet into a pool below, sending up spray that refracts the light.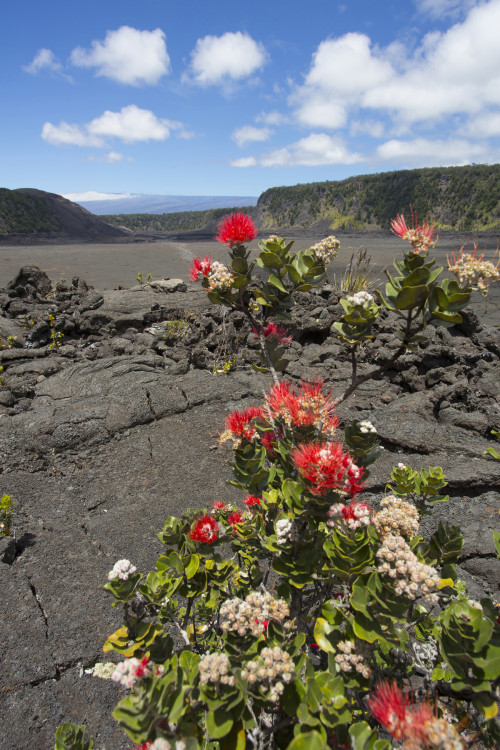 Of course, water isn't all that defines this corner of the island: Hardened lava is always underfoot. Get in touch with its source at Hawaii Volcanoes National Park, about 30 miles southwest of Hilo. There, the four-mile Kilauea Iki Trail leads down through deep-green rain forest to the bare black floor of a small caldera that last erupted in 1959. In spots where seeping rain meets subterranean heat, steam wafts from cracks and the ground radiates a gentle warmth. Touching it stirs a tingling recognition of the earth's depths.
"People think of volcanoes as destructive," says park spokesperson Jessica Ferracane, "but the volcanoes create this beautiful landscape. A lot of the forest wouldn't be here without them."
Active lava flows come and go, so check the park's website for news. The most dependable way to see the molten stuff is to return to the observation deck on a clear night. At 4,000 feet above sea level, the weather can be cold, so bring heavy layers. Basking in the crater's red glow under a canopy of stars is unforgettable, and staying warm as you do it is downright glorious.