Most city alleyways are either shortcuts from one street to another or dark, narrow stretches frequently avoided. Lately, however, cities across the West have been cleaning up these back roads in imaginative ways, working to transform bland or blighted throughways into bright, interactive spaces utilizing everything from strings of overhead lights to garden landscaping.
San Francisco
San Francisco continues to be a front-runner in the quest to revitalize alleyways. Its vibrant Mission District is known for destination alleys like Balmy and Clarion, each home to colorful stretches of ever-changing murals where hundreds of artists have left their mark over the years.
More recently, the city has been investing in "living alleys," a program for converting traditional alleys into inviting open spaces where pedestrians and bicyclists have room to converge, converse, and chill. Linden Alley is one of the city's most successful living alleys. Located in design-forward Hayes Valley, this once nondescript backstretch is now home to widened sidewalks, bursts of plant life, and cozy benches perfect for sipping cups of Blue Bottle coffee from the purveyor's original garage-style kiosk. Renowned street artist Shepard Fairey's large mural of labor leader Cesar Chavez is above the alley's Streets of San Francisco Bike Tours, which offers cycling tours of the city.
Denver
Denver's Lower Downtown, or "LoDo," is making good use of one of its original alleyways—known simply as "The Alley"—by incorporating the once vapid stretch into Dairy Block, a 66,000-square-foot adaptive reuse project currently in the works. Located within Denver's historic Windsor Dairy building, this mixed-use "micro-district" has been busy accruing everything from a high-end whiskey bar to a boutique hotel, not to mention a 16-restaurant food hall that includes a bao bun eatery, pastry shop, and salumeria. Dairy Block's pedestrian-only Alley will offer access to its retailers as well as pop-up shops and comfy furnishings for open-air lingering.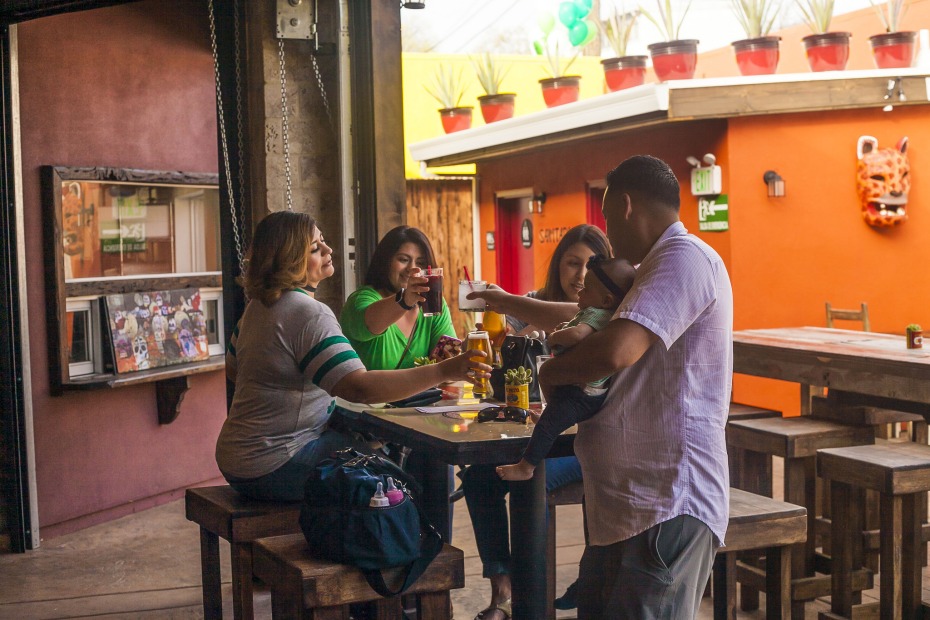 Sacramento
A few of Midtown's once avoided alleyways are now home to some of the neighborhood's most desirable establishments. Opened in spring 2017 along Jazz Alley, Cantina Alley brings Mexico's rich colors and cuisine to California's capital city. Indulge in popular street foods such as al pastor tacos and elote, ears of corn topped with cotija cheese and spices, or sip Mexican craft beers in the cantina's open-air interior. Six blocks away, Matsui Alley is home to the Federalist Public House, serving up local brews and wood-fired pizzas in a series of former shipping containers. The restaurant features communal tables and an outdoor bocce court.
Thanks to the inaugural Sacramento Mural Festival, in 2016, and its 2017 follow-up, Wide Open Walls, many of the city's parking lots and alleyways (including Jazz Alley) have received artistic makeovers inspiring plenty of positive attention. Check out this year's festival, August 8–18, for walking tours of the murals.
Vancouver, B.C.
The Downtown Vancouver Business Improvement Association recently joined forces with B.C. firm HCMA Architecture + Design to bring new life to a trio of city alleyways. Their first transformation: West Laneway, just south of the city's West Hastings Street, now known as "Alley-Oop." These days, the alley's roadway, walls, and dumpsters all sport painted shades of pink, yellow, and purple—an Instagrammer's dream. Some neighboring businesses have set up patios along the stretch, giving the space an extra boost. LED lighting keeps the alleyway vibrant at night, but perhaps the best perk is the added basketball hoop, which inspires pickup games most afternoons.
The latest on the list of transformations is Ackery's Alley, behind downtown Vancouver's Orpheum Theatre. Along with deep red paint, gold paneling, and virtual projection walls, the space features FIELD, a dynamic light and sound installation that changes color and emits tones in response to movement. Additional performance art and events will be scheduled regularly.