May marks the great spring awakening in Juneau, Alaska. The whales have arrived to feast, the bears stir in the woods, and Juneau's urban and cultural pleasures blossom like so many wild forget-me-nots soaking up the longest rays of the year. Here's how to make the most of a visit to the nation's sole state capital that's accessible only by air and sea.
Eats
Surrounded by rich waters, massive rainforests, mountains, and glaciers, this city of 32,300 people has a lot to draw on for inspiration and food is front and center. Start things off easy with a breakfast of steak and eggs at Donna's, a local favorite for comfort food close to the airport. Or break bad with the café's decadent mounds of Nutella-slathered Belgian waffles and the "Family Favorite," a six-scoop hot fudge sundae. You can't talk about food in Juneau without mentioning In Bocca Al Lupo downtown, the brainchild of multiple James Beard Award nominee Beau Schooler. The Italian-inspired menu changes with the seasons, but wood-fired pizzas such as the Funghi show off local mushrooms and greens.
You'll have to wait until fall or winter for the king crab fishing season, but you can get your fix at Tracy's King Crab Shack, which opens in July and specializes in finding the giant delicacies and steaming them up along the boardwalk. For halibut, head to The Hangar on the Wharf to nosh on blackened fish tacos while watching seaplanes land in the harbor. Wash it all down with pints from Juneau's Alaska Brewing Company, where you can do a tasting that may include Island Ale, a limited-release citrus-forward beer available through the summer. Ask the brewery about trips that combine beer tasting with whale watching in Auke Bay, because, Alaska.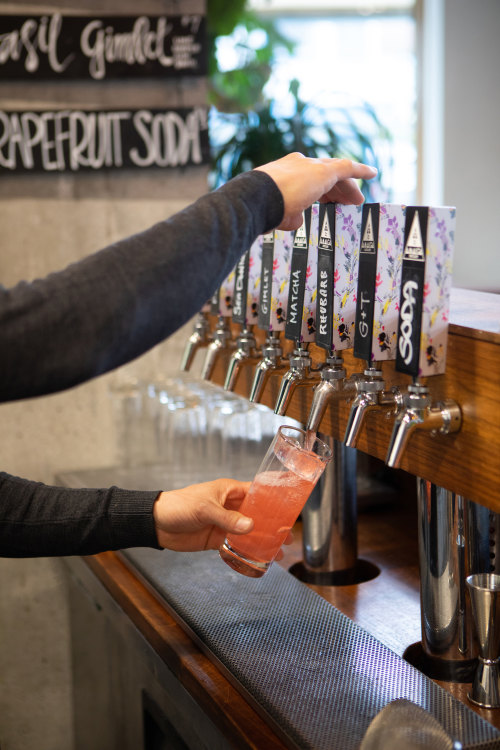 Shop
What town would be complete without a First Friday event? Juneau's year-round version doesn't disappoint. Head downtown to find scores of galleries and gift shops offering everything from wild garden art fashioned from repurposed tools to locally made jewelry. Annie Kaill's has an eclectic array of wall art, stoneware, and metal fish sculptures and often features a local artist each First Friday. Some 300 Juneauns bring their glassware, cookware, home décor, and all manner of odds and ends to A Little Bazaar, an antique and consignment store near Tahku, the whale sculpture. The Amalga Distillery offers a distinctly southeast Alaskan take on spirits with bottles of "Juneauper" gin made with locally foraged spruce tips as well as a single malt whiskey that reflects Juneau's Scotland-like climate.
Sights and Events
Juneau sits on land long home to the Tlingit, Haida, and Tsimshian people, including, more recently, the civil rights activist and Tlingit member Elizabeth Peratrovich, who in 1945 helped establish the first antidiscrimination laws in the nation. Alaskans officially celebrate her legacy on February 16, but you can see her on a new 60-by-25-foot mural created by Tlingit artist Crystal Worl, installed last summer on the side of Juneau's public library. The Goldbelt Tram cable car ride, which cruises from sea level up to 1,800 feet on 3,819-foot Mount Roberts, offers unsurpassed views of Douglas Island and the Gastineau Channel. At the top station, you'll find 200-foot-tall trees, a restaurant serving crab sliders, and the start of a (very optional, very challenging) two-mile hike to the top of Mount Roberts. At the base of the Juneau-Douglas Bridge sits the Alaska Whale Sculpture, Tahku, a 25-foot-tall, life-size humpback whale sculpture cast in bronze, forever breaching among hissing fountains. Experience the rich history of Alaska's Native people at Sealaska Heritage, where art from each tribe is represented in large installations that include totem poles, dugout canoes, and a traditional clan house. The Alaska State Museum in Juneau moves to summer hours in May, leaving you more time to explore exhibits such as Mug Up, which highlights the state's canning industry.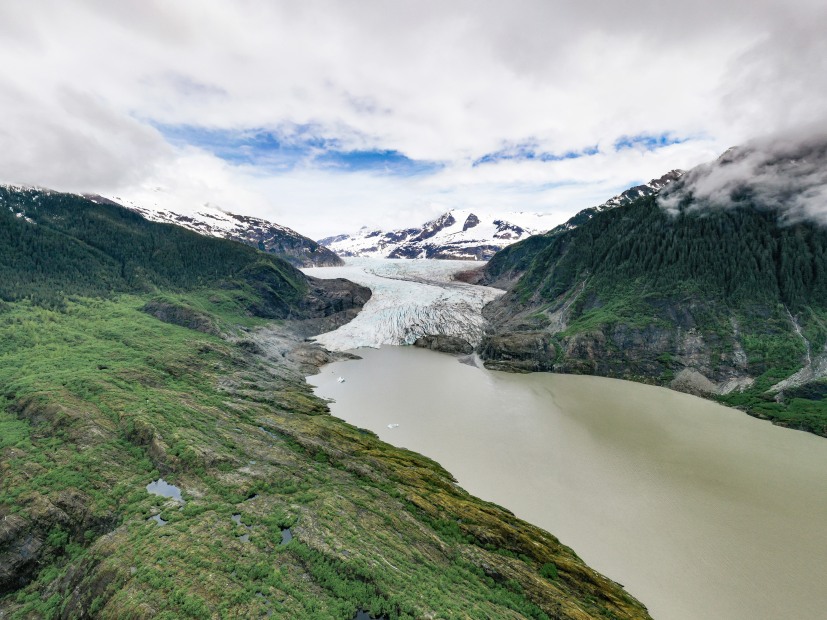 Outdoors
It's a common but true refrain: Juneau has more hiking trails than actual roads (about 250 miles and 190 miles, respectively), and the 3.5-mile East Glacier Loop is a great introduction to the goods. The hike starts at the Mendenhall Glacier Visitor Center and takes you up over the iceberg-studded waters of Mendenhall Lake to views of the 12-mile-long glacier itself. If you want a more intimate look at the ice, outfitters such as Juneau-based Above and Beyond Alaska offer tours that take hikers to close-ups of seracs, crevasses, and other magnificent features in the ancient ice. Getting on a boat is a must in Juneau too, not just for better views of peaks like Mount Juneau towering more than 3,500 feet right out of the sea, but also to watch for humpbacks coming in from Hawaii. Sea Lion Adventure Tours recently opened with excursions on smaller 28-foot boats that cruise north toward Juneau Channel Islands State Marine Park, where you may also see porpoises, eagles, and—on a rare occasion—a foraging bear on shore. On calm days, you can kayak with the outfitter too. The king salmon tend to bite best starting in May and guides such as HiTime Charters can take you out to find them, along with four other types of salmon and halibut. Join the fly-fishing pros of Bear Creek Outfitters and hop into floatplanes to find remote shorelines where you can angle for trout and salmon.