There's always something to celebrate at Disneyland Resort. This year, it's the 100th anniversary of Walt establishing the company that has brought happiness to billions. Disneyland and California Adventure are both decked out for the centennial, with purple and platinum splashed everywhere, Sleeping Beauty Castle draped in sparkling bunting, "D100" medallions throughout the resort, Mickey and pals in glittering getups, and of course, plenty of commemorative merch to match. Here's what else is happening.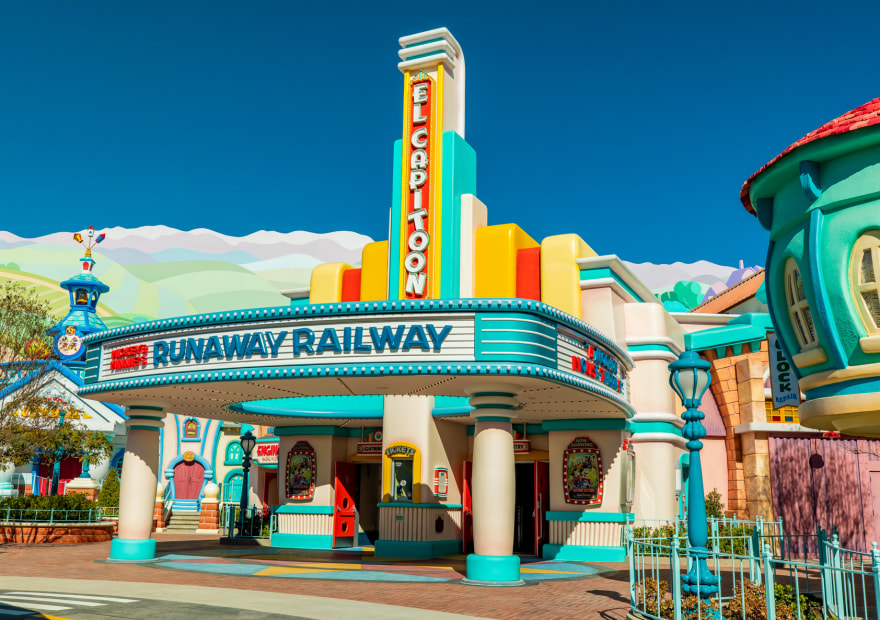 Revamped Mickey's Toontown Is Open
On March 19, Mickey's Toontown reopened as a land geared toward making little ones feel as though they've stepped into a real-life cartoon. Upon entering, you encounter CenTOONial Park, featuring a dreaming tree (based on Walt's daydreaming tree at his boyhood home in Marceline, Missouri) and a fountain with water tables inviting kids in for sensory play. Goofy's How-To-Play Yard includes a sound garden, a clubhouse, and an interactive candy-making contraption. Donald's Duck Pond is a playground for Disneyland's littlest guests, while Chip 'n' Dale's GADGETcoaster lets tots experience a thrill. Tour Mickey's House and Minnie's House, and board the returning Roger Rabbit's Car Toon Spin for dizzying fun. There are two new eateries in Toontown too: Café Daisy and the grab-and-go Good Boy! Grocers.
The main attraction in this new Toontown, however, is Mickey & Minnie's Runaway Railway, a highly animated ride that opened in January. Its queue is packed with hidden Mickeys, and winds through the El CapiTOON Theater until you end up standing in a theater to see a classic Disney 'toon—the mouse couple prepares to go on a picnic with Pluto when a train-related explosion ensues. You walk right through the exploded screen to board an ill-fated train with Goofy at the helm. This technologized darkroom ride is kid-friendly, and should look familiar to those who've visited Disney World's Hollywood Studios since 2020. Depending on the day, there may be a standby line, or you'll need to join the free virtual queue on the Disneyland app—enrollment times are only at 7 a.m. and 1 p.m., so set an alarm—or buy a Lightning Lane arrival window.
New Disneyland and California Adventure Shows for 2023
Besides Toontown, there's plenty more new in 2023, including Disneyland's new nighttime show, "Wondrous Journeys," which projects beloved scenes and images from all 62 Disney animated movies onto Sleeping Beauty Castle, Main Street, and the It's a Small World façade. Its 18-song mashup features an original new song called "It's Wondrous." Watch at the castle to see Baymax shoot across the sky, and check the schedule to see the show synchronized to powerful fireworks, which only happens on select nights. 
The "Magic Happens" daytime parade has returned to Disneyland (it briefly debuted prior to the Covid shutdown) with nine grand floats, lovely dancers, artistic costumes, and energetic music.
In California Adventure, the new "World of Color–ONE" water-and-light spectacular dances into vivid life after dark at California Adventure. Its message–that a single person or action can make a difference–is delivered via music and characters including Pocahontas, Mirabel, Remy, and Joe Gardner. During both "World of Color–ONE" and "Wondrous Journeys," MagicBand wristbands light up with colors and haptics synchronized to the shows.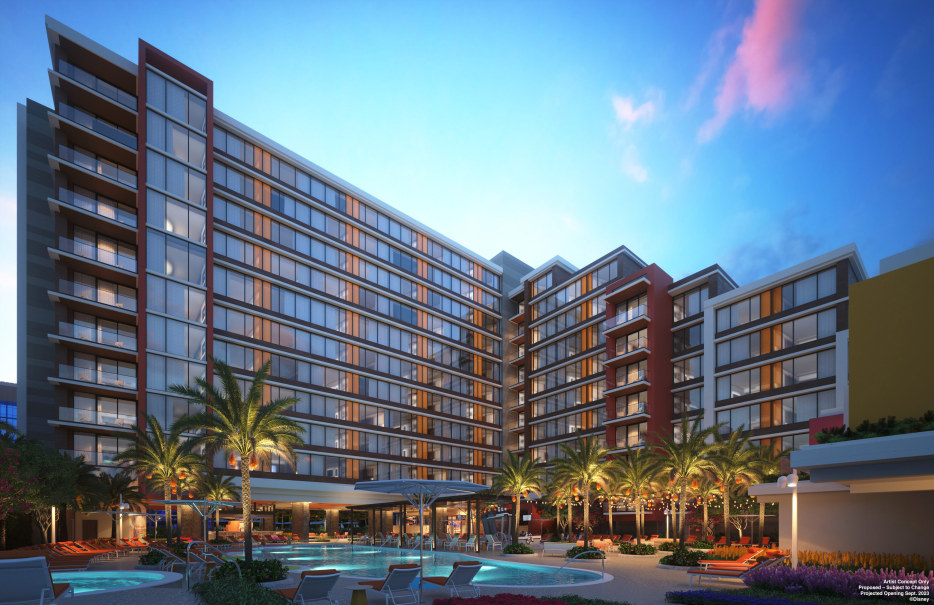 More Attractions Opening This Summer and Beyond
In summer, San Franksokyo Square will replace Pacific Wharf in California Adventure, transforming the area into a scene out of Big Hero 6, and a new restaurant and beer garden, Port of San Fransokyo Cervecería, will join the mix of eateries around the square.
Also in summer, "Rogers: The Musical," a Captain America-themed show, debuts as a one-act limited engagement at California Adventure's Hyperion Theater. 
In September, the Villas at Disneyland Hotel will open as Disneyland Hotel's newest tower, featuring contemporary decor. Bookings begin March 17.
Later in 2023, Tiana's Palace will replace New Orleans Square's French Market Restaurant, setting the scene for Tiana's Bayou Adventure, which opens in 2024 as Splash Mountain's water-ride replacement. 
The Adventureland Treehouse reopens later this year, eschewing Tarzan to return to its original Swiss Family Robinson theming.