Cape Cod's stretch of land and sand juts into the Atlantic before curving northward toward Provincetown. To explore all the nooks and crannies, we recommend this 160-mile circuitous route.
Sagamore
Begin at the Pilgrims' settlement in Plymouth and follow Route 3 to the Sagamore Bridge, an engineering marvel when it opened in 1914. The road leads to Sagamore, where you can see artisans' handiwork at Pairpoint Glass, the nation's oldest glassworks (1837).
In nearby Sandwich, the Cape's oldest town, the Thornton W. Burgess Society pays homage to its native son, who penned the classic The Adventures of Peter Cottontail.
Heading east on Route 6A, the road meanders through the quintessential Cape villages of Barnstable, Yarmouth Port, Dennis and Brewster. Dotted by weathered-shingle cottages, quaint bed-and-breakfasts, and sprawling resorts, this area is best known for hip boutiques and smooth beaches. But you can still find freshwater ponds and lakes, including Nickerson State Park in Brewster.
Cape Cod National Seashore
North of Orleans, Route 6 connects to the Outer Cape and the rugged fishing villages of Eastham (entrance to the Cape Cod National Seashore and the Wellfleet Bay Wildlife Sanctuary), Wellfleet and Truro. The National Seashore encompasses more than 44,000 acres of pristine beaches and marshland on the Commonwealth's easternmost edge. When Henry David Thoreau visited, he quipped: "A man may stand there and put all of America behind him." The breathtaking dunes of Truro are a timeless testament to the Atlantic Ocean's relentless power.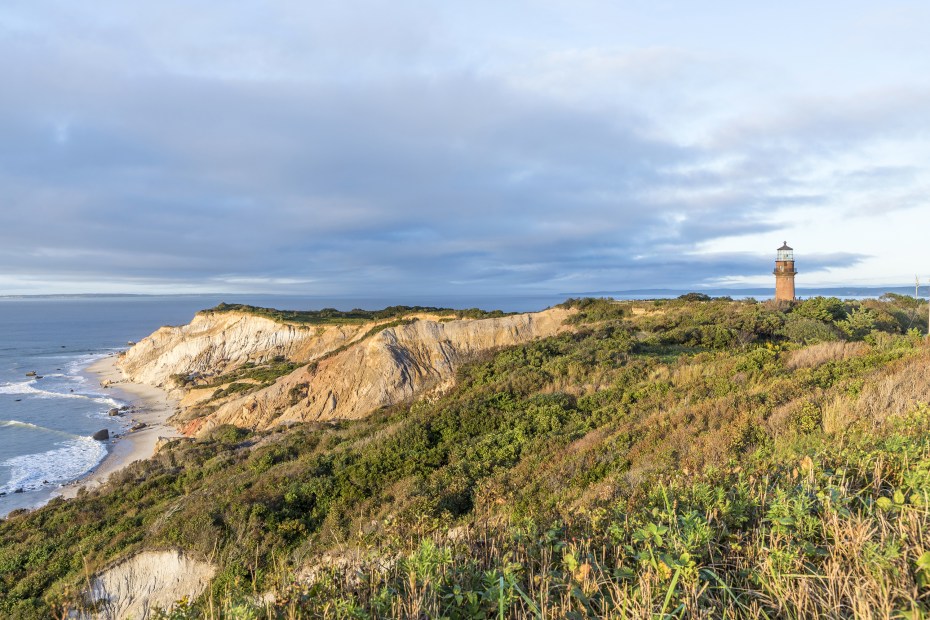 Provincetown
With its windswept vistas and haunting light, Provincetown at the Cape's northern tip has long been an inspiration to artists of every medium, including actors, writers and playwrights. Provincetown was the first spot where the Pilgrims landed. A commemorative 252-foot-high Pilgrim monument marks the event.
Woods Hole
South of Orleans, the road veers onto Route 28, passing through Chatham on the Cape's "elbow." Then it winds along the southern shores of Nantucket Sound. This stretch is a shopper's delight, with stores selling everything from pure kitsch to high-art. The John F. Kennedy Hyannis Museum pays tribute to the 35th president as well as his illustrious family.
Falmouth, a former shipbuilding and whaling center on Route 28, is the gateway to Woods Hole, site of several marine research centers.
Martha's Vineyard
It's a short ferry ride to Martha's Vineyard from Woods Hole. Famous celebs mix with residents at the Offshore Ale Company or Martha's Vineyard Gourmet Cafe & Bakery in Oak Bluffs (try the Back Door Donuts). For privacy, head west to the cliffs at Aquinnah, where the salt air will refresh you.