For many, a getaway to Las Vegas involves glitzy casinos, mesmerizing Cirque du Soleil shows, and epic prime rib buffets. Few leave the lights and splendor of the Strip, even for a drive on a stretch of two-lane highway that may or may not lead to otherworldly life forms.
For the alien-curious, driving 90 minutes north from Las Vegas, mostly on Interstate 93, leads to the start of the 98-mile Extraterrestrial Highway. This desolate stretch of State Route 375 was so named in 1996, a nod to its proximity to Area 51, the top-secret, ultra-classified Air Force installation associated with aliens, UFOs, and plenty of conspiracy theories.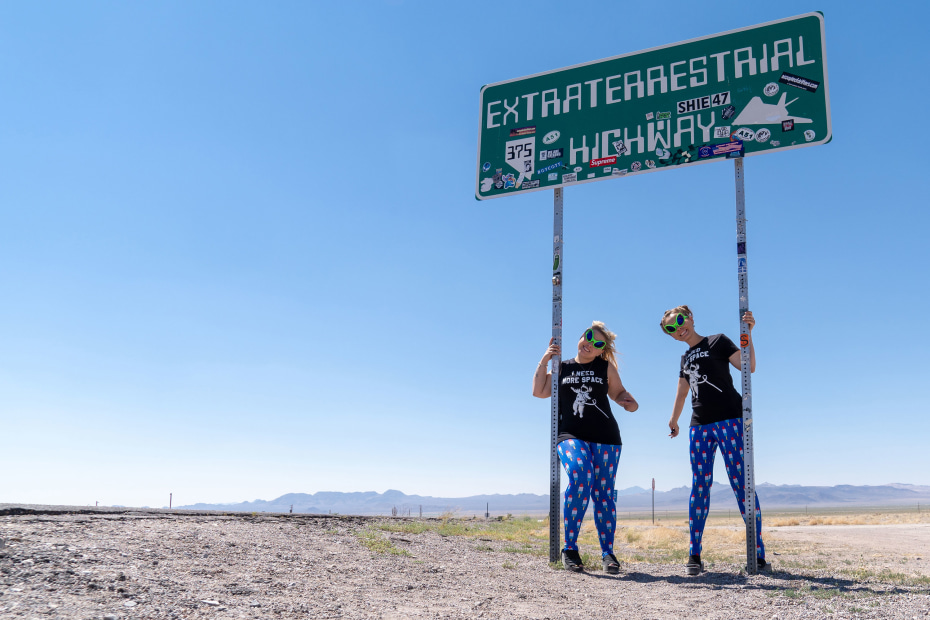 Crystal Springs to Rachel 
The Extraterrestrial Highway begins at a rest area in Crystal Springs, Nevada, but you'd be wise to first take a quick detour to E.T. Fresh Jerky, where State Route 318 bisects U.S. Route 93. It's less than one mile east, and it's worth a stop for beef jerky in more than a dozen flavors, including hickory, lemon pepper, and honey teriyaki. The proprietors boast that it's "out of this world delicious." You'll also find creative types such as ahi tuna and wild boar jerky. 
Inside, there's much more than meat products. Alien-themed souvenirs and delights fill the roadside store—even an alien fortune-teller machine. Outside, you can snap photos of the mural of four cowboy aliens. 
Once back in the car, motor two minutes west on State Route 318 to the infamous sticker-covered Extraterrestrial Highway sign that officially marks the start of this alien-inspired drive. There's plenty of room to pull over for a few quick photos. 
Bear left for State Route 375. Now, it's less than a mile to the Alien Research Center which is more kitschy gift shop than academic research facility. Here you'll find—you guessed it—alien-themed T-shirts, socks, hats, and hoodies and even Alien Tequila.
From here, settle in for a fairly desolate, but quite peaceful, drive across the desert landscape. It's another 38 miles until your next stop in Rachel (population 70). The speed limit is 70 mph on this lightly trafficked stretch, so you'll be at your next stop in no time.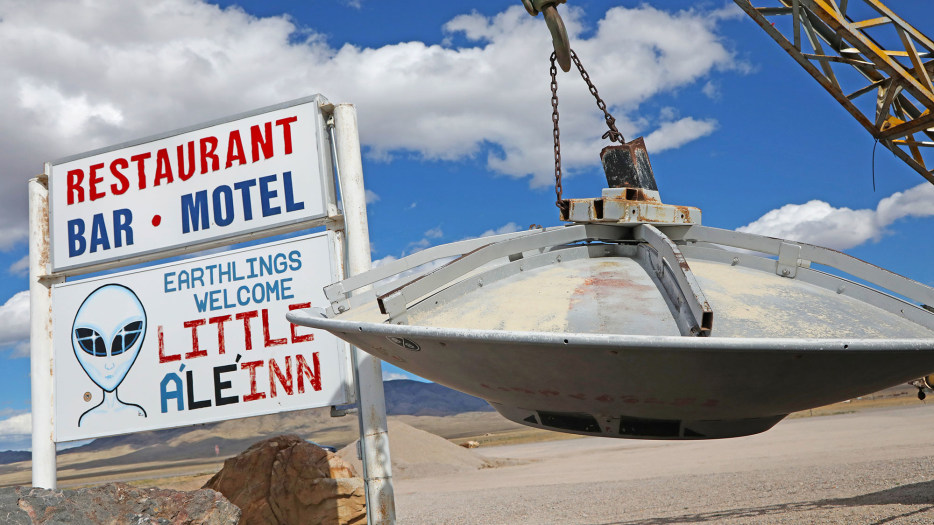 Rachel to Warm Springs 
In Rachel, known as the UFO Capital of the World, fuel up at Alien Cowpoke Gasoline & General Store, the only gas station on the Extraterrestrial Highway. You'll also find cold drinks, ice cream bars, and more alien-themed trinkets.
From here, it's less than half a mile north to Little A'Le'Inn, which proudly declares that earthlings are welcome. It's a great place to stop for lunch thanks to a menu with favorites such as the Alien Burger, which is topped with a super-secret Alien Sauce. 
The Little A'Le'Inn is also the only place to stay on the Extraterrestrial Highway. There are five units—essentially mobile homes, each with two or three bedrooms—plus outdoor space for tent and RV camping. There's not a lot to do aside from soaking in the alien mystique, but dark-sky stargazing and geocaching are favorite activities. Keep your eyes to the skies for stars, meteor showers, and the potential of spotting alien life. 
You're just a stone's throw from Area 51, but given its top-secret nature, it's not open to the public. When you're ready to hit the road, continue another 50 miles north on State Route 375, which dead-ends at Interstate 6 in Warm Springs, an abandoned mining town.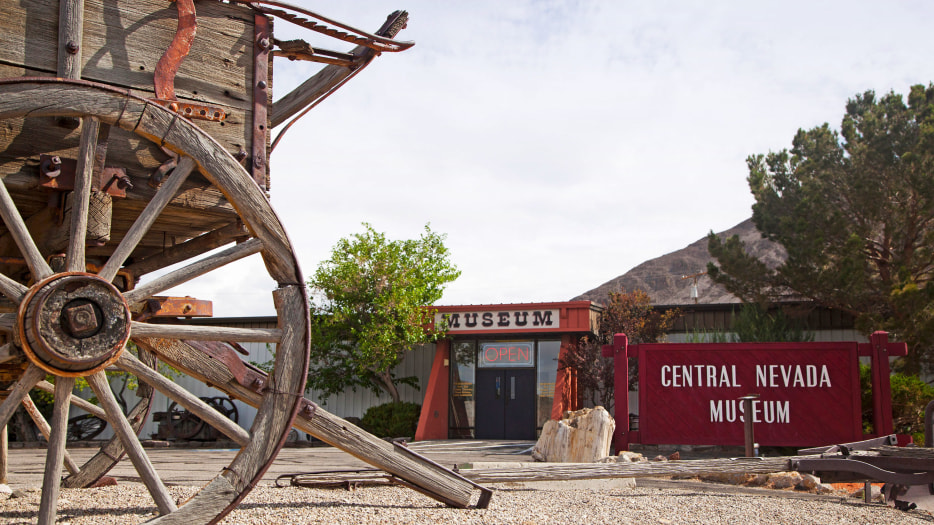 Beyond Warm Springs 
Your road trip doesn't need to end in Warm Springs. Turn left onto U.S. Route 6 and continue southwest for 50 miles until you reach Tonopah (population 2,500). This small town has a rich gold- and silver-mining history that dates to the 1900s. 
At Tonopah Historic Mining Park, exhibits and restored mining equipment bring to life the former mining operations. A self-guided walking tour features 18 stops, including a historic mine tunnel and a railroad trestle. Tonopah is also home to the Central Nevada Museum and the Clown Motel, a 31-room motel that awes (or alarms) with more than 4,000 clown figurines. 
From here, drive less than 30 miles south on U.S. Route 95 to Goldfield for the International Car Forest of the Last Church. This quirky art installation is essentially a junkyard of several dozen spray-painted cars and buses that rivals the world-famous Cadillac Ranch in Amarillo, Texas. 
On the return to Las Vegas, make one more stop. It requires a slight detour, but it's worth the extra five-mile drive. It's the Goldwell Open Air Museum, which has a ghostlike depiction of Leonardo da Vinci's The Last Supper, as well as unusual works such as Lady Desert, a 25-foot tall statue made of cinder blocks painted pink and yellow, giving the statue a uniquely pixelated appearance.